AirPods 4: Everything you need to know
With the AirPods 4 and rumoured AirPods Lite on the way in the future, this is everything we know about them so far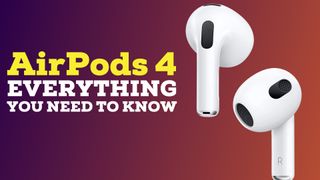 (Image credit: Future)
AirPods 4 - Everything you need to know
AirPods launched back in 2016 and have managed to corner the market with excellent connectivity, a great look, and decent sound design. Since then, we have received new models from a much more expensive AirPods Max model to a slightly nicer AirPods Pro 2. Now, with the AirPods 4 presumably on the way, it can be easy to get lost in them all.
Being a great choice for anyone looking for a mid-range audio device, the Airpods 4 are likely to make their way to the Apple Store in 2024. With the introduction of USB-C charging, a potential new chip, and some interesting rumors could point to a big year for music lovers and conversation havers alike.
AirPods 4: Release Date
As of right now, we don't have a specific release date confirmed for the AirPods 4 just yet. Despite this, we have a good guess based on previous years and an Apple analyst. Ming-Chi Kuo, a reliable source in the industry, stated in a prediction Tweet that the next AirPods will ship in the second half of 2024 or the first half of 2025, alongside new AirPods Max.
This aligns with previous launch cycles. The following are the launch years of all AirPods since the start:
First Generation AirPods released in December, 2016
Second Generation AirPods released in March, 2019
First Generation Airpods Pro released in October, 2019
AirPods Max released in December, 2020
Third Generation released in October, 2021
Second Generation AirPods released in September, 2022
(4/5)The next-generation AirPods will likely begin mass shipments in 2H24 or 1H25, including more affordable AirPods (with Apple targeting a price of $99) and new AirPods Max, which will be assembled by Luxshare ICT and Hon Teng.January 12, 2023
AirPods 4: Price
Price has stayed relatively consistent throughout all generations of AirPods so we anticipate the AirPods 4 hovering around the $169 pricepoint. This gives potential buyers enough of an incentive to go with slightly older models or more expensive choices without missing out.
This should place it under the AirPods Pro by just under $100, whilst being a little more expensive than previous AirPods. The AirPods Max are then well over double this price at $549. Within the market, the AirPods 4 should be a similar price to the Samsung Galaxy buds 2, Sony LinkBuds S, and JBL Live Pro 2 - a great price for one of the most easy to use earbuds out there. Though there are better choices purely for sound or battery life, it combines all of that plus the 'Apple Magic' that comes with a pair of AirPods. Think quick connection, seamless integration into the Apple ecosystem, and extra features with Apple Music.
Essentially, all the different models of AirPods, like the iPhone 15 plus and iPhone 15 Pro are intended to give you lots of choice - to better accommodate your budget. If you like the AirPods but want something more snazzy, go for the AirPods Pro 2 or all the way up to the AirPods Max.
AirPods 4: Features
The first and most obvious change with AirPods 4 is they will be USB-C compatible. This is, much like the USB-C port on the iPhone 15 that's coming later this year, due to a new EU regulation set to come in around Autumn 2024 — so if the AirPods 4 launch around then, you'll more than likely see the new port.
The AirPods 3 added a skin detection sensor, allowing it to better analyze where it is and adjust accordingly. It seems likely that the AirPods 4 will further commit to this kind of tech with better in-ear detection and the advancement of spatial audio. We can imagine almost every feature from previous AirPods 2 and 3 to make their way in like dynamic head tracking and water resistance.
The AirPods 3 had the h1 chip which still performed valiantly but is starting to feel outdated now. if we don't see the superior H2 chip spotted in the second generation AirPods Pro, we can expect a modification of the H1 chip or some unique hybrid, granting better battery life, sound, and more. Given they are unsealed and cheaper than other models, it seems unlikely that the next generation of AirPods will come with the Active Noise Cancellation and Adaptive Transparency Mode found in the AirPods Pro 2.
The H2 chip does grant Bluetooth 5.3, which allows them to connect to devices quicker and with more reliability. This is a really nice upgrade focusing on something that Apple has always been good at - connectivity.
There's a chance that AirPods 4 will come with some features seen in AirPods Pro 2 like Adaptive Audio, Conversation Awareness and Personalized Volume. Adaptive Audio and Personalized Volume use data gathered from your listening habits and environments to automatically change the volume to what suits you best.
Conversation Awareness will turn down or turn off music when you are speaking, meaning you can keep in your AirPods in conversation without missing out on anything. Though these features are very impressive, they are currently locked to the AirPods Pro 2.
If Apple does implement it in the AirPods 4, the next generation of AirPods Pro will have to be very special to avoid cutting into their own sales. For this reason, we find it unlikely we will get those features soon.
Apple and Audio expert
"The AirPods 3 are, somehow, coming up on their second birthday, and that makes them a prime candidate to get a new version some time in 2024. Hopefully, these ones will be a little better value for money; although we can't count on them stepping on the toes of the noise-canceling AirPods Pro 2, with any luck we'll see some next gen features. I think we might also see a new pair of lower price earbuds too, a replacement to the now very aged AirPods 2 — they're a solid budget part of the AirPods lineup, but it's likely that Apple will want to bring them up to speed with the rest of the line."
AirPods 4: Size
The AirPods 3 were a little bit shorter but also a bit wider than the Airpods 2. This being said, they are fairly similar sizes with small changes. If the AirPods 4 follow suit, we can expect a slightly wider build than the 2, which is something Apple have been moving towards after the first generation AirPods.
The AirPods have had a very specific design since their launch. Generally doing away with rubber buds on the end, they are intended to sit in your ear by pressing against the side of your ear lobe. This gives relatively little room to experiment. As well as this, the AirPods case is supposed to fit in your pocket as you walk around.
All cases have been thin, small, and light. Like your keys and your phone, you should be able to grab it and slide it into your pocket with relative ease. It is a great design that needs little change. We anticipate the AirPods 4 will be very similar to previous models - a clean white case with minimal buttons and lights. The pods themselves will likely skip the buds like previous years and may have some slight angular or colour changes like a black trim but will stay largely a similar size. Though Apple could go out of their way to make a brand new design - it seems unlikely as they are already excellent.
AirPods 4: Battery life
So far, all models of AirPods have had similar battery life. The first generation had around 5 hours of listening time, with the AirPods second generation hitting a similar mark and the third generation getting about an hour more than that. Given they charge in their case, this is a pretty decent battery life so we can expect a similar figure for AirPods 4.
The AirPods 1,2, and 3 case comes with around 4 charges at full battery, giving an extra 24 hours of listening time per device. Unfortunately, as AirPods age, they tend to lose some of their battery effectiveness, giving you less per charge. This means that most AirPods 1s today will give you under that battery, incentivising upgrading every few years. It seems likely that AirPods 4 will have a similar battery life on paper but this will be likely be more than your previous AirPods in practice.
This being said, Apple swapping charging ports to USB-C technically gives the ability to charge quicker than lightning cables, even though this likely won't affect charge time by too much. The h2 chip could result in a better battery life but this better battery could be drained quicker with improved features, giving a similar time in practice.
AirPods: Lite
In a note revealed to 9to5mac, an analyst claimed that Apple is working on AirPods Lite, a presumably cheaper version of the AirPods to run alongside future AirPods models. This would mean that Apple would have AirPods, AirPods Pro 2, AirPods Max, and AirPods Lite all in production at once.
Though we don't know what the price point will be just yet, 9to5mac claims it will likely be around $129, placing it somewhere between current and last generation AirPods in price. Though we don't have much more than this, we imagine the case will be a bit smaller as the Pro and Max models tend to be bigger.
Given the potential price point, it seems likely this is an effort to replace the AirPods 2 in the market, allowing them to stop production here. As you can choose between AirPods 2 and AirPods 3 on the site, the AirPods lite is likely a conscious choice to tighten up branding and give potential buyers a better way to distinguish between AirPods.
As is the case for cheaper models, we can expect it to be somewhat stripped back in its features - perhaps doing away with features like head tracking or coming with a slightly smaller battery life.
AirPods 4: Rumors
Though it seems unlikely to happen given how strong the AirPods design is, we could potentially see redesigns for the next AirPods 4. This could see a new ear shape to facilitate a tighter seal on the ear. Alongside this, there's a possibility it could get more advanced controls, similar to those implemented by the AirPods Pro 2.
As well as this, more options with EQ customization have been theorised and this could allow listeners to adjust for certain songs or mixes. We haven't been given a reason from Apple to believe this could happen but one can certainly hope.
Going back to the Apple AirPods 1 and 2, one of the worst aspects is its mic quality. With the AirPods Pro 2 and AirPods Max coming with better mic quality, it seems like the AirPods 4 could follow suit and implement a better mic.
Q&A
Should I wait to buy the AirPods 4?
If you are thinking of committing to a newer model of the AirPods, it is worth waiting for confirmation of all the little details the next generation has. Given they are quite some time out, it is likely not worth waiting until the launch of the AirPods 4 to get a new pair of earpods.
Will the AirPods 4 be smaller?
Given the AirPods 3 had a slightly wider but less tall frame than the buds for the AirPods 2, it seems likely that the case will be marginally bigger and the buds will be a very similar size. It may be a bit more snug in your pocket but likely not bigger in your ears.
Do the AirPods 4 have wireless charging?
Given the last few models have had wireless charging, it seems unlikely that the AirPods 4 will do without it. Wait for confirmation but we imagine they do have wireless charging.
Will the AirPods 4 come in different colors?
As of right now, we have no reason to believe that the AirPods 4 will come in different colors. All previous models only came in white so this will likely follow suit. You will have to go all the way up to AirPods Max to get more colors.
Master your iPhone in minutes
iMore offers spot-on advice and guidance from our team of experts, with decades of Apple device experience to lean on. Learn more with iMore!
James is a staff writer and general Jack of all trades at iMore. With news, features, reviews, and guides under his belt, he has always liked Apple for its unique branding and distinctive style. Originally buying a Macbook for music and video production, he has since gone on to join the Apple ecosystem with as many devices as he can fit on his person.
With a degree in Law and Media and being a little too young to move onto the next step of his law career, James started writing from his bedroom about games, movies, tech, and anything else he could think of. Within months, this turned into a fully-fledged career as a freelance journalist. Before joining iMore, he was a staff writer at Gfinity and saw himself published at sites like TechRadar, NME, and Eurogamer.
As his extensive portfolio implies, James was predominantly a games journalist before joining iMore and brings with him a unique perspective on Apple itself. When not working, he is trying to catch up with the movies and albums of the year, as well as finally finishing the Yakuza series. If you like Midwest emo music or pretentious indie games that will make you cry, he'll talk your ear off.