Using the App Store on iPhone and iPad: Everything you need to know!
From installing apps to buying in-app purchases.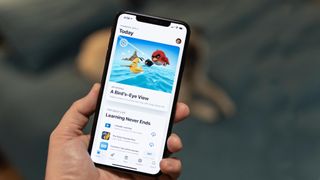 (Image credit: Future)
The App Store is the cornerstone of the entire iOS ecosystem. First debuting in 2008, the App Store has seen the launch of millions of applications for both phones and tablets, from email clients to innovative health apps. While it has its detractors, the App Store makes downloading software for the computers in our pockets easy and accessible.
What's new with the App Store?
iOS 11.3 brings with it review sorting. On your iPhone or iPad, you can now sort user reviews by Most Helpful, Most Favorable, Most Critical, and Most Recent. Review sorting had previously been available in the App Store in iTunes on Mac, but since that no longer exists, it's good to see it on iPhone and iPad now.
June 6, 2017: Apple revamping the App Store completely
Apple has announced a number of changes coming to the App Store later this year with the release of iOS 11. This starts with the all-new design for the store. It now features new, more focused tabs, including the new Today tab, which tells you all about essential apps and games, while also offering app tips, tricks, and more.
So what is actually new in the App Store design?
Literally everything. Nothing, from the overall style to the search tab has gone untouched. The app is now more in line with the style of the News and Music apps from iOS 10, with big bold headlines and heavier icons. The tabs at the bottom of the screen have been changed, as well. Gone are Featured, Categories, and Top Charts.
In their place, we have Today, Games, and Apps, followed by Updates and Search. Today offers not only new interesting apps and games, but tips for using apps, getting through game levels, and more through Daily Stories. The tab is updated daily, and you can scroll down to see a previous day's content. Games now have a their own dedicated app, as do, well, Apps. In each section, you'll see new and featured apps and games, along with the top paid item and top free item of each.
Tell me more about the Today tab
In the Today tab, you'll find a number of cards, each highlighting a particular app. But instead of just being a fancy app landing page, each Daily Story offers interesting additional content, such as a behind-the-scenes look at its app. Today also features cards for tips and tricks for apps and games, interesting app lists, and Game and App of the Day, where Apple's App Store team handpicked one app and one game that they think are essential.
App pages themselves are getting a makeover. Each app or game will have its ranking in its Top Charts category and its age rating prominently displayed at the top of the page. App pages can now also have more videos so you can get an even better idea how and app or game works.
Search has also received some enhancements, and in addition to apps, you'll also be able to get results for the store's editorial stories and its tips and tricks cards.
What is the App Store?
The App Store, now 9 years old, is the destination for buying and downloaded third-party software for your iPhone, iPad, iPod touch, and Apple TV. And when I say the, I mean it. Unless you're jailbreaking your iOS or tvOS devices, the App Store is the only place that you can get software from non-Apple developers onto your device.
Why can I only download apps from the App Store and not another store?
There are a number of reasons that Apple confines software downloads to the App Store, with one of the primary motives being security. In going through the App Store screening process, apps are checked for issues that may compromise the security of Apple's customers, such as malware. It also must be said that Apple takes a significant 30% cut from each sale made through the App Store, whether it's an upfront payment for an app or an in-app purchase.
What sort of pricing can I expect on the App Store?
Many of the apps you'll find on the store are available for free, at least up front. When you do need to pay for an app, you'll find prices ranging from a dollar or two up to around $40 or $50. Those higher prices are rare, and anything above that is exceedingly rare, and often reserved for a select few professionally-focused apps.
Keep in mind, also, that just because an app is free doesn't necessarily mean that it's less costly. In recent years, in-app purchases have become popular, particularly with games. You settle down for a Candy Crush session and before you know it, you've blown your paycheck on in-game items.
What are in-app purchases?
An in-app purchase is, as the name might suggest, a purchase made inside an app. For instance, an app for a magazine might be free to download, but then you can pay for a subscription to that magazine within the app using your iTunes payment information.
How do I get updates for the app's I've downloaded?
Updating your apps is easy. Just open the App Store on your iPhone or iPad and tap the Updates tab. Tap the Update button next to the appropriate app, or the Update All button at the top of the page.
How to I find apps that I've previously downloaded and purchased?
It's easy to see your previously-purchased apps and games. On your iPhone, tap the Update tab in the App Store, then tap Purchased at the top of the page. On the iPad, tap the Purchased tab on the bottom tab row.
Can I share cool apps and games that I find with my friends?
You sure can. On any app or games' page, tap the share button in the upper-right corner to send a link to that app to anyone using any app available in that share sheet.
Questions?
If you have any more questions about the App Store, be sure to let us know down in the comments.
○ Everything about WWDC 2020
○ WWDC 2020 remote lineup
○ Download the Apple Developer app
○ iOS/iPadOS 14
○ macOS 10.16
○ watchOS 7
○ tvOS 14
○ Discussion forums

Get more iMore in your inbox!
Our news, reviews, opinions, and easy to follow guides can turn any iPhone owner into an Apple aficionado
Joseph Keller is the former Editor in Chief of iMore. An Apple user for almost 20 years, he spends his time learning the ins and outs of iOS and macOS, always finding ways of getting the most out of his iPhone, iPad, Apple Watch, and Mac.