iPhone 6 event rumored for September 9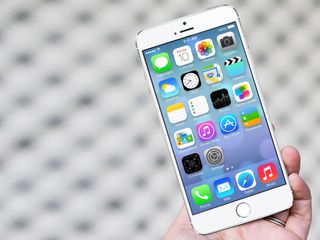 Apple is reportedly planning a September 9 unveiling for the iPhone 6. As we said back in January, this date holds with a pattern that Apple has established over the last couple of years, ever since the September 2012 reveal of the iPhone 5. From Re/code:
What are you hoping to see in the iPhone 6? Let us know below in the comments.
Source: Re/code
Joseph Keller is the former Editor in Chief of iMore. An Apple user for almost 20 years, he spends his time learning the ins and outs of iOS and macOS, always finding ways of getting the most out of his iPhone, iPad, Apple Watch, and Mac.
Anything less than a bigger screen will be a disappointment. Anything more will be the cherry on top.

Can't help but laugh at what Apple has become in the game of technology now they are following the Global Worldwide market leader in Samsung. Everyone knows Samsung who made prominent the phablet category with it's industry GOLD standard of the Galaxy Note products. Now Apple wants to copy can't help but laugh they will have a phablet iphone with poor battery life just like all the rest of the iphones. From my Galaxy Note 3 via iMore App

Samsung is the gold standard in aping Apple. They blow with regard to everything else. IMO, their mobile division can't die fast enough.

Yet the iPhone will take in more profits than pretty much every Samsung combined. Sent from the iMore App

Now you're trolling iMore?! Don't you have better things to do with your time? Sent from the iMore App

What do you mean? What did I say that was trolling?

I'd have to say a bigger screen. Whether it's 4.7" or 5.5 I'm unsure. I think 5.5" is too big. It's not just about how you look holding a phone that size to your ear, in fact I use my iPhone for calls so little I don't think that aspect would come into it. For me it's about having pockets big enough to keep it in. A colleague has the HTC ONE M8 which is about the 5" mark and that's pretty big. I'd like to see more rounded edges at least on the back. Being honest the I've had every iPhone since the 3GS and that for me remains the most comfortable iPhone to hold. Sent from the iMore App

Depending how it's done it can be very manageable, see lg g3 which isn't much larger than the Htc one. Hopefully if apple goes that size, they really shrink the bezels Sent from the iMore App

Agreed, if the rest can do it Apple can also. Sent from the iMore App

I still think the actual pixel area of the next iPhone might be 4.5" diagonal. The rumors of a 4.7" screen may be the result of an extra narrow border in the LCD panel glass around the visible pixels. Take a look at an iPhone 5, for example, and you'll see a very narrow border between visible pixels and the bezel around the LCD panel. Easier to see on a white iPhone, I think. So why would it be 4.5 inches? Because if Apple uses a display with the same 326 dpi dot-pitch and 16:9 aspect ratio as current iPhones and retina iPad mini, a 4.5 inch screen would have a pixel geometry of exactly 1280 x 720. That qualifies as HD, so we might finally see an "HD iPhone." But according to my calculations, a 5.5 inch screen with the same 326 dpi display panel would have a pixel geometry of 1565 x 879. That's an oddball size, but if developers have coded their apps to use Auto Layout, things might not look too bad.

I hope you are right and it is 4.5 in. screen. That is a great size IMO. If it is anywhere between 4.5 and 5 in. I will buy one and make the switch.

Time to get my tent and wait in line.

Still like to see a dual SIM iPhone. Currently I have a 5s (private) and a 5c (company).

Me too but I'm sure Apple don't have a spare 72.52mm3 to waste.

Windows phone has that. Posted via iMore App

I might get the 4.7 inch model, IF they actually do something with the added space, instead of just more icons, etc.

It would be bigger, so there is that.

Hoping for a bigger screen. I would like them to do something more with the space than just increasing the size of the icons on the springboard. Either more icons per page or even splitting the screen for a separate app - twitter feed, notifications etc. Sent from the iMore App

Then why not just buy an android. I spend no time in the start screen. I want more screen for apps not the start screen, that's useless.

You have a point there. Sent from the iMore App

For those worrying about the numerology. - We cover 4,7,5 with the rumored screen sizes.
- We cover 6 with the iPhone 6
- We cover 0, 1, 2 (and 4 again) in the year
- We cover 8 in the iOS version number
- This leaves 3 and 9. 9 with the date.
- Biggest stretch is 3. Three new iPhones. A 6C, the 4.7" and 5.6" 6 Sent from the iMore App

Amazing! wow! That made my day! Lol! Sent from the iMore App

Excited about a larger display ( 5.5 is too big though, IMO ) but I'm hoping the 4", isn't being dropped. Posted via iMore App

I agree! Keep 4" Sent from the iMore App

They will continue to sell the 5S, that will fill the consumer demand for a 4" display.

Will it be $0 by then for two year contract? What about 5c? Btw will there be a 6c?

Large screen and I'll be happy along with faster processor and some other goodies. Sent from the iMore App

Yep. Looking forward to 4.7 inch screen and all the goodness of iOS 8. Also excited to see what hardware nuances they selected for the larger device/s. I assume thinner is a no brainer. Looking forward to see the final product. Sent from the iMore App

I wish they would go with a larger battery over being paper thin so the iPhone lasts much longer, but looks like that won't be the case Sent from the iMore App

Yup! I want a battery that can at least double their norm Sent from the iMore App

Hopefully both the 4.7 and 5.5.. Want apple and other Android OEMs to screw Samsung who isn't even trying hard with its products now a days. Posted via iMore App

A Tuesday seems odd at this point but that may work out better for me to hit the Apple Store if launch day is a week away. I was hoping for an announcement on the 19th and launch the next Friday because I'm off work lol.

Maybe announcement tues launch fri. They didn't do preorders on the 5s so this could be possible if they don't do preorders again Sent from the iMore App

I hope they do preorders this time. I almost didn't get one because Verizon's website kept bogging down on me. My closest Apple Store is 50 miles away and its tough to get over there and work for a living lol.

Bigger Screen!! Please dear God, let it have a Bigger Screen... Sent from the iMore App

I think larger screen(s) is a foregone conclusion. Your wish will be granted.

A 4.7" screen and a swipeable keyboard (e.g. SwiftKey) would suit me just fine.

iOS8 will allow for 3rd party keyboards.

I know, that's another reason why I'm so looking forward to it.

I need to get my 5S ready to sell on craigslist pretty soon then! It's a Sprint iPhone 5S 32GB in like-new condition with original boxing and accessories, a Tech21 Mesh case, and LifeProof case all for $650. Sound like a deal? Off contract it's $749, plus CA tax it's $816.41 and if you have to pay an upgrade fee that's $852.41

That will probably be tough selling for that much, just looking at prices on ebay Sent from the iMore App

Yeah Premium1 is right I have a 64GB 5S and I'll probably be lucky to get $450-$500 at this point. It sucks but the price plummets once the new iPhone gets closer and closer. Sent from the iMore App

Btw can this be unlocked to use on ATT? I heard the sprint sim is for data only?

Can't wait to see what the new iPhone is going looks like Sent from the iMore App

I love the fact a larger phone is coming but can it be like made and shaped with material from the 3GS? Sent from the iMore App

That's never going to happen Sent from the iMore App

5.5 inch iPhone 6!! Sent from the iMore App

I'm just hoping the rumors are false and both versions are announced at the same time. I'm so torn in between the two that I would love to be compare side-by-side on launch day (whatever date that may be). Sent from the iMore App

Just go and check out another large phone, like the Note 3, it's 5.7", to at least give you an idea of what a larger screen is like. The Lumia 1520 is 6".

I'm also hoping for the 'iwatch' Sent from the iMore App

I really hope this is true. Had my iPhone 5 for 2 years, I need larger! Sent from the iMore App

Only 2 years. Gl wasting your money Sent from the iMore App

He could mean that he will be selling his 5 and use that to put into a 6.

iPhone 6 and September 9 is 69. Sent from the iMore App

I would have loved 5" ( not the 4.7" ) that Apple is planning... Look at Nokia Lumia 930 ( Lumia Icon ) ... that size is perfect ( not too small and not too big ) & it's 5"... But 4.7" is pretty much confirmed now so i am neutral on my excitement for the next iPhone Sent from the iMore App

A bigger battery is all I ask!

I'm a month away from the end of my iPhone 5 contract, So I'll upgrade whatever new (or not) features that are announced. There are really no deal-breakers for me. Unless the biggest screen offered is delayed, then I'll wait for that. And I'm still on ATT, so I'm considering strongly switching to T-Mobile.

I'm not falling into the trap I did with the iPhone5...I got it immediately and the apps weren't updated (except a very few) and cases were very hard to find. I'm gonna wait this one out a few months. My 5S is doing just fine. Sent from the iMore App

It takes a while for programmers and makers of cases to get new product updated, but it's actually quick considering all the work that goes into it. But, ya, the 5S will do fine until things catch up.

Lol, I was gonna google plus and tweet this, but then I remember how nobody would see it.!!
Really hoping for a 5.5 phone.!!

If indeed Apple releases two new screen sizes, I hope the bigger one won't be the flagship model.

I'm hoping to see a battery that will last much, waterproof, this 4.7" screen , Siri in Portuguese and 32gb storage as a starting instead of 16gb.

finally! i've been waiting to get rid of my 4S for about a year now

My 2 cents: a 4.7 iPhone 6, and a new 5.5 game-centric iPod Touch.

I can careless about a bigger screen! I want a significantly improved camera! Front and back!

It looks like a z30 with a home button..... INAVATION FTE Posted via the iMore App for Android

iPhone 6 is in the corner now, I want to get one iPhone 6 Replica, does any one have good recommendation? How about this one?
http://www.hdc-mobile.com/index.php?route=product/product&product_id=68

shouldn't the invitations have come out for this today (Aug 26th)? Apple usually gives a couple of weeks notice
Get the best of iMore in in your inbox, every day!
Thank you for signing up to iMore. You will receive a verification email shortly.
There was a problem. Please refresh the page and try again.