Galaxy Note 7 vs. iPhone 6s Plus: Battle of the big phones!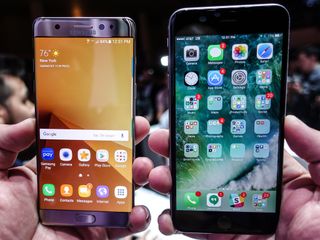 I've just spent a week working with the Android Central team preparing for the Samsung Galaxy Note 7, the Korean giant's latest salvo in the large smartphone space. I read a lot of words about a smartphone that, instead of making overt changes, subtly builds on the success of its predecessor. And then, after using it, I realized that the sum of those parts is one of the most competitive and interesting smartphones to come out this year. So, how does it compare to the existing Apple flagship, iPhone 6s Plus, and what does it mean for the one coming up, iPhone 7?
Symmetry
The first thing that struck me about the Galaxy Note 7 is its symmetry, with the tight curves in its front and back meeting along the side bezels to form an unbroken connection — something that would have been impossible just two years ago, when the processes for curving glass over flexible AMOLED displays was in its infancy. Pundits similarly remarked on the elegance of Apple's curved metal chassis when the iPhone 6 debuted in 2014, and comparing both the iPhone 6s Plus next to the new Note 7, it's clear both companies are able to command enormous manufacturing advantages over much of the competition (though they are catching up).
While the the ports and speaker holes on the Note 7's bottom still don't line up, the rest of the phone is extremely well balanced, and beautifully engineered. It is narrower than its predecessor, the Note 5, and significantly easier to use with one hand than the iPhone 6s Plus, which is a full three millimeters wider. Indeed, the gulf in screen-to-bezel ratio between the iPhone Plus series and some of Android's biggest phones is widening, with products like the 5.5-inch ZTE Axon 7 approaching (but not quite reaching) the designation of "compact."
Galaxy Note 7 vs. iPhone 6s Plus Specs comparison
Swipe to scroll horizontally
Category
Galaxy Note 7
iPhone 6s Plus
Operating System
Android 6.0 Marshmallow
iOS 9.3
Display
5.7-inch 2560x1440 (518ppi)
Super AMOLED
Dual edge screen
Gorilla Glass 5
5.5-inch 1920x1080 (401ppi)
IPS LCD
Ion-strengthened glass
Processor
Quad-core Snapdragon 820 (U.S)
Octa-core Exynos (international)
Apple A9 chip
Storage
64GB
16-128GB
Expandable
microSD up to 2TB
No
RAM
4GB
2GB
Rear Camera
12MP f/1.7
1.4-micron pixels
OIS
12MP f/2.2
1.22-micron pixels
OIS
Front Camera
5MP f/1.7
5MP f/2.2
Connectivity
Wi-Fi 802.11 ac MIMO
Bluetooth v4.2 LE
ANT+, USB 2.0, NFC
Wi-Fi 802.11 ac MIMO
Bluetooth v4.2 LE
USB 2.0, NFC (Apple Pay only)
Charging
USB-C
Fast Charge
Lightning
Fast Charge
Wireless charging
Yes, Qi wireless
Powermat wireless
No
Input
S Pen stylus
4096 pts of pressure sensitivity
Passive stylus only
Battery
3500 mAh
2750 mAh
Water resistance
IP68 rating
Unofficial water resistance
Security
One-touch fingerprint sensor
Iris scanner
Samsung KNOX
Private folder
Touch ID fingerprint sensor
Dimensions
153.5 x 73.9 x 7.9 mm
158.2 x 77.9 x 7.3 mm
Weight
169 g
192g
An unfair comparison
Of course, this is an unfair comparison given that the Note 7 is brand new and the iPhone 6s Plus eleven months old and nearing the end of its annual release cycle. For all we know, the so-called iPhone 7 Plus will shrink, as the Note series has over the past few years, while maintaining its 5.5-inch screen size, or it will merely offer a larger screen with the same dimensions. But Apple hasn't shown as fervent a concern with screen-to-bezel efficiency as it has with thinness and lightness — the iPhone 6s Plus is even slightly thicker and heavier than its 2014 counterpart — and there's no reason to believe that won't continue this year.
But the Note 7 has many of the features iPhone customers have been clamoring for since the early years of the this decade: water resistance; wireless charging; a high-resolution display; and a generous helping of internal storage as standard. And the return of the microSD card to the Note line will certainly attract a certain subset of core Android users who may have defected from Samsung in the 12 months since the Note 5's launch.
As different as they are, though, the iPhone 6s Plus and Note 7 share a number of truths about the smartphone industry in general: they are wholly iterative replacements for very innovative devices, and eschew gimmickry in favor of reliability and — more than anything — quality. To that end, the Note 7's Android software lacks much of the trickery that was so common just two years ago, opting for flat textures, white backgrounds, and thin, easy-to-read typography optimized for high-resolution displays. Even the announcement of an iris scanner lacked the fanfare such an inclusion would have three years ago; it's just another way to log in to your phone (and hopefully, with an impending API, other secure apps).
Pen vs. Pencil
One of the most interesting things about the Note 7 is its S Pen. Even five years after its debut, the S Pen has managed to retain its importance among a subset of Note users enthralled with its intuitive storage and wide app support. This year's version has 4096 points of pressure, similar in theory to the Apple Pencil to which it will inevitably be compared.
We won't know for a month yet if Apple plans to bring Pencil support to the iPhone, but we can safely say that it will not be stored in the chassis like a ballpoint. And while Samsung executives took a soft jab at Apple during the Note 7 keynote by saying that the S Pen needs no external power, nor a special slot in one's bag, the reality is that a feature that in 2011 was dismissed as frivolous has now been acknowledged in some way by the world's most influential smartphone maker. As much inspiration as Samsung draws from Apple in the software department, there is no question that Cupertino's recent flurry of investment in its accessory ecosystem, centred around the burgeoning Smart Connector port, is an idea well worn by other giants of tech.
Peak shine
The Galaxy Note 7 is shiny — not just in a physical sense, but in the way it reflects much of the phone industry's tepid growth and rapid maturity of the past three or so years. From the way its tightly curved glass edges curl to meet a color-matched metal bezel to its port cover-free implementation of IP68 water resistance, the Note 7 is an engineering marvel. Its design is also governed by different values than Apple's. But these differences are shrinking year after year, as Samsung's hardware prowess improves and Android's once-common idiosyncrasies subside.
As the resident cross-platform user at iMore, I'll be exploring the waning distance of these divergences in greater detail over the coming months, but suffice it to say Samsung has engineered its best phone ever with the Note 7, and likely one of the best smartphones, period. It's certainly raised the bar for Apple in the coming month, and that's a good thing for the industry in general.
Now if we could only get Samsung to launch phones with the latest Android version.
Master your iPhone in minutes
iMore offers spot-on advice and guidance from our team of experts, with decades of Apple device experience to lean on. Learn more with iMore!
Daniel Bader is a Senior Editor at iMore, offering his Canadian analysis on Apple and its awesome products. In addition to writing and producing, Daniel regularly appears on Canadian networks CBC and CTV as a technology analyst.