Apple Airport Base Station: The Ultimate Guide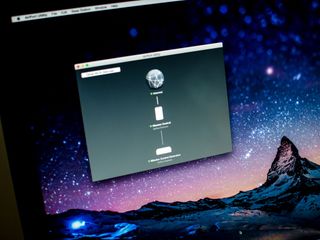 Apple created the Airport Base Station in its various incarnations to allow for a quick, secure, and easy configuration of a Wi-Fi network for end users. Although it may be simple and easy, it also has some powerful configuration options. Here's everything you need to know!
Need to set up a secure no-nonsense Wi-Fi access point? Apple has you covered. Depending on your level of computer kung-fu, setting up a Wi-Fi access point with proper security might seem a little intimidating. Thankfully, Apple's Airport Base Stations (opens in new tab) can take some of the edge off, thanks to the built-in AirPort Utility. Here's how to set things up!
If you're a concerned parent who wants to limit your children's access to the internet, or you simply want to take control of when and how the internet can be accessed in your home, Apple's AirPort Extreme and AirPort Express routers and the Timed Access Control feature were designed to do just that. Here's how to set it up.
Are you getting the best possible Wi-Fi connectivity with your devices? Do you experience frequent disconnects or slow transfer speeds? You may be experiencing network congestion on your Wi-Fi network due to interference from the myriad Wi-Fi access points in your area. You can ensure that you're getting the best Wi-Fi connection possible with the Wireless Diagnostics application on macOS. Here's how!
Wi-Fi has made connecting multiple devices to the internet much easier than in the internet dark ages of wired connected access. Now that we rely on our various devices to be always connected, having poor Wi-Fi coverage in your home or office is a frustrating problem. Luckily, there are technologies that can extend your Wi-Fi coverage using your same Network Name and Password. Although you'd have more than one hardware Access Point, your devices will only "see" one physical network. Apple's AirPort Base Station makes extending your network coverage a breeze when using two or more Base Stations.
Have any Airport Base Station questions?
If you have any questions or comments about the Airport Base Station let us know in the comments!
Get more iMore in your inbox!
Our news, reviews, opinions, and easy to follow guides can turn any iPhone owner into an Apple aficionado
When extending a network, is the airport product as good as the new mesh networks? I have an extended network with two hard wired extremes and two express extenders. Sometimes my devices get confused and jump back and forth.

I have an AirPort Extreme. What I am wondering is since Apple has discontinued their WiFi routers how much longer can I go before I have to upgrade to something else for network security issues?

Yeah, I think this whole Apple route is questionable at this point... If there are no new Apple access points/routers in the fall, I'm gonna switch to mesh this year. I've already blanketed my house best I can w/ apple routers as I use attached speakers on AE's all over the place (cheap Airplay devices, reuse old speakers power them by AE's USB port). I've even changed most of them to network devices instead of 'extending' wireless throughout the house and it seems to work better. I know extending too much will just reduce bandwidth. Hoping this all changes in the fall and apple announces newer devices. I've heard they laid off a bunch of that staff a year or so back, so doubt it.

I have heard the same thing. There are some rumors of a wifi router being incorporated into an Apple TV to make it into a hub for HomeKit something I will believe when I find it. on the Apple Store.

I have an extreme as my base station and an express to extend the wifi. The house is approx 650m2 and the signals are fine - no drop outs. The extreme is hard wired via cat 6 to a Linksys modem which is connected to the phone line. The wifi on the Linksys is disabled. I want to change the Linksys as I now need vdsl. But is having the wifi on the modem the correct set up?

I have the radio on my DSL modem disabled and only use the Airport Expreme. It is designed to automatically sense and add Other Airport WiFi routers to the network.