How to increase your Wi-Fi coverage with an extra AirPort Base Station!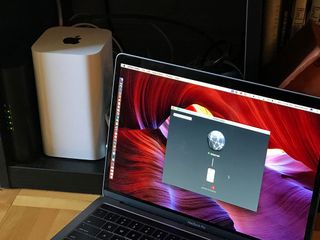 Wi-Fi has made connecting multiple devices to the internet much easier than in the internet dark ages of wired connected access. Now that we rely on our various devices to be always connected, having poor Wi-Fi coverage in your home or office is a frustrating problem. Luckily, there are technologies that can extend your Wi-Fi coverage using your same Network Name and Password. Although you'd have more than one hardware Access Point, your devices will only "see" one physical network. Apple's AirPort Base Station makes extending your network coverage a breeze when using two or more Base Stations.
Make certain you've properly set up your primary network
If you haven't done so already, you can follow our how-to guide to setup your main AirPort Base Station and Wi-Fi network. Additionally, if you're more concerned with protecting your children from too much access to the internet, you can follow our guide to set timed limits on internet access with your AirPort Base Station. Finally, you can ensure you're getting the best possible Wi-Fi connectivity by following our Wi-Fi diagnostics guide to find out which Wi-Fi Channel you should be using for your area.
Where do I place my AirPort Base Stations?
You'll want to get the best coverage of your home or office while avoiding anything that will cause interference to your Wi-Fi radio signals. In a perfect world, you'll have line of sight access between Base Stations and between your devices that will connect to Wi-Fi and the Base Stations. That is rarely the case, of course, but here are some tips on where to place your AirPort Base Stations.
If you have CAT 5 cabling installed throughout your home or office, you'll want to connect Base Stations to each other via an ethernet cable. This will help you isolate your Wi-Fi issues to being between your devices and you Base Stations and not between the Base Stations themselves.
You'll want the least amount of walls and floors between your devices and your Base Stations as possible. Therefore, if you have a three-storey home, you'll not want to have both Base Stations in the basement but perhaps one in the Basement and one on the top floor to spread out coverage.
If you are dealing with many walls or doors, you'll get better connectivity by using the 2.4GHz Wi-Fi radio in your AirPort Base Station. 5GHz radios are more easily blocked by those obstructions but are less prone to interference from other Wi-Fi routers.
Get as many AirPort Base Stations as needed for proper coverage of your home.
Extending the Wi-Fi network!
Once your primary AirPort Base Station is setup with a Wi-Fi network, you can now extend your network with a second AirPort Base Station. Here's how to do it from Mac OS.
Plug in your new Airport Base Station.
On your Mac, start the AirPort Utility.
Click Other Wi-Fi Devices.
Click Other Options once the AirPort Utility has finished gathering information about your network.
Select Add to an existing network.
Connect to your Wi-Fi network name by selecting from the drop-down list.
Type in your preferred Base Station Name and click Next.
Click Done when setup is complete.
How do you ensure your Wi-Fi coverage?
I personally have 3 AirPort Base Stations to have good coverage of my home. In order to make certain I get the best speeds from my ISP, I have optionally installed a CAT 5 ethernet cable interconnected between my Base Stations so that I only need to worry about interference of my Wi-Fi connection to any one of my Access Points and not have to worry about the interference between Base Stations.
You can optionally choose another Wi-Fi extender/booster:
Best Wi-Fi extenders to improve Wi-Fi coverage in your home
Do you have Wi-Fi extenders in your home?
What have you done to extend the coverage of your Wi-Fi network? Tell us below!
Master your iPhone in minutes
iMore offers spot-on advice and guidance from our team of experts, with decades of Apple device experience to lean on. Learn more with iMore!