Apple and Microsoft's converging tablet philosophies mean better devices for everyone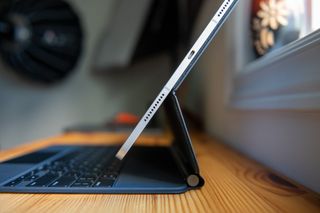 (Image credit: Daniel Bader / iMore)
Last week, Microsoft unveiled its latest crop of Surface devices, including a pair of tablets that are clearly designed to compete with Apple's iPad Pro and iPad 9th-gen.
Though the best iPad models continue dominate the tablet space in terms of market share, Microsoft has continued marching on with its Surface lineup and, when you look closely, you begin to realise that Apple and Microsoft's tablet philosophies really aren't that far apart anymore.
Gone are the days of touch-only iPad devices and so-called "toaster-fridge" competition. iPads looks more like Surface devices than ever, and Microsoft continues to make the Surface's tablet experience better. Ultimately, it's consumers that benefit from some real competition in the tablet space since it ultimately results in better products, regardless of which ecosystem you prefer.
Great artists steal
Though it wasn't the first tablet, the iPad was certainly the catalyst for the modern-day tablet market and continues to lead with almost 60% of tablet revenue heading Apple's way. That hasn't put off Microsoft, though, who has continued to bring new Surface ideas to the table over the years since the original iPad debuted.
Though Surface RT was a rough start, Microsoft realized that many users wanted to be able to interact with their tablet in different modes, which the kickstand allowed, and with both touch and traditional input methods like keyboards, trackpads, styluses, and mice.
Apple, as always, is happy to steal good ideas where it sees them. It launched its own stylus, the Apple Pencil, in 2015 alongside the first iPad Pro with a Smart Keyboard that magnetically attached to the iPad Pro à la Surface Pro.
The announcement of the adjustable Magic Keyboard was viewed by some as a the final admission that Microsoft actually got the 2-in-1 form factor right with the original Surface.
With the just-announced Surface Pro 8 and the Surface Go 3, Microsoft and Apple's competing tablet lines get even more similar with a host of iPad-like features swinging the other way.
The Surface Pro 8, for example, has a larger, edge-to-edge 13-inch display with a higher refresh rate and True Tone-like color adjustment. It also has Thunderbolt 4, Dolby Atmos speakers, improved cameras, and powerful new Intel chips.
The new Surface Slim Pen 2's wireless charging was no doubt inspired by that of the Apple Pencil 2, even if it occurs in a different spot on the device.
Just as the Magic Keyboard cribbed the Surface Pro's hinge, the new Surface Laptop Studio steals it back for its floating display design.
Even on the low end, Microsoft bumped its Surface Go 3 internally while keeping the outside unchanged as it aims to keep up with the entry-level iPad, which was also powered up this fall.
It all comes down to the software
For many, the mobile-first iPadOS is more accessible and efficient, and comes with the backing of the App Store library, which features all of their favorite apps. Plus, it now has native trackpad and keyboard support, as well as a whole host of Multitasking improvements in iPadOS 15, turning it into a more laptop-like experience.
Windows is familiar for a lot of folks who use PCs at work, so a Surface may have less of a learning curve and feel like a more "serious" OS to use elsewhere. Though Windows has very much been a desktop OS shoehorned onto a tablet in the past, Windows 11 brings some major design changes with the aim of improving touch-based input.
You can do work on either an iPad or a Surface, play games, watch movies, and more. You can use either as a tablet, a modular computer, a laptop, or hooked up to an external display. Either can replace your computer since they are both effectively are computers.
Ultimately, with hardware that is very similar in all the ways that actually matter, your tablet of choice is going to come down to which operating system you prefer to use and which suits your needs better. And that's a great spot for the tablet market to be in.
Adam Oram is a Senior Writer at iMore. He studied Media at Newcastle University and has been writing about technology since 2013. He previously worked as an Apple Genius and as a Deals Editor at Thrifter. His spare time is spent watching football (both kinds), playing Pokémon games, and eating vegan food. Follow him on Twitter at @adamoram.
"Microsoft continues to make the Surface's tablet experience better". Some might disagree with that. Their hardware is great and getting better. The software though has never been superb for tablet use, and getting worse with Win 11 (IMHO). There is very little that a tablet can't do these days, so for me what differentiates a tablet from other form factors is the ability to use it effectively with touch. When you look at that, consider the percentage of iPad users that buy a keyboard (and/or mouse) compared to Surface users that do so. In my own experience, my Surface keyboard never leaves it, while my iPad keyboards rarely get used. That is of course a function of the software. Windows just isn't all that touch friendly. Capable, yes, but friendly, no. Windows applications don't help the matter, but then they have been able to assume the user had a mouse and keyboard for decades. iPad developers had to assume all their users had was fingers. As much as they want to, MS doesn't really have a tablet. They do have killer portable Windows PCs.
P.S. If the Magic Keyboard could support the positions the Surface Laptop Studio can, it really would be magic.

They look the same means nothing. The IPAD is the market leader so of course other companies would look to a similar design. That means virtually nothing. It's standard business practice in a competitive market space. I'm perplexed how that makes a headline and 2/3s of a story.
But at least the story included a shut out to software but glossed over ease of use testing, App potential.
Benchmarks of since and multicore as well as graphics?
Display clarity, usage under specific conditions? FR achievement?
Durability?
Temperature?
Audio? Among others. If you want to have competition (as consumers we do) then comparison beyond what it looks like is kinda important? The 99 cent store can make a tablet that looks like an iPad. That means almost nothing in what's important, usage.
Thank you for signing up to iMore. You will receive a verification email shortly.
There was a problem. Please refresh the page and try again.