Apple growing, Samsung slowing, and doubling down on the 'great product' strategy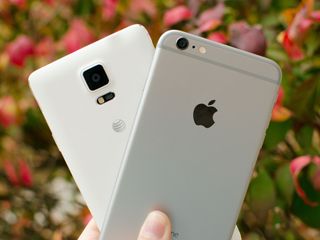 Apple will report its first-quarter 2015 earnings later today, and analysts are expecting a blockbuster. That's in stark contrast to rival Samsung, whose profits have been stalling on both the premium and budget ends of market. What makes this remarkable is that Apple hasn't changed their product strategy to do it — they've doubled down on it.
The Wall Street Journal:
Despite calls for Apple to make everything from netbooks to low-end phones, the company has stuck to what they say they do best — "making great products." Historically, that's not only insulated them from the zero-margin mayhem at the bottom, it's allowed the company to position themselves as both premium and mainstream at the top, justifying higher cost by returning even higher value.
In the PC market, Apple takes a huge percentage of the profits despite a small percentage of the market. With the iPhone, however, we see how those profits scale.
Apple's focus on "great products" rather than diverse or cheap gadgets also means that the company tends to have customers who buy the iPhone because it's the iPhone. In other words, the company has customers who are loyal to Apple.
Samsung, by contrast, benefited from the absence of Apple in the big screen premium phone space and by the absence of local competition in the low-end phone space. They had customers who were loyal to size or cheapness.
Now Apple has the iPhone 6 and iPhone 6 Plus, two bigger screen phones, and one at an even higher price point. Those iPhone models will take some — maybe a lot — of the share of the big screen premium phone space. Meanwhile there are several strong new competitors eating into the low end space.
Apple gains on the high end, and continues to be relatively insulated on the low. Samsung gets hurt on both.
All by Apple doubling down on "great products".
Rene Ritchie is one of the most respected Apple analysts in the business, reaching a combined audience of over 40 million readers a month. His YouTube channel, Vector, has over 90 thousand subscribers and 14 million views and his podcasts, including Debug, have been downloaded over 20 million times. He also regularly co-hosts MacBreak Weekly for the TWiT network and co-hosted CES Live! and Talk Mobile. Based in Montreal, Rene is a former director of product marketing, web developer, and graphic designer. He's authored several books and appeared on numerous television and radio segments to discuss Apple and the technology industry. When not working, he likes to cook, grapple, and spend time with his friends and family.
For less discriminating consumers than the folks who frequent Mobile Nations, the iPhone has always been a safe bet - reliable, easy to use, fashionable. Samsung has the brand recognition in mobile, has all the apps Joe User wants, and *had* the advantage of a larger screen. Those less discriminating consumers are the vast majority, and for most, the screen real estate was the only thing holding them back from shifting their $200 every two years from Samsung to Apple. Bad news for Samsung, but it shakes things up for folks like HTC, LG, and Nokia/Microsoft who are putting quality, non-iOS devices out there.

"Those less discriminating consumers are the vast majority, and for most, the screen real estate was the only thing holding them back from shifting their $200 every two years from Samsung to Apple." Nope. It was and remains the USD 1000 they have to pay for a new iPhone, compared to the USD 200 they are used to being for a phone, that keeps people from buying Apple. Obviously. Only so many people want to pay that much for disposable consumer tech. Today, the least expensive iPhone being sold, iP4S, costs more than the most expensive WP's being sold, Lumia 930/1520/HTC One. The majority of Android devices being shipped reside at that or lower price point as well. This is why Apple will never grab a large market share, only a large profit share. Now, don't ask me why anyone would buy an iP4s in 2015 in place of a Lumia or an HTC. No, I don't get it either.

I agree that off-contract prices are high for flagship phones, but I'm guessing that the majority of customers buy in two year cycles with a carrier subsidy, usually $200 for the high end phones at launch. I'd wager that next year will be even bigger for the iPhone since the '6' models will be $100 on contract, with their big screens casting long shadows on lower cost phones.

The "classic" pattern of purchases in new technology is Innovators, Visionaries, Pragmatists, Conservatives, and finally Laggards. The first couple of groups are the tinkerers and fanboys, pragmatists just want to get stuff done, conservatives wait until they see everybody else on board, and laggards have to be dragged into it. Seven years into the iPhone era, conservatives are buying it in large numbers. Normally, conservatives are extremely price-sensitive, which would benefit Samsung and non-flagship Android models. Ben Thompson at Stratechery has a theory why this typical pattern has flipped on its head here, and it echoes Rene - that with personal tech like smartphones, there is something pragmatists and conservatives value more than initial money, and that is not being hassled. Conservatives, almost by definition, rarely do the sort of tinkering Android excels at, and the iPhone, much more so than the cheaper Andoid phones (not going to start a flagship war), has the reputation of just letting you get things done. This has allowed Apple not only to weather the period when price would normally start eating them from below, but actually thrive. If Ben is correct, we could likely expect this narrative to continue for quite a while. Sent from the iMore App

I have been giving iPad classes to seniors and a large number of them that have PCs at home are now buying Mac minis. I think this could become a tidal wave in the not to distant future. Watch for this trend in todays report.

We have been told for years now that the tablet is killing the PC, yet this year the PC sales have shown growth again, while tablets' growth is slowing, expect for PC-like 'real' Windows tablets. People still need their real PCs to create content and to get work done.

Samsung and other Android manufacturers definitely had an advantage when it came to big screen devices. Now with Apple having joined the large screen smartphone market, it'll probably be easy for them to gain back former iOS users they lost to Android. Even to Android fans in the comment sections and forums, Samsung isn't that appealing due to the heavy TouchWiz skin. I can deal with it, but I'd much rather have a more stock android experience. Samsung definitely has to try something new if they don't want to fall like HTC has. Curious to see what Samsung does with 'Project Zero'.

I'm always glad to see Apple doing well and I also don't have anything against Samsung (google, yes, Samsung, no); but, when discussing profits, shouldn't the fact that Samsung produces a much wider range of products than Apple? What am I missing here?

It's not sustainable. The trend is going to reverse over the next few quarters, once everyone gets over the fact that they can now get larger screen iPhones.

Apple did really well with a single digit share of the PC market. The phone market eclipses the PC market. So what's not sustainable about the strategy?

The growth is not sustainable. It's just a temporary disturbance in the market place because Apple now offers the iPhone in larger sizes. Once the market gets over the excitement, over the next few quarters the market share numbers are going to shift back to Android vendors. Besides, Apple can only use their brand power for so long before developing markets realize that there are way less inexpensive Android phones that have great build quality and feel every bit as premium as the iPhone. Apple needs to watch out for companies like Xiaomi. Brand loyalty is not a religion in developing countries as it is in developed ones. Value per capital matters more in these regions. I predict Apple is going to be in the same position Samsung is today. And vendors like Xiaomi and Huawei will be responsible for that.

Well said mate Posted via the iMore App

I think the point of Apple's (and other companies') expansion into Asia is that millions of people are entering the middle and upper class every year. They make the same decisions as an American or European. Surely, some of the bump in sales can be attributed to new models having just come out. But Apple wouldn't build 6 new Chinese Apple Stores this year if they thought it wasn't a sustainable, emerging market. I don't know why developing countries' consumers would find the Apple brand any less sticky than its fans in established markets.

Every year: It's not sustainable. Every year: Apple does amazingly well.

What's your point? Samsung is doing well. Microsoft is doing well. Google is doing well. The question is whether Apple can overthrow Android as the most dominant operating system on the planet, or in particular China. The answer is no. Not with vendors like Xiaomi experiencing exponential growth and mind share. Let's not pretend one good quarter defines a trend.

Apple's increased iPhone sales each and every year for the last 7 years says you are wrong. 1 billion iOS devices later and sales of over a quarter of a billion iOS devices a year shows Apple's iOS platform and ecosystem was self-sustaining a long time ago. With 875 million active iTunes/App Store last Sept (and 98 million more sold since then) compared to only 1 Billion active Android users, Apple's iOS platform doesn't need to go down-market to capture the unprofitable segment of the market.

The thing is smartphones are rapidly becoming commodities, thanks to Android and China. In 5 years when you can get an Android phone every bit as powerful and as well built as the iPhone for $99, what's Apple going to do? Are they going to keep relying on their brand power? Will that even work? Their business model is just not sustainable in certain markets, period.

People have been saying that for 7 years now and it still hasn't happened Lateef. People don't buy iPhones because of their specs (though they are the fastest devices in almost all GPU and CPU benchmarks), they buy them because of the vertically integrated platform and ecosystem - the fact that iOS is the primary target of developers, the vast array of iOS peripherals and accessories available that any individual Android device only dreams about and the lack of malware which is swamping the Android platform - things which Android is completely unable to compete with.

Some counterpoints: - I never said anything about specs;
- Apple's ecosystem is nothing unique to it; every major tech company has one;
- Android currently has more developers than iOS, the Play Store is also now bigger than the App Store: http://blog.appfigures.com/app-stores-growth-accelerates-in-2014/;
- The malware epidemic on Android is a myth: http://qz.com/131436/contrary-to-what-youve-heard-android-is-almost-impe... . In conclusion, by every conceivable and objective metric available, Android is the platform growing the fastest.

"I never said anything about specs;" Yes you did. Let me quote: "when you can get an Android phone every bit as powerful" "Apple's ecosystem is nothing unique to it; every major tech company has one" On the contrary, Apple's ecosystem is unique with by far the most peripherals and accessories due to vastly less SKUs to target, CarPlay (vs Google vapourware), the Tsunami that is Apple Pay (vs the failure that is Google Wallet), e-commerce revenue 400% greater than Android, advertising ROI 1,790% greater than Android, the most Music and Media content etc. "Android currently has more developers than iOS, the Play Store is also now bigger than the App Store." Number of apps is meaningless when 30% of the apps in Google Play are spamware and when it is iOS that gets all the apps first (and often only), has by far the most top tier games and when iOS app developers bring in 84% greater revenue and 1,790% greater advertising ROI than Android developers. iOS also as the most Business apps and integration helping it capture 77% Business market share as well as the most Education apps (90% tablet market share). "The malware epidemic on Android is a myth." Incorrect. 99% of mobile malware targets Android according to Cisco, F-Secure and Kaspersky and 32.8 million Android users were infected with 65,550 different variants of malware in 2012 alone and growing rapidly according to InQ Mobile. An example of the viciousness of many Android malware exploits is the Eurograbber malware that swiped 47 million dollars from the bank accounts of 30,000 hapless users in 2013. Then there is the Bmaster command and control botnet malware which has been siphoning between half to 3.5 million dollars off poor Android users per year. "In conclusion, by every conceivable and objective metric available, Android is the platform growing the fastest." Incorrect. See the metrics above. In addition, Apple has now surged to capture 50% market share in the world's second biggest mobile market, the USA, is now number 1 smartphone manufacturer in the largest market - China - as well as surging to 40% market share in the UK, Japan and Australia and 33% market share in Samsung's backyard, South Korea. Apple also now boasts 1 billion iOS devices sold with 875 million active iTunes/App Store users back in September and has since sold another 98 million iOS devices. In comparison, Google reports there are only 1 billion active Android users. By all the metrics that matter, Apple's iOS continues to dominate the Android platform worldwide.

"Yes you did. Let me quote: "when you can get an Android phone every bit as powerful"" That has nothing to do with specs. A $99 phone that is as powerful and capable as a $700 - $800 phone is a value proposition, not a spec comparison. Users in developing nations don't care about specs. "CarPlay (vs Google vapourware)" It's called Android Auto: https://www.youtube.com/watch?v=BCAWLKcohGE "the Tsunami that is Apple Pay (vs the failure that is Google Wallet)" Mobile payment share is still heavily skewed towards Google Wallet, 1% vs 4%. http://www.ibtimes.com/apple-pay-gains-traction-1-november-digital-payme... "Number of apps is meaningless when 30% of the apps in Google Play are spamware and when it is iOS that gets all the apps first (and often only)" Already debunked. http://qz.com/131436/contrary-to-what-youve-heard-android-is-almost-impe... "has by far the most top tier games and when iOS app developers bring in 84% greater revenue and 1,790% greater advertising ROI than Android developers." Currently data shows that App Store generated twice as much revenue than the Play Store, $10 billion vs $5 billion. However, because Android and the Play Store is growing faster than ever, the trend is bound to reverse within 2 - 3 years. "Incorrect. 99% of mobile malware targets Android according to Cisco, F-Secure and Kaspersky and 32.8 million Android users were infected with 65,550 different variants of malware in 2012 alone and growing rapidly according to InQ Mobile. An example of the viciousness of many Android malware exploits is the Eurograbber malware that swiped 47 million dollars from the bank accounts of 30,000 hapless users in 2013. Then there is the Bmaster command and control botnet malware which has been siphoning between half to 3.5 million dollars off poor Android users per year." It's common knowledge that security firms selling Android anti-malware apps lie about the security of Android to scare and peddle their wares to Android users. http://www.osnews.com/story/27862/Trend_Micro_caught_lying_about_Android... According to the only reliable data to date, only 0.001% of the 99% of malware that target Android devices succeed. That's the best record in the industry. http://qz.com/131436/contrary-to-what-youve-heard-android-is-almost-impe... And lets not pretend malware doesn't exist on iOS. "Incorrect. See the metrics above. In addition, Apple has now surged to capture 50% market share in the world's second biggest mobile market, the USA, is now number 1 smartphone manufacturer in the largest market - China - as well as surging to 40% market share in the UK, Japan and Australia and 33% market share in Samsung's backyard, South Korea." Last I checked, Apple was 11% of the global market share and dwindling. According to IDC, Android is still the most dominant mobile platform, with over 80% market penetration. http://www.idc.com/prodserv/smartphone-os-market-share.jsp "Apple also now boasts 1 billion iOS devices sold with 875 million active iTunes/App Store users back in September and has since sold another 98 million iOS devices. In comparison, Google reports there are only 1 billion active Android users." So there are more Android users than iOS users. How does that favor Apple? Android reach 1 billion active users in June 2013 at Google I/O. That's almost a year and half ago. It won't surprise me if by this I/O the number has almost doubled.

So in other words, a $99 phone is not and will not be as powerful as an iPhone. Thanks for clearing that up. "It's called Android Auto" Trouble is Android Auto requires Android 5.0 which still missing in action running on less than 0.1% of Android devices 3 months after release compared to iOS 8 which is already on 70% of iOS devices in the same time period and CarPlay which is already in my car and millions of others. "Mobile payment share is still heavily skewed towards Google Wallet, 1% vs 4%." Your stats are old. Apple Pay has now captured 66% of dollars spent using contact-less payments with various retailers reporting it accounts for 80% of their mobile payments. "Already debunked." (malware) And yet because so few Android devices are running that latest more secure versions of Android, a huge proportion of the Android platform is still vulnerable to for example, the Master Key security hole which affected 99% of all Android devices sold since 2008 that can give malware full access to all system and user data and control phone and SMS functions and turn the Android device into an always-on, always-moving, hard to detect botnet zombie. This Master Key vulnerability can unfortunately only be patched by manufacturers releasing new firmware for their devices which is regrettable considering the dismal record manufacturers and Carriers have of releasing updates for Android devices. You're still not safe even if you restrict yourself to the Google Play Store as it has suffered plenty of malware including the Cleaner hybrid Trojan hosted on the store which powned Android phones as well as using them as a launching platform to inject malware into user's Windows PCs not to mention the "bad news" malware which was downloaded from the Google Play Store up to 9 million times. Then there was "Virus Shield", an app that briefly shot to the top of the charts on Google Play which turned out to be a complete fake and was taken down but not before it had scammed 3.49 from thousands of Android users. "only 0.001% of the 99% of malware that target Android devices succeed. That's the best record in the industry." And yet hundreds of millions of dollars continues to be siphoned off Android users as previously reported. Go figure. Your link to Google's Android Security chief Adrian Ludwig's data mentions that "only" 0.12% of Android apps installed contained malware. However, considering the average mobile device has 60 apps installed, that means that around 7.2% of Android devices have malware. Kindof destroys your argument no? "lets not pretend malware doesn't exist on iOS." It might as well not exist considering the vastly smaller impact (particularly considering virtually all iOS malware only affects jailbroken devices). "Android reached 1 billion active users in June 2013 at Google I/O." Incorrect. Sundar Pichai, Google's head of Android announced 1 billion active Android users only 7 months ago (June 27 2014) with Apple announcing 875 million iTunes/App Store users only three months later and 1 billion iOS devices sold 2 months after that. Since then, Apple has sold another 97 million iOS devices. So much for iOS only having 11% marketshare. iOS is right behind Google's Android in actual active users (as opposed to the 60% of Android devices that are sub-$200 glorified dumbphones) but continues to dominate Android in all the metrics that matter.

===
"Trouble is Android Auto requires Android 5.0 which still missing in action running on less than 0.1% of Android devices 3 months after release compared to iOS 8 which is already on 70% of iOS devices in the same time period and CarPlay which is already in my car and millions of others."
=== Ah, the "we got it first" argument. As far as I've researched CarPlay and Android Auto vehicles begin shipping in 2015 from most automakers. So I have no idea how you reached the conclusion that "millions of others" already use CarPlay. Unfortunately, you also have the habit of not sourcing your wild claims. ===
"And yet because so few Android devices are running that latest more secure versions of Android, a huge proportion of the Android platform is still vulnerable to for example, the Master Key security hole which affected 99% of all Android devices sold since 2008 that can give malware full access to all system and user data and control phone and SMS functions and turn the Android device into an always-on, always-moving, hard to detect botnet zombie.
This Master Key vulnerability can unfortunately only be patched by manufacturers releasing new firmware for their devices which is regrettable considering the dismal record manufacturers and Carriers have of releasing updates for Android devices.
=== You mean the vulnerability that has absolutely no effect on Google Play Store users. Source: http://www.androidcentral.com/making-sense-latest-android-security-scare ===
You're still not safe even if you restrict yourself to the Google Play Store as it has suffered plenty of malware including the Cleaner hybrid Trojan hosted on the store which powned Android phones as well as using them as a launching platform to inject malware into user's Windows PCs not to mention the "bad news" malware which was downloaded from the Google Play Store up to 9 million times." Then there was "Virus Shield", an app that briefly shot to the top of the charts on Google Play which turned out to be a complete fake and was taken down but not before it had scammed 3.49 from thousands of Android users.
=== Right, and trojans don't make it into the App Store. There have been 2 or 3 proof of concept malware that made it to the App Store. Then there was FindCall that basically stole iOS users private information and sent it to a server in Russia. And then there was LBTM that made calls behind users back and racked up their phone bill. Among many others. ===
And yet hundreds of millions of dollars continues to be siphoned off Android users as previously reported. Go figure.
=== This is magic how you summon numbers from thin air. ===
Your link to Google's Android Security chief Adrian Ludwig's data mentions that "only" 0.12% of Android apps installed contained malware. However, considering the average mobile device has 60 apps installed, that means that around 7.2% of Android devices have malware. Kindof destroys your argument no?
=== No. He said 0.001% of apps evade Android security. 0.12% users make the deliberate choice of sideloading apps even after they've been warned that the apps are potentially dangerous. I don't know how you extrapolate 0.12% to 7.2%. I also don't know where any of your numbers come from. ===
Incorrect. Sundar Pichai, Google's head of Android announced 1 billion active Android users only 7 months ago (June 27 2014)
=== I stand corrected. Android had 900 million active users by I/O 2013. https://www.youtube.com/watch?v=9pmPa_KxsAM#t=487 ===
with Apple announcing 875 million iTunes/App Store users only three months later
=== Meaningless stats. iTunes users are available on iOS, Windows and Mac. So which iTunes account are we talking about. Won't surprise me if the majority of those users are Windows users. By the way, Android still had more users in 2013. ===
and 1 billion iOS devices sold 2 months after that.
=== This is a cumulative number. Of course, Android devices have consistently sold more. Like 60% more. ===
Since then, Apple has sold another 97 million iOS devices.
=== And Samsung sold more devices than Apple in 2014. http://www.gsmarena.com/samsung_dominated_smartphone_shipments_in_2014-n...

"So I have no idea how you reached the conclusion that "millions of others" already use CarPlay." I've had a Pioneer AVIC-F60DAB head unit running CarPlay in my car for 3 months now. Google is your friend, but if you really want links, here you are: http://www.cnet.com/au/news/apple-carplay-comes-to-pioneer-nex-car-stere... And here is one of many links demonstrating Android 5.0 is still on less than 0.1% of Android devices: http://tech.firstpost.com/news-analysis/only-0-1-of-users-have-received-... "You mean the vulnerability that has absolutely no effect on Google Play Store users." I'm sorry but the ability to side-load apps and use alternative app stores like Amazon are always touted as major advantages of Android over iOS - you can't have your cake and eat it too. "0.12% users make the deliberate choice of side loading apps" Let me quote from the article you referenced: "Based on the data from tracking over one and a half billion app installs Google obtained convincing evidence that the rate of "potentially harmful apps" installed is stable at about 1,200 per million app installs, or about 0.12%" Now the average number of apps installed on phones is 60:
http://www.asymco.com/2011/01/16/more-than-60-apps-have-been-downloaded-... Now multiply 0.12% by 60 and you get 7.2% of Android phones have been infected with malware. Not a pretty picture. "There have been 2 or 3 proof of concept malware that made it to the App Store." And that's pretty much it - a couple of non-malicious concepts. In comparison, 32.8 million Android devices were infected with 65,227 different strains of malware in 2012 alone http://www.techlicious.com/blog/32-million-android-phones-infected-with-... "Won't surprise me if the majority of those users are Windows users."
Apple has only sold around 200 million non-iOS iPods in the last *14 years* to both Mac and PC users (and only about 20 million in the last 2 years). Your theory is baseless. "This is a cumulative number." Apple only sold 17 million iPhones in the first two years and with Apple's high quality construction and huge hand-me-down and resale market, most iOS devices are indeed still active. In fact, according to Flurry, in terms of actual devices in use, back in April 2014 there were 510 million active active app-using iOS devices worldwide and around 200 million iOS devices have been sold since. Also, on April 23 Tim Cook reported that Apple had nearly 800 million active iTunes/App Store accounts. This was up from the 575 million accounts announced in June 2013 meaning active accounts are now projected by analysts to hit 1 billion anytime now. "Of course, Android devices have consistently sold more. Like 60% more." This means nothing as 60% of those were sub-$200 glorified featurephones that contribute nothing to the Android ecosystem.
http://www.businessinsider.com/android-iphone-market-share-by-price-2014-8 "And Samsung sold more devices than Apple in 2014" Two thirds of which were cheap and nasty glorified featurephones like the sub-$100 Galaxy Y with its 320x240 2.7" screen:
http://appleinsider.com/articles/13/11/06/only-one-third-of-samsungs-sma... Premium Samsung phone and tablet sales plunged 50% in 2014:
http://appleinsider.com/articles/14/10/30/how-apple-inc-went-thermonucle...

===
I'm sorry but the ability to side-load apps and use alternative app stores like Amazon are always touted as major advantages of Android over iOS
=== It is. ===
- you can't have your cake and eat it too.
=== You can. If you're careful, and you understand the risks. ===
I've had a Pioneer AVIC-F60DAB head unit running CarPlay in my car for 3 months now.
=== And they have units running Android Auto too. https://www.youtube.com/watch?v=YiM_lLf5GPk#t=81 ===
Let me quote from the article you referenced: "Based on the data from tracking over one and a half billion app installs Google obtained convincing evidence that the rate of "potentially harmful apps" installed is stable at about 1,200 per million app installs, or about 0.12%"
=== Cherry picking context, aren't we. Perhaps, you missed the part where 0.12% refers to sideloaded apps. Here, let me help you. "Verify Apps tracks each incident when a potentially hazardous app is flagged, when the user is warned, and when the user chooses to ignore the warning and installs the app. Warnings are an effective deterrent to malware. Only 0.12% of users chose to ignore the warnings and install potentially hazardous apps" Less than 0.001% of malware can actually get installed on Android, via the Play Store. Let me help you again. "Until now, Google hasn't talked about malware on Android because it did not have the data or analytic platform to back its security claims. But that changed dramatically today when Google's Android Security chief Adrian Ludwig reported data showing that less than an estimated 0.001% of app installations on Android are able to evade the system's multi-layered defenses and cause harm to users." In short, the probability of any user using the Play Store getting an Android malware is practically zero. ==
Now the average number of apps installed on phones is 60: http://www.asymco.com/2011/01/16/more-than-60-apps-have-been-downloaded-...
Now multiply 0.12% by 60 and you get 7.2% of Android phones have been infected with malware. Not a pretty picture.
=== 60 is the average number of apps installed on iOS, not Android, in 2011. So not only is your data inaccurate, it's stale. In addition, 0.12% applies to users who sideload apps. Finally, even if I play along with your math, in what planet is a 7.2% malware infection rate bad. That's actually pretty good for an OS that is targetted by 99% of malware writers. The reality however, is that only 0.001% of malware have been able to evade Android's defenses. So, in other words, it's virtually impossible for an Android users to get malware on their device, especially if they use the Play Store exclusively. Let me put it in plain English. There's a 0.001% chance that an Android user will get Malware installed on their device. There's a 0.12% chance that an Android user will deliberately sideload and install malware on their device after being warned. Therefore, the Android malware epidemic is a myth. ===
In comparison, 32.8 million Android devices were infected with 65,227 different strains of malware in 2012 alone http://www.techlicious.com/blog/32-million-android-phones-infected-with-...
=== Security firm peddling security software on Android claims Android is insecure without any factual data to back up claim. This is getting old. What else is new? ===
Apple has only sold around 200 million non-iOS iPods in the last 14 years to both Mac and PC users (and only about 20 million in the last 2 years). Your theory is baseless.
=== Is it? Any data to disprove it? ===
Also, on April 23 Tim Cook reported that Apple had nearly 800 million active iTunes/App Store accounts. This was up from the 575 million accounts announced in June 2013 meaning active accounts are now projected by analysts to hit 1 billion anytime now.
=== That's still vague and open to interpretation. An active iTunes account doesn't necessarily translate to an active iOS user. We know there are iTunes users on Windows, Mac, and iOS. What portion of these users are accounted for as iOS users. Also are these monthly active users? Tim Cook has always been vague about all these numbers. In contrast, Android had more than 1 billion "30-day monthly" active users in June 2014. That means more than 1 billion Android users use the platform every single month. It doesn't get anymore plainer than that. ===
This means nothing as 60% of those were sub-$200 glorified featurephones that contribute nothing to the Android ecosystem.
=== 92% of Android phones now run on Android 4.0 or better. So it's impossible for 60% of these phones to be running glorified feature phones. Inexpensive Android phones are every bit as capable as the iPhone. Not everybody seen the value in spending hundreds of dollars on a nerd toy. Phones are quickly b