How to use the Apple Music app on Android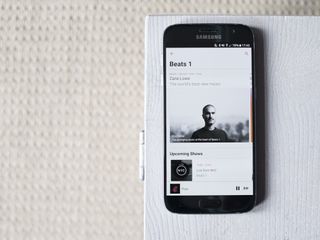 When Apple acquired Beats Music as part of its takeover of Beats, the service went away and was replaced by Apple Music. Windows is still out in the cold, but Apple surprised us by creating an Apple Music app for its main competitor, Android.
Apple Music on Android has, until very recently, had its own identity that fit in with the platform it calls home. Recent updates have brought it into line with what you'll find on iOS, so it's time we took a fresh look at it from across the mobile nations (see what I did there?) and see what it looks like from an Android user's perspective.
Almost identical siblings
Apple Music on Android has had a visual overhaul which brings it straight into line with the iOS version. So we're looking at a lot of white, some red accents, and very bold headers. The biggest visual difference is in where you find the navigation bar — Android prefers a hamburger menu over Apple's static bar running across the bottom, so your app sections are tucked away on Android.
If anything, hiding that stuff actually makes the Android app look a little better. It's a little cleaner, with no additional on-screen clutter. Everything you need is always just a swipe away.
Lyrics for your songs are present and correct. Just scroll down in the player and you'll see an option to show them if you want to sing/rap/shout along.
Aside from font differences and the placement of things like the volume bar, the two apps are about as identical as you could hope for. Apple has given the Android app the look of iOS, but without taking away important platform specifics, like navigation or the playback widget you'll find in the notification area.
So. Much. Content.
The iTunes catalog is gigantic. There's no other way of putting it. Apple Music isn't just a mass of albums, artists, and songs, either. Connect is a social feature you'll either enjoy or completely ignore, but it does what it sets out to do by bringing you a little bit closer to your favorite artists.
Everyone knows how much music you can get through Apple, but the real story is in the curation. If you can't find a curated playlist that hits the right notes for you on Apple Music, you won't find one anywhere. You tell the app from the get-go what sort of music you like, which then pulls up plenty of suggestions to get your head banging (or the pop music equivalent).
Generally speaking, if music is available for streaming, you'll find it on Apple Music. There will always be exceptions, but those are the minority.
Beats 1 brings the noise
If you're into Beats 1, you can listen to it on Android, too. Just open Apple Music on Android and tune right in. You'll find the same live and on-demand content as you would on iOS. Whether you like Beats 1 or not is a different question for a different day, but it's here, complete with all the Zane Lowe you can handle.
Beyond Beats 1, you'll also find Apple's curated radio stations. If you don't know what to listen to, Apple will do the work on your behalf.
Should you use it?
If you like Apple Music already there's absolutely no reason to switch away if you move over to an Android phone or tablet. It's a harder sell, however, to convince someone who doesn't use any Apple products to jump on Apple Music on Android. There's so many alternative choices out there.
Google, Microsoft, Spotify, Pandora, Tidal; if there's a streaming music service in the world, it's available on Android (I know, I know, it's probably on iOS, too). But Apple Music has a lot going for it with a huge catalog, excellent curation, a well designed app and a family subscription plan.
Android users shouldn't turn up their noses just because the Apple name is over the door, that's for sure. Underneath, Apple Music has recycled everything that made Beats Music so good before it was swallowed up.
There's a free trial available. Everyone should at least give it a go. It's one of the best music services around, regardless if you prefer Apple or Android.
Download Apple Music from the Google Play Store (opens in new tab)
Get the best of iMore in in your inbox, every day!
"Whether you like Beats 1 or not is a different question for a different day, but it's here, complete with all the Zane Lowe you can handle." So about five seconds' worth then.

Was there a magic change just recently? Apple Music on Android is pure awful. Half the time, the music wouldn't play. You would download a song to your device, only to have the device say the song wasn't downloaded. Then later, it would show it downloaded. Then, even on wifi, it would just skip songs randomly. No reason why. The experience using Apple Music on Android and iOS are DRAMATICALLY different. Just because the apps look identical doesn't mean they perform similar.

I believe most of these issues have been fixed now

Don't they prevent you from starting an account on Android? As in it could only be created on iOS? Google Music lets you sign up from iOS, but does the 30% upcharge that Apple charges them. Apple could at least let you sign up from the phone. My main dislike for this is that it seems all of these music apps try to force their choices on me. I just want a stupid music app that lets me put my songs on it, and play those easily. I don't want 5 taps to get to my music, I want 5 taps to get to their "curated" list as I use that a lot less.

I know it's probably fine now, but I used it using the initial 3-month period (the enforced beta they marketed as a "free trial") and it put me right off Apple Music since then. I just can't trust their services.
Thank you for signing up to iMore. You will receive a verification email shortly.
There was a problem. Please refresh the page and try again.