Apple Music hits 20 million subscribers by putting hip-hop front and center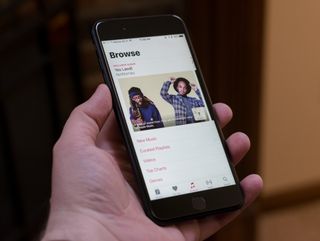 Apple has announced that Apple Music, its streaming music service, now has 20 million paid subscribers. This is a significant jump of 15% since September, when Apple announced that 17 million people had signed up for the service. Apple's Eddy Cue also said that 60% of subscribers hadn't purchased music from the iTunes Store in 12 months, and that majority of those customers are new, rather than former iTunes users.
In an interview with Billboard, Cue marked some of Apple Music's achievements in the last 18 months, such as helping push for greater exposure for hip-hop in streaming music:
Cue also noted that Apple Music helped push Chance the Rapper's album Coloring Book into the top 10 on the Billboard chart only through streaming, rather than album purchases.
Apple Music originally launched in June 2015, offering millions of songs for a monthly subscription of $9.99 for individuals, and $14.99 for families. Since then, the service has courted users with exciting exclusive albums, tracks, and videos, while also introducing special pricing for college students earlier this year.
Get more iMore in your inbox!
Our news, reviews, opinions, and easy to follow guides can turn any iPhone owner into an Apple aficionado
Joseph Keller is the former Editor in Chief of iMore. An Apple user for almost 20 years, he spends his time learning the ins and outs of iOS and macOS, always finding ways of getting the most out of his iPhone, iPad, Apple Watch, and Mac.
RE: ""We've always thought that hip-hop was underrepresented both in iTunes and in the streaming chart."
What Dr. Dre and his "contemporaries" make these days isn't even hip-hop anymore. It's MTV Bling-Bling Bullshit. Real hip-hop (you know, the stuff with jazz influences and proper beats, where they talk about hope and love, not sneakers and *******) is still underrepresented.

Absolutely agree 100%. Bring back that BOOM BAP!

Have you listened to "Compton"? Have you listened to anything by Kendrick recently? how about J. Cole? Stop trying to sound superior with your " they don't make real hip-hop anymore" BS. If you stopped complaining and actually listened to the music(not just what you hear on top 40) you would see that hip-hop is alive and well.

Give me some Dilla, Nujabes, Fat John or Pete Rock any day of the week. I didn't even bother with Compton. Kendrick llama does nothing for me. Neither does Kanye and his ilk.

Nothing wrong with liking those guys but they are far from the only hip hop that exists. The two most recent j.cole songs fit squarely in that wheelhouse. Compton is a great hip hop album no matter what you are into, how does anybody who claims to be a true hip hop fan not like "animals"? You like jazzy beats but you give no love to "untitled:unmastered? Come on. Im not even going that deep with this stuff. If you were a true hip hop fan, you wouldn't settle for what was, you would realize that there are more artists making great music right now than there ever has been. If you don't see that, if you don't hunger to find that, then you are not a real hip hop fan, you are just a guy stuck in an era.

Totally agree with you regarding Moodyz! I'm pretty sure "To Pimp a Butterfly" fits the bill of what you consider hip hop pure (jazz influences, beats, commentary, etc). But you don't listen to Kendrick?? Also, if you're a TRUE hip hop head, you would know that the core of hip hop began by bragging about the things you had (sneakers, clothes, etc) and battle rapping. Social commentary didn't come into play until Grandmaster Flash and The Furious Five. Hip hop has and will continue to evolve; just like any other music genre. But if you actually listened to hip hop artists that just aren't in the Top 40 (shoot even within Top 40), you'd know that what you consider "real" hip hop, is alive and knocking down doors. Sent from the iMore App

You don't get to put hip hop in a box. Music changes. That's the only constant.

Hip hop? Eeeew! Clearly, I'm not in the target audience (and I bought something on iTunes last week) …

Wow really? Makes me NOT want to subscribe.

The radio is free Sent from the iMore App

I switched to Spodify because I hate the new music app UI. It takes multiple extra swipes and gestures to navigate simple things now. And the app is IMO even less user friendly than it was in iOS 9.

The app design is much better in iOS 10 that it was previously, maybe more taps, but it's a lot cleaner and straightforward.

Where exactly is hip hop "underrepresented"? Its EVERYWHERE! Every movie soundtrack, every TV show, every video game, every car that passes with the stereo running at 60 decibels or higher. Its hard to find a radio station that isn't playing hip hop. And don't get me started on the wasteland that is Beats One! Wall to wall hip hop. Look, I love Apple Music. I've been a subscriber since day one. Unlimited access to Breaking Benjamin, A Day to Remember, etc. is well worth it. But please don't try to tell me that hip hop is underrepresented.

You got to be kidding. Hip Hop front and center needs to be the focus? It's been front and center for over 20 YEARS!! It won't die! Why, for the love of God, won't it die a agonizing death?!?! IT'S NOT MUSIC!

That's exactly why I haven't subscribed. Until they have genre specific beats stations and put more emphasis on rock and good electronic I won't be subscribing. Sent from the iMore App