Apple Music is official with on-demand streaming, a global radio station, more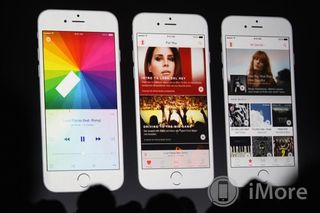 ](/wwdc-2015)
Apple's much-rumored streaming music service is finally official. Called "Apple Music," the service includes on-demand streaming, hand-picked playlists, a worldwide radio station, and much more. The aim of Apple Music is to be your one-stop shop for music in a single app. In addition to being able to stream the entire iTunes catalogue on demand, the service includes hand-picked, curated transitions between tracks. The new "For You" section in Apple Music suggests new artists and playlists based on your taste. Similarly, the "New" section includes hand-curated selections of new music. Further, the new Music app asks you to select the genres and artist you're into upon first starting the app. From there, it will combine this information with the artists and playlists already in your library to make suggestions for music you might be interested in. And if you're into a little visual flair with your music, Apple Music will include ad-free high-definition music videos as well.
Additionally, Apple Music includes access to "Beats One," a worldwide 24/7 radio station led by former BBC DJ Zane Lowe, and including guest DJs. The radio station is broadcast out of New York, London, and Los Angeles.
Another big feature of Apple Music is "Connect," a sort of social network for artists. Through Connect, any artist, from the indie outfits to the big dogs can interact with fans. Connect will let artists share songs, remixes, videos, and much more with their fans.
Finally, Siri has gotten schooled on Music in a big way. Siri integration with Apple Music will allow users to ask the digital assistant to play songs from specific genres, years, and much more. And you don't even have to be specific; the demos shown off on stage included asking Siri to play the top song from a particular year, the top ten in a genre, and even vague requests such as "play the song from Selma."
When can you get your hands on this? Apple Music will launch June 30 in more than 100 countries alongside iOS 8.4. Users will get the first three months for free, with pricing afterwards set at $9.99 per month for individuals, and $14.99 per month for family accounts with up to six users with their own accounts and recommendations. Additionally, iTunes will get a redesign on Mac and PC, with an Android app set to launch this fall.
Press Release:
Introducing Apple Music — All The Ways You Love Music. All in One Place.
Worldwide Debut June 30
SAN FRANCISCO ― June 8, 2015 ― Apple® today unveiled Apple Music™, a single, intuitive app that combines the best ways to enjoy music — all in one place. Apple Music is a revolutionary streaming music service, a pioneering worldwide live radio station from Apple broadcasting 24 hours a day and a great new way for music fans to connect with their favorite artists. Apple Music combines the largest and most diverse collection of music on the planet with the expertise of world-class music experts who have programmed playlists for your iPhone®, iPad®, iPod touch®, Mac®, PC, Apple TV® and Android phones.* Apple Music will be available starting on June 30 in over 100 countries.
"We love music, and the new Apple Music service puts an incredible experience at every fan's fingertips," said Eddy Cue, Apple's senior vice president of Internet Software and Services. "All the ways people love enjoying music come together in one app — a revolutionary streaming service, live worldwide radio and an exciting way for fans to connect with artists."
"Apple Music is really going to move the needle for fans and artists," said Jimmy Iovine. "Online music has become a complicated mess of apps, services and websites. Apple Music brings the best features together for an experience every music lover will appreciate."
Apple Music
Apple Music is a revolutionary streaming service and app that puts the entire Apple Music catalog at your fingertips across your favorite devices. Starting with the music you already know — whether from the iTunes Store® or ripped CDs — your music now lives in one place alongside the Apple Music catalog with over 30 million songs. You can stream any song, album or playlist you choose — or better yet, let Apple Music do the work for you.
Curation is the soul of every playlist created on Apple Music. Apple has hired the most talented music experts from around the world, dedicated to creating the perfect playlists based on your preferences, and they become better curators the more you listen. The "For You" section of Apple Music provides a fresh mix of albums, new releases and playlists, which have been personalized just for you.
In addition to human curation, Siri® is also dedicated to helping you enjoy great music and have fun with Apple Music. Ask Siri to, "Play me the best songs from 1994," "Play the best FKA twigs song," or "What was the number one song in February 2011?"
Apple Music Radio
Beats 1℠, Apple's first ever live radio station dedicated entirely to music and music culture, will broadcast live to over 100 countries. Beats 1 is a 24-hour listening experience led by influential DJs Zane Lowe in Los Angeles, Ebro Darden in New York and Julie Adenuga in London. Listeners around the globe will hear the same great programming at the same time. Exciting programs on Beats 1 will offer exclusive interviews, guest hosts and the best of what's going on in the world of music.
Apple has also redesigned radio with human curation taking the lead. Apple Music Radio gives you stations created by some of the world's finest radio DJs. The new stations range in genres from indie rock to classical and folk to funk, with each one expertly curated. With membership, you can skip as many songs as you like, so you can change the tune without changing the dial.
Apple Music Connect
Artists and fans now have an incredible way to connect with one another directly in Apple Music with Connect. Through Connect, artists can share lyrics, backstage photos, videos or even release their latest song directly to fans directly from their iPhone. Fans can comment on or like anything an artist has posted, and share it via Messages, Facebook, Twitter and email. And when you comment, the artist can respond directly to you.
Pricing & Availability
Starting on June 30, music fans around the world are invited to a 3-month free membership, after which a $9.99/month subscription fee will apply. There will also be a family plan providing service for up to six family members available for just $14.99/month.
Requires initial sign up. At the end of the trial period, the membership will automatically renew and payment method will be charged on a monthly basis until auto-renewal is turned off in account settings. Family plan requires iCloud® Family Sharing. See www.apple.com/icloud/family-sharing for more information.
*Apple Music is available on your iPhone, iPad, iPod touch, Mac, and PC starting June 30. Apple Music will be coming to Apple TV and Android phones this fall.
Apple revolutionized personal technology with the introduction of the Macintosh in 1984. Today, Apple leads the world in innovation with iPhone, iPad, the Mac and Apple Watch. Apple's three software platforms — iOS, OS X and watchOS — provide seamless experiences across all Apple devices and empower people with breakthrough services including the App Store, Apple Music, Apple Pay and iCloud. Apple's 100,000 employees are dedicated to making the best products on earth, and to leaving the world better than we found it.
○ WWDC 2015 hub
○ iOS 9 hub
○ OS X 10.11 hub
○ Apple Watch hub
○ Swift hub
○ Discussion forums

Get the best of iMore in in your inbox, every day!
Will this be part of iOS 9 or available separately prior to the update release? Sent from the iMore App

Available June 30 with iOS 8.4 Sent from the iMore App

I guess Paul McCartny finally caved. Remember the iTunes Music Store was first called The Apple Music Store. Sent from the iMore App

Did they mention the $? Sent from the iMore App

First 3 months free $9.99 a month after $14.99 for up to 6 family plan

$9.99/mo or $14.99 for family of up to 6.

Apple just invented Sirius/XM Radio! Revolutionary!? GMAFB $10/month for the same shit spewed on Spotify, whoopie!

"Another big feature of Apple Music is 'Connect,' a sort of social network for artists. Through Connect, any artist, from the indie outfits to the big dogs can interact with fans. Connect will let artists share songs, remixes, videos, and much more with their fans." Wow! Just like MySpace! And coming to Android this fall? Yeah. Okay. LOL

So stoked!! Goodbye subscription to Rdio!

No downloads for offline listening?

D R M Posted via the iMore App for Android

Confirmed. Music available for offline-listening.

Only streaming? That stinks. Without unlimited data on my phone, this will be pretty much useless. Sent from the iMore App

It's not just about data usage.. I download my Spotify playlists for offline usage, as where I work I get no cellular or WiFi signal. Apple music looks interesting as there is often music I want that's not available on Spotify but is on iTunes. Without offline, there's no way I'll move though. Sent from the iMore App

Is this going to replace the Music app that we have know or is it going to include your music from the iTunes Store? Sent from the iMore App

Lots of unanswered questions: Will you be able to listen to albums or is this all just curated playlists?
Can I download music to my device to listen?
Is this compatible with SONOS/ other non-airplay speakers or do I have to come up with a special configuration to make this work with my existing system?

Yes...you will be able to stream the ENTIRE iTunes catalog, meaning you can listen to any artist, song, or album, any time you want.

Surely the songs can be downloaded. Streaming only would be madness. Sent from the iMore App

Yes offline playlists just like Beats Sent from the iMore App

What in the world was that presentation? I have almost no sense of what the new service is. Like Jason Snell said on his Six Colors liveblog, they focused on the app and not the services! Eddy's presentation felt more like he was informing us what playlists are. I felt like I was sitting next to that guy in a waiting room going through his ringtones. That's what Eddy was doing with his music. It was a painful demo. (And it's pronounced "libRary".) I'm frustrated enough with Spotify's syncing and integration of my library, as well as their spotty app support on devices like Playstation and CarPlay, that I was willing to consider switching--and all that means for rebuilding my playlists--if Music was compelling enough. But this did not do it for me. Here's hoping iMore can shed some more light where Apple themselves failed to.

I'll have to see this at work but it's going to have the same problem as any other streaming service: F'n data caps!!! I still use the $3.99 Slacker plan just to download offline.

Wooooooooooooot!!!!! Sent from the iMore App

I wonder what this means for Itunes Match. Im a huge fan of the service since I do not buy my music on Itunes. Anyone know ?
Thanks

I am wondering about the albums I downloaded from the cloud to my iPhone if I subscribe? I definitely don't want them deleted. Sent from the iMore App

Well I'd be still using the iPod music library if I can't pay for my monthly conscription or what I have to use and I can't gift card to do that? Sent from the iMore App

Will the iPod music library be replaced now or would I have to use an iTunes gift card from Muncie scription if I can't pay for my Fischrupp soon could they give me the option of having the iPod music library? Sent from the iMore App

What I have to use an iTunes gift card to play to pay for my monthly sub scription or since I can't pay for my monthly subscription can I keep my iPod music player? Sent from the iMore App
Thank you for signing up to iMore. You will receive a verification email shortly.
There was a problem. Please refresh the page and try again.