Apple Pencil vs. Surface Pen: What's the difference?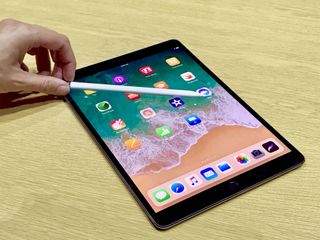 What's the Apple Pencil?
Apple's own smart stylus for the iPad Pro, which debuted with the 12.9-inch iPad Pro in late 2015. The Pencil hardware itself hasn't changed since then, but Apple just improved its performance by adding ProMotion technology to the just-refreshed 12.9-inch and 10.5-inch iPad Pro that launched at WWDC 2017. It's an optional $99 add-on (opens in new tab) that only works with the iPad Pro.
What's the Surface Pen?
That's Microsoft's stylus for the Surface devices: It comes with the Surface Book (opens in new tab) and Surface Studio (opens in new tab) desktop, and it's an optional $99.99 add-on (opens in new tab) for Surface Pro (opens in new tab) tablets and the Surface Laptop (opens in new tab). The Surface Pen was updated in 2017 to give it four times the pressure sensitivity, quicker response time, and a brand-new tilt control that so far only works with the new Surface Pro, but will come to other devices this year.
How do their stats stack up?
Kind of exactly like this:
Apple Pencil: Unspecified pressure sensitivity, 20ms latency, tilt support, 12 hours battery life (rechargeable), Bluetooth 4
Surface Pen: 4,096 levels of pressure sensitivity, 21ms latency, tilt/rotation support (on some devices), 9g of activation force, 1 year battery life (replaceable), Bluetooth 4
Wow, so that latency is almost equal.
Yeah, you shouldn't notice. Apple improved the Pencil's latency with the new iPad Pro line by introducing ProMotion technology, which doubles the display's refresh rate to 120Hz when you're using the Pencil. That way, the lag time between when you draw a line and when it appears onscreen is halved from 40ms to 20ms, and you can draw faster.
The Surface Pen similarly communicates between the Pen and the Surface Pro's display. The newest Surface Pro has Pixelsense Accelerator chip that essentially provides hardware acceleration for Windows 10's Windows Ink features. The new Surface Pro is also the only device where the new Pen's tilt feature works, which lets you shade in areas by tilting the Pen, like you were drawing with the side of a pencil lead. (The Apple Pencil has offered tilt control since late 2015.)
Are they about the same size?
Pretty close.
Apple Pencil: 6.92 inches long, 0.35 inch diameter, 20.7 grams (0.73 ounces).
Surface Pen: 5.75 inches long, 0.38 inch diameter, 20 grams (0.71 ounces)
Do they come in colors?
Apple Pencil is white. The Surface Pen comes in platinum, black, cobalt blue, and burgundy, which coordinate with the keyboard and mouse you can also get for your Surface Pro.
How does battery life compare? How do you charge them?
The Apple Pencil is rated for 12 hours of battery life, which doesn't sound like a lot, but it's rechargable and charges very quickly. You pull off the magnetic cap and plug the Lightning connector inside right into the Lightning port on your iPad, and 15 seconds (yes, seconds) of charging will give you 30 minutes of battery life. The Pencil also comes with a little adapter to let you charge from a standard USB port.
The Surface Pen runs on a single AAAA battery (opens in new tab) (quadruple-A!), which is included and should last about a year.
Do they have any other buttons?
The Apple Pencil doesn't. It's smooth all the way around. The cap isn't an eraser, it's just a little cap that covers the Lightning connector. Come on, this is a Jony Ive design! Of course it doesn't have buttons.
The Surface Pen does, although we're not here to button-shame it, because you can program the button on the side and the eraser on the tail in the Windows Ink settings. You can even pick different actions for a click, double-click, and press-and-hold.
Can you switch out the tip?
Yes. Well, the Apple Pencil comes with an extra tip in case yours gets lost or damaged somehow, but both tips are the same. If you need more, pick up a four-pack of Apple Pencil Tips for $19 (opens in new tab).
Microsoft went further with the newest Surface Pen, offering a Tip Kit that can change the feel of the instrument. The four tips mimic the feel of 2H, H, HB, and B pencils. It comes with the Surface Pen, and you can pick up an extra Tip Kit for $19.99 (opens in new tab).
The newest Surface Pen has multiple tips.
What kinds of apps do they work with?
In iOS 11, Apple added tons of new iPad features, including a few for the Pencil. If you tap the Pencil on the lock screen, for example, Instant Notes will let you can start sketching and jotting down your thoughts immediately. Your handwritten notes will also be searchable in Spotlight, though only in English and Simplified Chinese for now. But even before iOS 11, the Pencil enjoyed wide support, from drawing apps to productivity apps, graphic and 3D design apps, photo editors, and even powerhouse suites like Adobe's Creative Suite and yes, Microsoft Office.
The Surface Pen enjoys wide support too—iterations of it have been around much longer than the Pencil, after all. The Windows 10 Anniversary Edition and Creators Edition really emphasize what the Pen can do, and it's a natural in apps like OneNote, Sketchable, DrawboardPDF, StaffPad, and obviously the Microsoft Office suite, Adobe Creative Suite, and tons more.
Now for the money question: Which performs better?
Wouldn't you like to know? (I'm kidding. We all would.) We are in the midst of our own extensive testing, and you'll be able to read the results very soon. In the meantime, Paul Thurrott just posted his first impressions, and called them "roughly identical." Interesting!
Have any more burning questions about the Apple Pencil or Surface Pen? Let us know!
Get More iPad
(opens in new tab)
Get more iMore in your inbox!
Our news, reviews, opinions, and easy to follow guides can turn any iPhone owner into an Apple aficionado
Susie is a tech-obsessed writer and mom, and former Executive Editor of Macworld and Mac|Life. Follow her on Twitter @sfsooz.
Interesting article, but does it really matter? I expect the number of people who base their iPad vs Surface decision on which pen(cil) is marginally better is fairly limited. BTW, you forgot to mention that neither have a pocket clip, nor a good place to store them.

The Surface Pen is magnetic and sticks to the side of your Surface, which works well for easy access. Also the pen has a built in pocket clip so you can put it in a pocket if you really want ( at least previous versions did).

As a Surface owner, I would never advise this. I've done it and almost lost my pen in a public place. You never know what happens. Spend a few bucks and get a loop or store it in some place in a bag that you carry. Otherwise that magnetic grip is almost worthless.

I use the magnet just to store it while I'm no using it (when the Surface is out and in use) but when its away I use the pocket clip to keep it stored in a pen sleeve in my laptop bag.
Works well for me.

No pocket clip on the new one. The say the magnet is stronger, though. P.S. I have a Surface 3 Pro, and they don't stick to mine.

You can buy pocket clips at Amazon. Storing them is as easy as storing any other pencil.

I'm no fan of Microsoft and to me Windows 10 is a mess, but I prefer the design of the Surface Pen. I also like that it has a AAAA battery (which I assume is replaceable), and eraser on the back I like too. Apple can do more with the Pencil so I hope they make changes to their 2nd version.

I've never liked the idea of an eraser on the back of a stylus. It's actually easier to tap the eraser menu on the screen than to reverse the stylus, and then reverse it again.

Plus real artist pencils do not have an eraser on the pencil anyways so does not make since. So I agree with you.

Oh well, put in a non-current battery size in the thing. As if we don't throw enough crap on the tip. It's just like the glue laptop: garbage.

At $1000.00 I will use paper and crayons.

As a new iPad Pro user, I want to know why the Apple Pencil tip so hard? It makes tapping noises every time it touches the glass (if you print rather than use cursive it sounds like a clattering keyboard), and it tends to slide on the glass. N-Trig and Wacom at least have nibs that create a more "pencil on paper" experience - the Apple Pencil is like using a ballpoint pen on glass.

I just got my iPad Pro 10.5 on Friday night. I had never used the Apple Pencil or a Surface Pen. However, after two days of using the Apple Pencil I'm amazed at how awesome it is. Serenity's drawn Apple Pencil review was really impressive and got me excited for using it. Now using it with Procreate I'm blown away by how amazing it is.