Apple is putting iTunes on Samsung and AirPlay on LG, Vizio, Sony TVs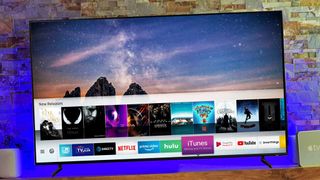 (Image credit: iMore)
Apple is putting iTunes on Samsung Smart TVs. I'm going to just keep going while you let that sink in...
Don't read, watching the video is much better. So, hit play and subscribe for more.
UPDATE 1: Apple has a new AirPlay 2 page (opens in new tab) live and highlights include more TVs coming with AirPlay 2, Siri functionality so you can tell your iPhone to play a movie on our Apple TV, and an updated AirPlay controller for iOS.
UPDATE 2: Vizio is adding AirPlay 2 and HomeKit support to their VIZIO SmartCast TVs.
UPDATED 3: LG has also announced AirPlay 2 and HomeKit support for 2019 televisions.
UPDATED 4: Sony has now announced AirPlay 2 and HomeKit for Sony Z9G Series, A9G Series and X950G Series TVs.
UPDATE 5: Here's the complete list of TVs that'll feature AirPlay + HomeKit:
LG OLED (2019) Announced
LG NanoCell SM9X series (2019) Announced
LG NanoCell SM8X series (2019) Announced
LG UHD UM7X series (2019) Announced
Samsung QLED Series (2019 and 2018) Announced
Samsung 8 Series (2019 and 2018) Announced
Samsung 7 Series (2019 and 2018) Announced
Samsung 6 Series (2019 and 2018) Announced
Samsung 5 Series (2019 and 2018) Announced
Samsung 4 Series (2019 and 2018) Announced
Sony Z9G Series (2019) Announced
Sony A9G Series (2019) Announced
Sony X950G Series (2019) Announced
Sony X850G Series (2019 85", 75", 65" and 55" models) Announced
Vizio P-Series Quantum (2019 and 2018) Announced
Vizio P-Series (2019, 2018 and 2017) Announced
Vizio M-Series (2019, 2018 and 2017) Announced
Vizio E-Series (2019, 2018 and 2017) Announced
Vizio D-series (2019, 2018 and 2017) Announced
Here's the rest of Samsung's announcement (opens in new tab), along with some comments and thoughts from yours truly:
So, Apple opening up a firehose to Samsung and letting them make a crappy SmartTV apps to showcase iTunes content is inconceivable to me, so, what it sounds like we have here, which up until today I would have said sounded only slightly less inconceivable, is Apple making iTunes for Samsung the way it makes iTunes for Windows. Yeah, insert Steve Jobs glass of water in hell joke, only now there are so many other glasses of water in the industry, can we even call it hell any more?
That's a lot of integration right there. And from Samsung, which is Apple's biggest rival in the smartphone space and the company that Apple spent years suing for, basically, ripping off Apple designs.
But Samsung isn't really one company. It's a conglomerate of different companies that all license the Samsung name. Even as Apple was suing Samsung Mobile, it was buying parts from Samsung LSI. And Samsung is a huge player in the TV space so, if Apple wants eyeballs, it's an incredibly efficient place to put all that porting effort. Even if Samsung TVs run Tizen, not Android...
And unlike Windows, it's not the only big player in town. So, this may be just the beginning.
Here's a question: Will Samsung phones get AirPlay 2 now as well?
Now, all of this may come as a bit of a surprise. But it shouldn't really. Apple is getting ready to ramp up its original TV content. The video version of Apple Music. And Apple Music has always been available on Android and has recently been made available on Amazon Echo as well.
Which, yeah, was another head scratcher if not full on pea-soup spitting spinner as well.
But, in light of the saturationing — which is what I'm gonna keep calling the maturing of the smartphone market — Apple isn't just about making the iPhone more and more valuable through more and more exclusive content any more. It's about getting value from that content beyond iPhone exclusivity.
That's always included Apple Music and now it looks like it's going to include Apple video as well, and, who knows, maybe Apple's new Texture-based Magazine and News service as well.
Would Apple do that with iMessage and FaceTime for Android or Windows? People pay and subscribe directly for Apple Music and iTunes content. Would people pay and subscribe directly for iMessage or FaceTime? I don't know. You tell me.
Why didn't Apple just build its own television set? Apple did. A couple of them. But Apple never saw them as a viable product that had a real go-to-market that made any sense, and so they never left the lab. Or at least Jony Ive's Super Bowl… er… rugby World Cup parties?
Now, news is so fresh, so new, so interesting, that it's going to take me a while to sift through all the angles and figure out where it's all going. Also, since CES is happening this week in Vegas, I have a sneaky suspicion there may be a few more announcements on the way.
If and when that happens, I'll add the updates right here, so check back often.
Rene Ritchie is one of the most respected Apple analysts in the business, reaching a combined audience of over 40 million readers a month. His YouTube channel, Vector, has over 90 thousand subscribers and 14 million views and his podcasts, including Debug, have been downloaded over 20 million times. He also regularly co-hosts MacBreak Weekly for the TWiT network and co-hosted CES Live! and Talk Mobile. Based in Montreal, Rene is a former director of product marketing, web developer, and graphic designer. He's authored several books and appeared on numerous television and radio segments to discuss Apple and the technology industry. When not working, he likes to cook, grapple, and spend time with his friends and family.
Their smart TV apps are not crappy. You are just a biased fanboy.

100% correct. They ( apple ) should also put iTunes on Roku as well. Their overpriced apple tv box only sells to the apple purist and no one else. I would never buy apple tv when I can buy a superior Roku for 1/2 the cost. This needs to be done with imessage and facetime too on windows. Instant money influx into the company. Look how well that works for Microsoft now.

Our Samsung Smart TV has crappy apps, they crash or freeze fairly often. But our TV is a few years old, maybe the newer ones are better. A lot of Smart TVs come with poor integrated software, which is why when Smart TVs were first introduced, it was usually just better to get a standard TV then get something like an Apple TV or Android TV box

Unfortunately he is partially correct though. I purchased a Vizio Smart TV for my parents in 2014 and honestly 3 months in it started giving them problems and some apps no longer even support it. Had I known this I would have just purchased a regular HD TV with a Rocky stick and called it a day. Meanwhile my Apple TV gives me no problems.

The Smart TV fad began with being convenience over quality, a lot of the TV manufacturers had little experience in developing software, so some sub-standard software got placed in to fill in the "smart" part. Some Smart TVs still suffer with unsatisfactory software quality, a commenter below (zeno91) says he just recently got an LG TV and yet it won't get the AirPlay support in an update, which is just unacceptable. But I'd like to think the newer Samsung Smart TVs are a lot better, the ones on my current Samsung TV mostly work but not as well as they should, however this TV doesn't get any more updates sadly which could've fixed the issues.

Also, I meant Roku, stupid autocorrect.

I'm just being honest, which is why I said the new ones might be better, but if you're going to comment like that then you're just wasting my time. ******* trolls.

So after buying a 2018 LG 4K TV just a two months ago. I am being completely shafted on AirPlay 2 support. While Samsung is bringing it to both 2018 and 2019 TV... Well at least I know now that LG stops supporting it's TV upon lunch

Apple must be going to update home pod to connect to TV's
Get the best of iMore in in your inbox, every day!
Thank you for signing up to iMore. You will receive a verification email shortly.
There was a problem. Please refresh the page and try again.