Apple Q2: iPhone decline should be competitors' concern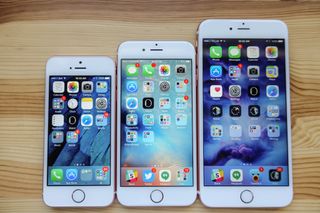 Every quarter, even during Apple's highest of high marks, analysts talked about the time that the company would begin its inevitable decline. But every three months, Tim Cook would get on the phone and defy expectations, announcing that Apple sold even more iPhones than the previous year. Now, that incredible streak has ended, and with it Apple's 13-year sequential revenue growth.
In the second quarter, Apple sold 51.2 million iPhones, down nearly 20% from the same period a year ago. Revenue, at $50.6 billion, was down 11% year over year.
Macroeconomics and iPhone SE
When a single product line comprises nearly two-thirds of a company's revenues, there is cause for concern. When that product is affected so strongly by what Cook calls macroeconomic headwinds — global economy weakness paralleling the strength of the U.S. Dollar — any auxiliary knock on demand can have a terrible impact.
In this quarter, that knock came from a number of areas. From a top level, the smartphone market is slowing, especially at the premium end, where Apple has heretofore defied expectations. While its major competitor, Samsung, saw high-end smartphone sales decline over two years ago, Apple sold a record number of iPhones in both Q1 2015, and then again a year later, with average sales price (ASP) that broached $700. And because Apple hasn't typically played in the mid-range space, it has defied calls to introduce lower-cost handsets to take on Android's growing pie of the sub-$400 market.
The iPhone SE, the early sales numbers of which were not reflected in the three months ending March 26, will, according to Cook, "attract even more customers into the platform with a[n] incredible product." It will contribute to the iPhone's dropping average sales price, which declined $15 this quarter to $642.
That ASP decline reflects a trend in the smartphone industry itself, not just Apple's part of it. Apple claims that more people switched to iPhone from other platforms in the first half of the fiscal year "than any other six month period ever." Though iPhone sales dropped year over year, it is still stealing considerable numbers from Android. And there is plenty to steal from: Android, in terms of market share, already has a huge head start.
First Cupertino, then the world
Cook also noted that worldwide smartphone penetration is only 42%, and that there are billions of people for whom the next five years will represent their first smartphone purchases. Apple does not recognize the sales of used iPhones in its quarterly earnings, but in developing nations like India that gray market has represented a considerable amount of existing off-book revenue for the Cupertino giant. It is desperate to turn off-book into black book in markets, like India and China, that were like North America and Europe six years ago — with room to play. In those aforementioned developed markets, upgrade cycles are lengthening, and many current iPhone owners waited until the debut of the larger iPhone 6 and 6 Plus back in 2014 to replacement their aging iPhones. Many millions of those handsets, approaching two years old, are still in use today.
But even butting up against prevailing macroeconomic headwinds, Apple was able to sell over 50 million iPhones at an average sales price of $642 USD. Other companies, including many in the Android space, are not faring so well. While Samsung has hinted that its profit will grow on better-than-expected sales of its Galaxy S7 and S7 edge handsets, its arc has been inversely proportionate to Apple's in recent years: sales of its Galaxy S5 and S6 flagships were relatively soft, and it is now only staging a comeback. Moreover, the company's latest numbers from back in January showed year-over-year declines in its mobile business.
In other words, everyone is struggling. Apple is just the latest victim of a slowing mobile industry, with nothing — not even the venerable iPad, nor the nascent Apple Watch — to make up the difference. During a question and answer session this afternoon, Tim Cook said that he doesn't believe this iPhone sales rut will be indefinite, and once China's economy turns around, and the U.S. Dollar steps down from its proverbial throne, mobile growth is once again foreseeable.
Room to grow
"I think there's still really, really good business in the developed market, so I wouldn't want to write those off, and it's our jobs to come up with great products that people desire, and also to continue to attract over Android switchers," Cook noted. "With our worldwide share, there's still quite a bit of room in the developed markets as well."
Apple's iPhone business may never reach the heights it saw in the first quarter of 2015, when the iPhone 6 and 6 Plus represented wish fulfilment for millions of people, but a slowing iPhone business should not be taken in isolation. While a 20% drop in iPhone sales still results in sell through of 50 million units, other OEMs will not be so lucky.
Master your iPhone in minutes
iMore offers spot-on advice and guidance from our team of experts, with decades of Apple device experience to lean on. Learn more with iMore!
Daniel Bader is a Senior Editor at iMore, offering his Canadian analysis on Apple and its awesome products. In addition to writing and producing, Daniel regularly appears on Canadian networks CBC and CTV as a technology analyst.