Apple releases iOS 7 beta 6 - Developers, go get it!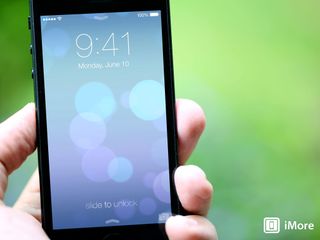 Apple has released beta 6 for iOS 7, which seems to just be a little bit of a bump from that of beta 5 as this release comes in significantly smaller. Perhaps, it's more of a minor bug fix than anything else.
Registered developers can get it now by going to Settings > General > Software Update and doing an over-the-air (OTA), on-device update. It should also be available, in full binary form, via the Apple Developer Center (opens in new tab).
iOS 7: Everything you need to know
Get the best of iMore in in your inbox, every day!
Editor-at-Large at Mobile Nations, gadget junkie, energy drinker, ranter.
Nice! Totally unexpected but glad to see Apple is working hard to get iOS 7 ready for prime time

Me to Sent from the iMore App

I know you guys do not condone the whole non-developer beta thing, but it is safe for non-developers on Beta 5 to OTA to Beta 6.... Sent from the iMore App

Ok? Sent from the iMore App

Yes you can install the update without any problem! I just did it Sent from the iMore App

I'm a non-developer and I've been running OS7 since beta 3 and doing the OTA updates, haven't had any trouble so far.

Awesome imore team I can't wait

Just little bugs fixed and nothing new.

It's about time, now I deff don't need a jailbreak. Apples new quick reply and quick compose messages is sweet. Still not as good as bite, but at least we have it.
#APPLEROCKS

Thought quick reply was for OSX not iphone.
If they did manage to sneak in quick reply from notification center then that's def progress. Is there any improvements in contacts management/UI ? Sent from the iMore App

Me too Sent from the iMore App

Anybody care to speculate on release date? I want iOS 7 NOW!

I'd wager sometime after the iPhone event in September.

I'm gonna guess September 17.

Me too...1 week after the event.

I don't see quick replay at all. Am I missing something? Sent from the iMore App

Does anyone else signal dots just stuck on 5 full dots no matter where ever you go ? Ever since iOS 7 beta 4 and up every beta they push out I think it's going to fix it and it doesn't ?? And nobody but mayb 5 or 6 people are talking about it on the whole web. I mean everything else works peachy on my phone but no matter what I try my signal dots just never change unless in LTE or if signal drops to edge otherwise all 4g just stuck on 5 dots and I never know what my signal strength really is Sent from the iMore App

Ajay2010 i have the 5 bars reading too.

I am on beta 6 and Siri will not tell me movies around me and also doesn't want to turn on flashlight I had seen in saltier betas that you could tell her to turn on flashlight any one experiencing this too?
Thank you for signing up to iMore. You will receive a verification email shortly.
There was a problem. Please refresh the page and try again.