Apple releases iOS 7.1.2 with fixes and improvements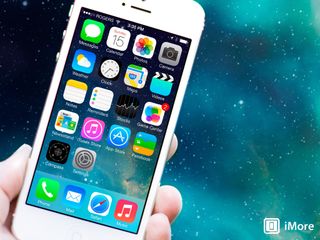 Apple has released iOS 7.1.2. This update contains bug fixes and security updates. These include an update to iBeacon connectivity and stability, data transfers for 3rd party accessories, and data protection class issues with Mail attatchments.
Users can download iOS 7.1.2 over the air by going to Settings > General > Software Update and tapping Download and Install. You can also update your device through iTunes. You can find out more about the contents and security of the 7.1.2 update on Apple's Support website (opens in new tab) and security page (opens in new tab).
If iOS 7.1.2 fixes a particular issue you've been having or if you spot anything new, be sure to drop us a line in the comments below!
Source: Apple (opens in new tab)
Note: If the iOS 7.1.2 update freezes on you, try a hard reset.
Get the best of iMore in your inbox, every day!
Joseph Keller is the former Editor in Chief of iMore. An Apple user for almost 20 years, he spends his time learning the ins and outs of iOS and macOS, always finding ways of getting the most out of his iPhone, iPad, Apple Watch, and Mac.
Huh... It was released right after jailbreakers found exploits in iOS... So fast... Sent from the iMore App

And yet completely unrelated. Put your conspiracy theory away.

Exactly... this 7.1.2 update didn't have anything to do with the jailbreak.. the same jailbreak works.. I did it today..

Still no iCloud tabs for me...

I know 7.1.2 is Jailbreakable, but I wanna see if the latest pangu toll can actually make it happen or needs to be updated. Until then, I'll wait on 7.0.6

iOS 7.1.2 can in fact be jailbroken using the Pangu method. And you don't have to worry about the Chinese Piracy App Store being installed or the PPSync being there either. Update your phone and be secure! Sent from the iMore App

Who cares? If you want jailbreak-ability or root privilege, go get a damn Android. Apple was meant for the average user, not us gearheads. Sent from the iMore App

I care. Even though I haven't jailbroken my iOS devices for many years, I am happy that somebody gives me this choice should I ever need it.

Someone gives you a choice?
You're a bafoon making a comment like that.
You would be the first screaming and yelling if you bricked your phone.
And what possible could you need?
Spinning iCons?

I love the clueless morons who ask 'who cares' despite the fact that millions and millions of jailbroken iPhone users are out there. I won't tell you what to do with your iPhone, you don't tell me what to do with mine.

Don't be such an ass first thing in the morning.

AMEN TO THAT!!! Sent from the iMore App

Welp, that didn't go so well. Tried to do the update and it put my phone in to Recovery Mode. Restoring through iTunes now.

Was the attempt over the air, or plugged in? Sent from the iMore App

My iPhone has been installing for 1 hour now OTA. Only half way now. Sent from the iMore App

After a hard restart, the update has installed. Progress bar was only at 50% though. Might have to do it again. Sent from the iMore App

Mine did the same thing, stuck at around 80% then I had to hard reboot. All seems good now.

It's working for me, right now it is restoring all my stuff back, I just hope my progress in clash of clans doesn't get erased

looks like im boned too. been sitting at apple logo loading screen for 40 minutes.

Hard reset will fix it. Sent from the iMore App

That should have read restart Sent from the iMore App

I did my update without any kind of problem "OTA" Sent from the iMore App

Same! It only took 1-2 minutes and then it was done! Maybe try downloading it on iTunes then install over iOS... But it seemed to fix a password problem… sometimes when I hit a number it showed up in the dot then faded away! :)

Im having the same problem

Me too, I just hope it does not erase all my stuff, but at least I know I am not the only one having this problem of restoring

Worked fine for me OTA, 10 minutes total in the office.

I have been waiting for more than 1 hour
Still 50% apple logo
iphone 5

Update Successful Without Any Problem Over OTA!!

Has to be you guy's wifi connection. Mine downloaded and installed in 8 minutes. Sent from the iMore App

For me the download wasnt the issue, it was getting it to install.

Installed OTA without any problems. Very quick too.

This update is suitable for iphone4 ? Sent from the iMore App

Can tell anybody ? Sent from the iMore App

Yes you will get all iOS 7 updates until iOS 8. Sent from the iMore App

No- broke my iPhone 4. Unfixable Sent from the iMore App

Just now jumped on iMore to learn of this update. Checked my 5S and it auto updated before I left home without my even knowing about it. Sweet!!! Sent from the iMore App

Just updated using iTunes. No issues. Sent from the iMore App

Ok i had to press power and home button togather and it worked

I noticed after the update that my location service indicator is now on when connected to my pebble. Wasnt like that before.

Same. Idk if it was like that before. Settings app shows Pebble is using a geofence, but if have no such service / app installed. Weird. Maybe it's doing something tricky with the BT LE now, like the phone thinks it's an iBeacon or something. I hope this doesn't effect battery.

OTA downloaded and installed, fast install without any problems Sent from the iMore App

Not only did my iPhone 5 and Mini update OTA w/o issue, for only the second time with all the updates since iOS 6, I did not have to send the Sprint Update # in order to get the phone activated! Yea! (Updates always worked, but phone didn't till I typed in that special # to send "service update") Sent from the iMore App

Thank you iMore for the update. Went home downloaded and installed with no problem. Sent from the iMore App

My iPhone 5 hung on the OTA as well. It downloaded quickly. Rebooted to perform the install, went through one phase, rebooted itself into the progress bar screen again and didn't get further than 20% or so. Sat there like that for the first half of the soccer match. Reset it and it says it's on 7.1.2, but I'll probably do an iTunes restore/update just to be sure.

Weird to see so many having problems: I downloaded over the air and it installed and rebooted in about 10 minutes.

I did 8 iOS devices OTA in under 1 hour, force shut all running apps & do a iCloud back up. Then & only then I did the updates :-) Sent from the iMore App

i tried to download this update and it said my phone is in recovery mode? so now I'm plugged into iTunes and it says 7 hours! tho message pops up every 30 mins or so right after the iTunes plug in picture is on my screen then goes to the apple sign then back to the plug into i tunes sign......."iTunes has detected an iPhone in recovery mode. You must restore this iPhone before it can be used with iTunes."
What do i do? I have never had this happen to my phone with an update?

And you guys have the gall to talk shit about android?...lol Posted via the Android iMore App!

gee 5 people out of 250 million iPhone owners having problems while 250 million users trying to update.
don't be such a dick first thing in the morning. ...all sounds as ridiculous as your damn comment.

5, huh? I think you need the "hooked on math" series... Or, just learn how to count before buying that... Posted via iMore App

My phone has been updating for 2 hours now and its not even at 1/4.. Is anyone else having this issue? Is there any way to cancel it? I have the 5s

mine is doing the same ...mine has been going since 4 and it still says 7 hours left

The update on my iPhone 5, iPad Mini Retina and iPod Touch 5 all installed in about 10 minutes OTA. They just work! Sent from the iMore App

I am new to this iPhone thing and it's on a screen with iTunes and plug and has been for well over an hour! Help I don't know what it's doing or what to do!

Updated and installed on my sprint 5s OTA in 8 minutes Sent from the iMore App

Was about to do my daily backup to iTunes when the notification asked me permission to update; didn't count, but it might have taken all of 5 minutes OTA

Hate how after every update it turns Bluetooth back on... Sent from the iMore App

Turning one switch away from Control Center every month. So hard.

Didn't say it is hard just annoying. But I forgot this is the "apple can do no wrong crowd" Sent from the iMore App

It's a shame apple makes you only be able to do it over wifi yet still causes so many issues for people trying to download Sent from the iMore App

You can do it through iTunes, with your good ol' wire.

Because that defeats the purpose of OTA? You shouldn't be limited to wifi if you choose to download via cellular network it should allow you to. Sent from the iMore App

Where's the story about the new jailbreak for iOS 7.1.x? Sent from the iMore App

Works fine, I updated my iPhone 5 and iPad 2 (using iTunes, not OTA) and then ran the updated Pangu 1.1 and worked like a charm. No issues

I updated an iPad 3, iPad 4, Mini iPad Retina, and my iPhone 5 all with no issues. My wife's 4S, however, showed the "connect to iTunes" and iTunes gave me the "...has detected a phone in recovery mode..." message. This was after having downloaded the update and getting to the "verifying" stage. I tried a hard restart to no avail. I'm restoring via iTunes. I'm just hoping she has a recent iCloud backup so I don't have to re-install and re-configure everything. Talk about a pain in the butt.

Manofsteel79 does it even connect to itunes? The 5c that's having issues won't connect to itunes via the computer either Sent from the iMore App

Brilliance79 - yes, my wife's 4S connected to iTunes just fine. It gave me the message that the phone was in recovery mode but I was able to download the 7.1.2 update and install it. It did do a total restore and we had to reconfigure it but fortunately she had an iCloud backup.

Ok thanks... I'll see what I can do when I get to it. If not I hope the apple store does something cuz it would be a software issue. Sent from the iMore App

Im experiencing the same problem, ive been waiting for like 2+ hours for the restore that i didnt asked for and im so not happy. I just wanted my phone to be up to date >__> not an obligatory restore

All good for me done in ten minutes. Just doing my IPad now totally gapped it Sent from the iMore App

No different Sent from the iMore App

My iPhone 4S has been plugged in for about 10 minutes now and it still has a music button underneath says iTunes and then a charger button. My computer says 5 hours remaining is that right

Hi all
How is the snappiness after the update ?? Any issues found after the update?? Sent from the iMore App

I know it's probably a bit too early to tell, but has anyone in the iMore community noticed significant changes in iPhone battery life on iOS 7.1.2, whether it be for better or for worse?

I've noticed significantly worse battery life on my iPhone 5. Did the update OTA. I used go a full day of light to moderate use (mostly getting push emails from work, checking social media, light web browsing) and still have >50% battery at the end of the day. Now I'm regularly down around 20%. Sent from the iMore App

Thank you for the response. I don't think it's unreasonable to expect Apple to improve battery life at this point, seeing as though ever since iOS 7.1 almost everyone I know is getting worse battery performance. Disappointing to hear that it's gotten worse with iOS 7.1.2.

Same here Sent from the iMore App

It took a lil while for my 5s but I have friends with a 5 and 5c and their phones are acting up. The 5 can't send or receive texts and the 5c doesn't even turn back on.... Any ideas? Sent from the iMore App

Any new little hidden features? I doubt it, but I'm always curious.

After installing on an iPad mini, every time a video tries to play on Facebook, the app crashes.

I have 5 apple products in the house. 4 updated to new version and now won't connect to my home wifi. Help please.

No i dont want that update on my iPod Touch 5th Generation i want IOS 8 already i love IOS 7 but i need IOS 8 Sent from the iMore App

Did the update on my iPhone 5 and my iPad retina last night. Updates both went smoothly but when I fired up the iPad, the 3rd party case/keyboard made by Clamcase seemed to connect OK by Bluetooth but would not function. So I removed it from the Bluetooth devices and then reinstalled it. Still connected but would not work. It was late so I left the device on but in standby mode and went to sleep. This morning it was working normally. Weird but happy. I do not see any changes or other anomalies. FWIW the iPhone connected via Bluetooth to the car without any issues.

did the update on July 3rd. Have no been able to connect via bluetooth since! Also am not able to get SIRI to do "read back" when sending a voice text?

Downloaded IOS 7.1.2 last night on my Iphone 4S and now my reminders don't keep the day/time I have set for the reminder to go off. Any suggestions?

I update my iphone4s and ipad mini over OTA at the same time this morning. The ipad mini finished update in about 15 mins but iphone4S stuck at 20% for 4 hours now. Should I try a hard reset?

I guess this the last final update for iOS 7 Sent from the iMore App

Is it good for iphone5s??

I hope this fixes Siri over Bluetooth. Since 7.1 Siri doesn't read back text messages I dictate. This glitch is present when connected to my In-car Bluetooth, and LG earpiece.
I have tried toggling the "Settings > General > Siri > Voice Feedback = Handsfree Only / Always" option, but it still is hit or miss. It should work like this:
[siri ready] "Tell my wife I'm on my way home"
Siri says, "Okay, your message to your wife says, "I'm on my way home". Ready to send it?" [boopboop]
I say, "yes".
Siri says, "Okay, I'll send it."
[message sends] What has been happening:
[siri ready] "Tell my wife I'm on my way home"
[boopboop] (Siri is waiting for a confirmation, message displays on my phone, but nothing is read to me)
Kinda defeats the purpose of hands/eyes free in the car.
I'll test tomorrow.

Rebooted my 4s and installed OTA. No issues whatsoever. I'll report back if there's an operating glitch. Sent from the iMore App

$9­­­­­­­­­7­­­­­­­­­/­­­­­­­­­h­­­­­­­­­r­­­­­­­­­ ­­­­­­­­­p­­­­­­­­­av­­­­­­­­­iv­­­­­­­­­d­­­­­­­­­v­­­­­­­­­ b­­­­­­­­­y G­­­­­­­­­oog­­­­­­­­­le­­­­­­­­­, I­­­­­­­­­ am ­­­­­­­­­making ­­­­­­­­­a ­­­­­­­­­good ­­­­­­­­­salary ­­­­­­­­­from ­­­­­­­­­home ­­­­­­­­­$5500­­­­­­­­­-­­­­­­­­­$7000/week ­­­­­­­­­, ­­­­­­­­­which ­­­­­­­­­is ­­­­­­­­­amazing, ­­­­­­­­­under ­­­­­­­­­a ­­­­­­­­­year ­­­­­­­­­ago ­­­­­­­­­I ­­­­­­­­­was ­­­­­­­­­jobless in ­­­­­­­­­a ­­­­­­­­­horrible ­­­­­­­­­economy. ­­­­­­­­­I ­­­­­­­­­thank ­­­­­­­­­­­­­­­­­­God ­­­­­­­­­every ­­­­­­­­­day ­­­­­­­­­I ­­­­­­­­­was ­­­­­­­­­blessed ­­­­­­­­­with ­­­­­­­­­these ­­­­­­­­­instructions ­­­­­­­­­and ­­­­­­­­­now ­­­­­­­­­it's ­­­­­­­­­­­­­­­­­­­­­­­­­­­­­­­­­­­­my ­­­­­­­­­­­­­­­­­­duty ­­­­­­­­­to ­­­­­­­­­pay ­­­­­­­­­it ­­­­­­­­­forward ­­­­­­­­­and ­­­­­­­­­share ­­­­­­­­­it ­­­­­­­­­with ­­­­­­­­­Everyone, ­­­­­­­­­Here ­­­­­­­­­is ­­­­­­­­­I ­­­­­­­­­started,,,­­­­­­­­­ >>>>>>>>>>➜➜➜➜➜➜➜ w­w­w­.­w­o­r­k­j­u­r­y­.c­ℴ­m

I don't use iPhone but my father has one and he just updated the OS to new release. Nice update

Completely broke iPhone 4. Spent 3.5 hours with Apple and nobody knew how to fix it Sent from the iMore App

Updated iPad Mini, iPad 2, iPad 3 and iPhone 4S. All but the iPad Mini were done over the air. The iPad 3 locked up about halfway through installation but a hard restart shows the installation was successful. Otherwise, all installed ok.

Those who are yet to update ... don't forget to kill all running apps first, then perform a hard reboot.. and only then update the phone ( just re-check no other apps are open before tapping the update option ). Else the phone might freeze causing unnecessary headache. Sent from the iMore App

Don't forget to do an icloud back up or iTunes back up before installing the update. Sent from the iMore App

I tried to updateto the new 7.1.2 software via wifi and it caused my phone to crash i have not backed up my phone so now i have lost everything why did this happen i thought they fixed all the glitches in the software

Husbands 4S handsfree kit (non apple, but bought in iphone store) so compatible has stopped taking or making calls, still works for listening to music. Two others at his work have the same issue.
I will pop into an apple shop today to see if they can offer any assistance but I doubt it.

I just replaced my 4s yesterday with a brand new one but the new one is having "wifi not available" issues. I tried the hair dryer and freezer thing and it worked for a few hours, then stopped working again. So then I tried updating to 7.1.2 and it's still not working. Not happy that my NEW phone is having issues...

I updated to 7.1.2 about 2 weeks ago but don't see any improvement. It's all a bit paler, I don't like the way it groups emails, I can no longer delete emails at the Inbox level ( I used to be able to swipe an email and the delete button would appear.) And I still can't use the space bar when typing numbers without it jumping back to the qwerty letters screen!

Okay well.... I just want to let you know... That my mother is very very frustrated the way her ipad is always having bug issues... Not to mention she's tired of the updates that cause her ipad to go into recovery mode and makes her lose all of her data. She has to download everything back on there for hours upon hours and she's about ready to explode and boycott. FIX THIS... You don't pay us to fix it we pay you. So please for the love of all that is holy fix this already!