Apple TV apps are now identified and labeled in the iOS App Store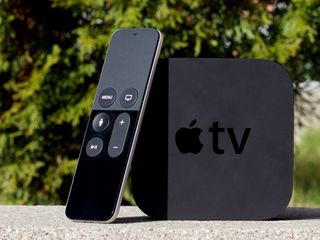 The new version of Apple TV has been made to run iOS-based apps, and now Apple is rolling out a new feature in the App Store that label which apps work for the the set-top box.
As you can see in the app description, the information listing on the iOS App Store shows "Apple TV: Yes" when an iOS app has been developed to run on the hardware. Apple recently released tvOS 9.1 for the Apple TV, which added support for Siri in Apple Music and more.
Source: 9to5Mac
Get the best of iMore in in your inbox, every day!
I have been writing professionally about technology and gaming news for 14 years.
It's about bloody time! About tvOS 9.1, why the heck didn't Apple re-add the Podcast app yet?

This is very inelegant. They should get rid of the +, make simple icons for all the devices (iPhone, iPad, TV, Watch, CarPlay) and display the appropriate ones compatible for each application. And for features (Apple Pay, family sharing, 3rd party controllers, iCloud sync, etc) they should do just as they do with GameCenter - make a colorful icon and display all of the app's available features in one place so we don't have to read through app descriptions or bland lists. Sent from the iMore App

Apple is not really thinking here... And making users do needless work checking. The tag in the App Store is helpful but lousy once one buys the app. It is but one way to inform users but is not the best way... I've written to Apple suggesting that they use the iPhone apps to advertise companion apps to those on the iPhone. By companion I mean apps available for the iPad, Watch and the TV. Apple should superimpose a small representative symbol on each corner of the iPhone apps:
- upper right, small square with a plus in it for iPad;
- lower right, small circle, iPhone;
- lower left, small rectangle, TV;
- upper left, reserve, or a small wallet symbol indicating Pay support. In this way, I can see what is available when I use the app, rather than having to repeatedly check availability status in the App Store. Additionally, there could just be a "notify when companion apps become available" toggle in the App Store configuration section of the settings app.

This article isn't even correct because they are just showing the dialog box that states what was in the latest update which is at the developers discretion to what they write there. They now have another update for this app so this data is missing unless you take the time to go into the version history. Sent from the iMore App

I just went to the App Store, Crossy Road still lists "Apple TV Yes" - what do you mean by the data is missing?

I mean that hipster whale the app developer released another update for their app on the AppStore as of the 12th of December at least in the US assume world wide as well. As I stated the dialog box shown in this "article" is intended to give information on what was in the latest update and not that there is Apple TV version of this app available. Thought that was pretty clear but maybe I'm wrong. I could send you a photo from 6s+ if you'd like since this forum doesn't allow pictures. Sent from the iMore App

Well that's odd, because I just checked again and both the iPhone: http://i64.tinypic.com/2zoazoh.jpg and the iPad: http://i65.tinypic.com/s2tj6b.jpg show "Apple TV Yes" but iTunes on the Mac doesn't. If you're checking on your 6s+ then it should show Apple TV compatibility.
Thank you for signing up to iMore. You will receive a verification email shortly.
There was a problem. Please refresh the page and try again.