Apple TV FAQ: Everything you need to know!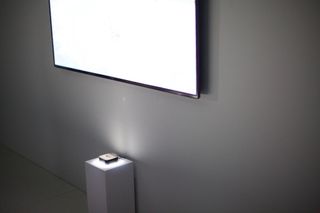 The rumors are true: There's a new Apple TV flying in, soon to be breathing life into living rooms everywhere. Here's everything you need to know about Apple's next step into television.
General | tvOS | Apps & Games | Music & Photos | The Siri Remote | Accessibility
General
The big question: When is it coming out?
Unsurprisingly, Apple's decided to avoid picking a date, settling instead on the wonderfully-vague "late October".
A new Apple TV will run you $149 for the 32GB model; if you want 64GB of storage for your movies, tv shows, and other information, you're looking at $199.
If you're just looking at getting the baseline third-generation box, that remains at $69.
It's a little chunkier than previous Apple TVs, though not nearly as large as a Tivo or cable box. According to Apple's website, the new Apple TV is 1.3 inches tall by 3.9 inches wide, and 3.9 inches deep; it weighs about 15 ounces.
We've got some specs on the new Apple TV remote, too: It's 4.88 inches tall—yes, taller than the Apple TV itself—and 1.5 inches wide, with a depth of 0.25 inches. It weighs 1.66 ounces.
What's the Apple TV look like under the hood?
First and foremost, it's gotten a huge speed bump over its predecessor: The fourth-generation Apple TV sports an A8 processor to the third-generation's A5. This lets it tap into Apple's Metal video framework as well as gives it the backbone to run great video, games, and other applications.
On the connectivity side, you're looking at 802.11ac Wi-Fi with MIMO, Bluetooth 4.0, 10/100BASE-T Ethernet, and an IR receiver; for ports, the Apple TV has been reduced to a single HDMI 1.43 port and a USB-C port for service and firmware updates. Gone is the optical out port, sadly, for those who liked driving speakers directly through their box.
What about video and audio support?
Like its predecessor, the fourth-generation Apple TV supports H.264 video up to 1080p at 60FPS, along with other forms of H.264 codecs, MPEG-4 video, and AAC, MP3, MP3 VBR, Audible, Apple Lossless, AIFF, and WAV audio formats.
Buh? No 4K? But the new iPhone shoots it!
I know, I know. It's a bummer, but 4K is just exiting its nascent, expensive technology phase this year—it may not have been financially feasible to put together a 4K Apple TV in 2015. As you noted, however, fictional question-asker, the iPhone 6s and 6s Plus do shoot in 4K—so Apple's definitely aware of the format and I wouldn't be surprised to see support come in 2016.
tvOS
What's the Apple TV running under the hood?
Well, given this section's name, it may not be too hard to guess: Yes, we do have a new variant flavor of iOS on the block, called tvOS. It uses many of iOS's frameworks—like Metal, Apple's graphics performance engine—to provide a gorgeous, speedy interface for your television. AND: It runs third-party apps.
What's the interface look like now?
The formerly-black Apple TV UI has been lightened to a shimmery grey, with iOS 9 blurs and parallax poster and app icons that jiggle as you swipe to them.
The grid of retangular icons with poster previews remains mostly identical, with one new change: The first five app icon slots have become the Apple TV equivalent of your Dock, labeled here as your Top Shelf. By default, these are iTunes Movies, iTunes TV Shows, App Store, Photos, and Music, but you can switch these out for any third-party app of your choice.
When you swipe to any of these apps, you'll get a content preview of floating movie poster icons and the like, customized for the app in question. (Netflix, for example, could show you your recently-watched TV shows and movies, or "recommended for you" list.)
There are also custom cinematic screensavers that display time-lapsed movement in a variety of well-known cities; each screensaver hooks in to your local time, as well, displaying the appropriate morning, day, or night scene.
I heard something about an Enhanced Speech feature? What's that?
One of the Apple TV's new settings is Enhanced Speech, which is similar to Sonos's Night mode: It ups sound for voices and lowers background noise and music, making it easier to watch at night without upsetting other members of your household. You'll be able to trigger it using Siri, as well as (likely) through the Settings app.
Can the third-generation Apple TV run tvOS?
Sadly, not so much. The third-generation Apple TV's A5 chip is positively ancient by iOS standards—it's what was in the first-generation iPad mini—and would make it highly difficult for third-party developers to support apps on that platform.
That said, we expect the third-generation Apple TV to get some sort of UI refresh/update when the fourth-generation lands later this year—Apple Music's coming to the Apple TV, of course, and HBO, Netflix, Hulu, and Showtime certainly aren't going anywhere.
Wait, you said App Store... can developers finally make apps for the Apple TV?
Yes! For the first time, developers will have access to an Apple TV SDK in the form of tvOS. While Apple TV apps won't be quite as full-featured as third-party iOS programs, developers will still be able to take advantage of a bunch of different frameworks including Metal, UIKit, CloudKit, Game Center, and On-Demand Resources.
Wait, "on-demand resources"... will third-party apps have size restrictions on Apple TV?
In part, yes. To keep users from downloading gigantic files when their use of the app may only require a few dozen megabytes, Apple offers On-Demand Resources. The initial app download from the App Store is limited to 200 MB; from there, developers can package up downloadable bundles that only download when the user needs to access those resources.
For example, you might download a game that has the first five levels as part of the initial download bundle; when you're about to finish the fifth, the game might call the resources from the server for the next ten.
I saw something about bundling iOS and tvOS apps? Are they the same thing now?
Not quite. While the App Store will provide ways for users to buy "bundled" apps on different operating systems—for instance, you could buy a bundle of a hypothetical PCalc Apple TV app and the PCalc iOS app together for a reduced price than buying each separately—developers will still have to build two separate apps. In essence, this is just a way to more easily pick up different versions of a developer's software without having to hunt each down on their respective platform.
Apps & Games
So the new Apple TV is "all about apps," huh?
That's the gist of it. Apple's calling apps "the future of television," which is not only great marketing for them—as my buddy Jason Snell said, if you don't have broadcast content to market, it's definitely not a future you want to paint—but it's also pretty true: People want a-la-carte subscriptions and signups, and the Apple TV is all too happy to make it happen.
TV apps aren't just limited to movies, TV shows, and music, however: You're going to be able to get all sorts of apps on the Apple TV. Games. Shopping. Weather. Recommendations. Sky's the limit.
Apps are the future of television. Think about it. On your mobile devices and computers, you already use apps such as Netflix, Hulu, WatchESPN, and iTunes to watch TV shows. And that's exactly where TV in the living room is headed. Apps have liberated television. They allow you to make individual choices about what you want to watch. And when and where you want to watch it. With the new Apple TV and its powerful new tvOS, developers are creating experiences that will change what you expect from your big screen, making your TV feel as personal as your iPhone or iPad.
What apps are built in to Apple TV?
When you get a fourth-generation Apple TV, you should have access to iTunes Movies, iTunes TV Shows, the App Store, Photos, and Music. In addition, there are subscription options built in (and, I imagine, the apps along with the subscription) for HBO, Netflix, Showtime, Hulu, NHL, NBA, and the MLB.
What other third-party apps are developers making?
There are a bunch! Here are the apps Apple has mentioned so far:
Watch ABC
CNNGo
FoxNow
Youtube
PBS
PBS Kids
USA Now
WatchESPN
WatchDisney
ABC News
NBC Sports
Airbnb
Gilt
Not even remotely. Gaming is a whole subsection of the Apple TV app-a-palooza: We expect to see many, many gaming ventures on the Apple TV when it's released later this year. Between the Metal framework, support for custom controllers, multiplayer support (when you connect additional iPhones), and awesome APIs, there's a whole lot of potential here.
What games have developers announced?
Here's what's appeared on Apple's website so far (game descriptions courtesy Apple):
Manticore Rising: Embark on an epic battle for the universe while carrying out various side missions in the latest installment of the popular Galaxy on Fire space shooter series.
Rayman Adventures: Explore mythical worlds with the fearless adventurer Rayman and his viking companion Barbara on an exciting quest to rescue the Incrediballs.
Shadowmatic: Stretch your imagination with this 3D puzzle game in which you rotate abstract objects in a spotlight to create recognizable shadow silhouettes.
Transistor: Fight your way through a futuristic city using an extraordinary weapon of unknown origin in this sci-fi themed action game.
Guitar Hero: Take the stage and perform as a rock star with a real band, in front of a real crowd. Fight the stage fright, rock out, and bring the house down.
You mentioned custom game controllers... how so?
While game developers can easily build games for the Siri Remote, using its built-in touch pad, accelerometer, and gyroscope for all sorts of fun, there are going to be gamers that want a traditional controller. For them, Apple's opened up connectivity on the Apple TV to support third-party controllers that have gone through the company's MFi program. Any custom controller can connect via the Apple TV's Bluetooth 4.0 network.
Can you use your iPhone as a remote to play games on the new Apple TV?
It looks like you may be able to, yes! If you're playing a game with a multiplayer option, you may be able to launch the app in question on your iPhone and connect to its tvOS counterpart. You can also, of course, just AirPlay any iPhone game to your Apple TV.
How does the Remote work as a game controller?
To use the Siri Remote as a game controller, you'll rotate it 90 degrees, Wii-style, with the touch pad nearest your left hand. Thanks to the remote's built-in accelerometer and gyroscope, you can use all the same tilting and movement gestures you might use when playing a game on your iPhone—except this time, you'll be looking ahead at the TV screen, not down at your controller.
Swiping on the pad now works as a directional pad, moving your character or active object within the game. Tapping on the pad varies, depending on what the game's been programmed to do.
Firmly pressing or clicking on the touch pad is the equivalent of the "A" or primary button, while the Play/Pause button works as a "B" or secondary button. (You can also press Play/Pause at any time to skip cut scenes and intro videos.)
To pause or resume gameplay, return to a previous screen, or (eventually) return to the Apple TV Home screen, press the Menu button. (You can also double-press the Menu button to bring up the Apple TV's multitasking bar.)
Music & Photos
So Apple's keeping music and photos around on the Apple TV?
Yup, with new apps, to boot. The new Music app hooks into the company's Apple Music subscription service along with iTunes Match, while the Photos app chats with iCloud. It's not quite clear whether the fourth-generation Apple TV will connect to your full iCloud Photo Library or just iCloud Photo Sharing, but we're looking into it.
What about Home Sharing? Is that sticking around?
Though there's no "Computer" icon in any of Apple's marketing materials for the new Apple TV, the company's website confirms that Home Sharing will remain a feature in tvOS: Under the System Requirements section of the box's tech specs, Apple notes that "iTunes purchasing and renting and Home Sharing require iTunes Store account."
Not the most graceful way of acknowledging Home Sharing's continued presence on the Apple TV, but it's there.
What can I do with the Music app on Apple TV?
Pretty much everything you can do in iTunes or the Music app on iOS: You'll be able to listen to your music, view artists on Connect, listen to the Apple Music catalog (if subscribed), rock out to Beats 1 or any other radio stations, and more.
What about your photos and home video?
You'll access these from the Photos app. This information all comes from either your Home Sharing account or iCloud, so make sure you have one of those two enabled.
Can you still AirPlay stuff?
Absolutely: AirPlay is enabled with the new Apple TV, as is full-screen Mirroring. Even better, the set-top box supports peer-to-peer AirPlay, so your friends never have to connect to a Wi-Fi network to use AirPlay.
The Siri Remote
Tell me about the Siri Remote. How do you use it?
The fourth-generation Apple TV's new remote is pretty great: It has a multitouch pad, buttons for triggering Menu, the Home screen, and Siri, and can control play/pause and volume of your content.
Even better, turn it 90 degrees to the left, and it doubles as a game remote, with accelerometer and gyroscope sensors built in.
And perhaps my favorite feature of all: It uses Bluetooth to talk to your Apple TV, not IR—so you never have to worry about getting your remote in perfect line of sight again—and it intelligently talks to your TV so that when you turn it on, you automatically swap to the Apple TV's input, and can control the TV's power and volume.
If it chirped when you lost it in the couch cushions, it would basically be the best remote ever.
There's a wrist strap, right?
Yup, for gaming. But it's not included—it'll be sold separately for an as of yet unknown cost.
How do you charge this crazy thing?
Via Lightning cable. Thankfully, you should be doing this very rarely, thanks to the months-long embedded battery.
Let's talk touch screen. What can I do with this?
The Siri Remote has three distinct movements: Swipe, Tap, and Click.
Swipe is your primary way of moving throughout items on the screen; you can move your finger in small swipes to activate an individual icon's parallax feature, or use big swipes to move through icons and menus quickly. You can also use slow or fast side-to-side swipes within a piece of content to scrub through a video timeline.
When you lightly tap your finger on the touchscreen glass, this lets you soft select an item and preview it; Click enters you into whatever you've selected. (You can also click-and-hold to enter edit menus in certain apps and interfaces.)
Okay, what about the physical buttons?
You've got six buttons on the face of the Siri Remote: Menu, Home, Siri, Play/Pause, Volume Up, and Volume Down.
Menu brings up a menu or the previous screen, and (eventually) exits you to the Home screen, while the Home button will bring you immediately to the Home screen, and, if held, turn your television on/off. You can also double-press the Menu button to bring up the multitasking bar.
Pressing the Siri button triggers Apple TV's Siri interface; Play/Pause does what it says on the tin, as does Volume Up/Down.
How does Siri's search feature work?
When you press the Siri button, the Siri waveform appears over the bottom third of your screen, ready to command. Speak into the remote and you can trigger Siri's search with something as basic as "Show me new comedies" or "I want to watch Mr. Robot."
Siri searches across any and all content apps you have installed, pulling up the movie's title screen along with all the services you have installed that support watching it.
From here, you can make follow-up or more contextual search commands: "I want to watch Sci-fi movies." "Only the ones with Leonard Nimoy." "Only the good ones."
What countries will Siri be supported in?
At launch, the Apple TV's Siri feature will work in Australia, Canada, France, Germany, Japan, Spain, United Kingdom, and the United States.
Quite a bit! Though not as full-featured as its iOS sibling, Siri on the Apple TV can still hold its own. You can launch apps; see sports scores, weather, and stocks; see who starred in whatever you're watching; control play/pause, launch settings; and even turn on Enhanced Speech or closed captioning. I suspect "What did he just say?" is going to become a common command in my house.
Courtesy Apple's website, here are some common phrases you'll be able to use to address Siri on the Apple TV:
"Play from the beginning"
"Turn on closed captioning"
"What's the temperature outside?"
"Who is winning the Cubs game?"
"Fast-forward two minutes"
"Launch Beat Sports"
"What did he just say?"
"Turn on Enhanced Speech"
"Who directed this movie?"
Can I use my iPhone to control the fourth-generation Apple TV?
No word officially on this yet, but we're assuming that the Remote app will see an update before the fourth-generation Apple TV is released.
Accessibility
What's accessibility on the Apple TV like?
Pretty great if you're hearing- or vision-impaired: Apple TV and tvOS support a lot of the accessibility features previously found in iOS, including VoiceOver, Zoom, Bold Text, Increase Contrast, Reduce Motion, and Closed Captioning and SDH. You can trigger your preferred accessibility features by triple-clicking the Menu button.
Any other questions?
Shout out in the comments and we'll get you taken care of.
Master your iPhone in minutes
iMore offers spot-on advice and guidance from our team of experts, with decades of Apple device experience to lean on. Learn more with iMore!
Serenity was formerly the Managing Editor at iMore, and now works for Apple. She's been talking, writing about, and tinkering with Apple products since she was old enough to double-click. In her spare time, she sketches, sings, and in her secret superhero life, plays roller derby. Follow her on Twitter @settern.