Apple TV still trails behind competitors by a wide margin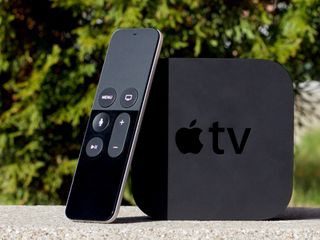 (Image credit: iMore)
What you need to know
A new report reveals the Apple TV ranks next-to-last in streaming platforms.
It saw 13 million sales figures, well below first place Roku which surpassed 41 million and barely above last place WebOS (LG).
Other popular streaming platforms include Sony's PlayStation, Microsoft's Xbox and Samsung's Tizen.
Apple TV sales figures hit 13 million during the last quarter, but that wasn't enough to lift its place in the streaming market. In fact, Apple ranked next-to-last in streaming TV platforms according to new report from Strategy Analytics.
The report ranks all of the major streaming platforms and the latest numbers show that Apple still hasn't broken through in the streaming market. Apple TV numbers were at 13 million, barely above last place WebOS, which powers LG's smart TVs.
This is an issue Apple has been running into constantly as the Apple TV at $179 is one of the most expensive streaming set top box consumers can buy. There are much cheaper alternatives out there from Roku or Amazon while others settle for the streaming platform they get from their smart TV or console like the PlayStation or Xbox.
Apple has partly addressed the issue as it prepares for the launch of its Apple TV+ streaming platform making it available on smart TVs from Samsung, Sony, LG and Vizio and set top boxes from Roku and Amazon.
Speaking of which, Roku continues to dominate the market reaching over 41 million sales of its streaming devices. It is followed by Sony's PlayStation, Microsoft's Xbox, Samsung's Tizen, Google (Android TV/Chromecast) and Amazon Fire TV.
Meanwhile, Apple's prospects don't look like they'll get any better. It is expected to be surpassed by LG's WebOS platform over the coming months leaving it in last place.
I love my Apple TV and I'm not just being a fan boy either. I have Apple TV on my main 55" TV in my living room and a Roku Streaming Stick in my bedroom on a 40" TV. The Roku tends to have more hiccups and experience interruptions than I have with my Apple TV. I find the Apple TV to be more stable compared to the Roku products I've owned. The Roku Express was the worst thing I've owned with so many stability issues but maybe it's just my bad luck.

I've always wanted to try out the Apple TV but I've not needed it enough to buy one. We mainly watch Netflix and the built-in app on the TV does the job, and it's got the UK catchup apps as well although some of them can be a bit unstable, but I think that's more to do with the apps than the underlying OS. I can mirror to the TV as well. I think if Apple made their own Smart TV things might be a little different, but then again it depends on the pricing

I've had an Apple TV for a while now - along with Firestick, Chromecasts, and Rokus. After using all of them for over a year, I very very rarely use anythin but the Rukus (I have 5 of them now). Yes, the Apple TV has some nice ideas, but I despise the remote (to put it mildly). I also have LG TV's with the webOS app system, but still find myself using the Rokus just because of the ease of use, simple interface, and great choice of apps. YMMV - but after lots of use of each, that's were I ended up.
Get the best of iMore in in your inbox, every day!
Thank you for signing up to iMore. You will receive a verification email shortly.
There was a problem. Please refresh the page and try again.