Apple Watch, AirPods, and HomePod to face tariffs in September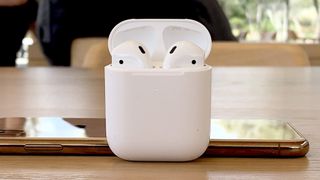 (Image credit: iMore)
What you need to know
AirPods, Apple Watch, and HomePod will face 10% tariffs from the Trump administration on September 1.
The tariffs could potentially make these products more expensive for consumers.
Analysts believe Apple may absorb the extra cost.
Come September 1, some of Apple's most popular products will be faced with a 10% tariff from the Trump administration—something that will extend across the industry.
As previously announced by President Trump, products including smartwatches, fitness trackers, smart speakers, and Bluetooth headphones will be affected by the tariffs. That list includes the AirPods, Apple Watch, and HomePod.
The silver lining is other tariffs are being delayed until December. The United States Trade Representative released a letter on Tuesday explaining why.
According to the USTR's letter, it's conducting an exclusion process for additional products subject to the tariffs. Last year, products such as the AirPods were exempt after manufacturers sent letters to the U.S. government requesting relief.
The AirPods, Apple Watch, and HomePod have become increasingly important to Apple's bottom line as sales of the iPhone decline. In its Q3 2019 earnings report, Apple CEO Tim Cook said when its services, wearables, home, and accessories are combined, they rival the size of a Fortune 50 company.
With Apple expected to introduce new products in September, many consumers are wondering whether the tariffs will be absorbed by Apple or passed on to consumers. Some analysts believe Apple will take the hit in an effort to strengthen its brand image and relationship with suppliers.
○ Everything you need to know about AirPods
○ AirPods, Beats X, or PowerBeats 3?
○ Best way to buy AirPods
○ How to personalize AirPods
○ How to pair AirPods with W1
○ How to pair AirPods with Bluetooth
○ How to configure AirPods
○ How to use AirPods
○ How to use AirPods offline
○ How to clean AirPods
○ How to find lost AirPods

Don't worry, China will be paying the tariffs.

Worth every penny. MAGA - support it. The only people that will not are liberals, democrats and tools.

Trump pushed this back until December 15th as he said he didnt want to effect holiday buys for consumers. There it tells you that americas will pay the higher price. MAGA lol get out of town buddy.

Or families who are already struggling enough and would rather not have to pay more in the store just because our President is having a ******* contest.
Thank you for signing up to iMore. You will receive a verification email shortly.
There was a problem. Please refresh the page and try again.