How to find lost AirPods with the Find My iPhone app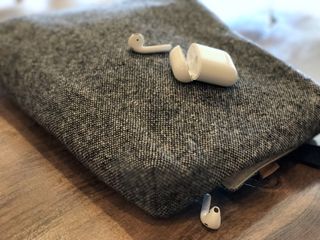 There's no getting around it: the AirPods are small. It's what happens when you chop the cord off a set of in-ear buds; they don't have much mass, and if you don't remember to store them in their pillbox case, you may find yourself frantically searching for an earbud or two.
Thankfully, if you've accidentally misplaced one of your AirPods, iOS 10.3 and Apple's Find My iPhone app will let you hunt it down as long as you're within Bluetooth range.
To start, you'll need both iOS 10.3 and the Find My iPhone app.
How to find missing AirPods earbuds
Note: This feature is primarily to locate individual missing AirPods earbuds — the AirPods case itself doesn't have speakers, and the earbuds themselves won't make a sound until they come within range of your iPhone.
Open (or download, if you don't yet have it) Find My iPhone.
Sign in with your iCloud account.
Tap on the entry for your AirPods.
Select Actions.
Press Play Sound.
Both earbuds will start making a triplicate chirp — quietly at first, then increasing in volume. If you're trying to find just one of the buds, you can mute the left or right earbud to focus in on finding the other earbud.
Still can't find your earbuds?
If your missing AirPods earbud is out of charge, you may be out of luck in locating it via the Find My iPhone app. That said, you can still go about finding it the old-fashioned way — back-tracking where you had them previously.
And if you've exhausted all other options, you can always pay a lost AirPods fee (opens in new tab) to Apple to get a new earbud — it's just $69 per lost bud.
Questions?
Let us know below.
○ Everything you need to know about AirPods
○ AirPods, Beats X, or PowerBeats 3?
○ Best way to buy AirPods
○ How to personalize AirPods
○ How to pair AirPods with W1
○ How to pair AirPods with Bluetooth
○ How to configure AirPods
○ How to use AirPods
○ How to use AirPods offline
○ How to clean AirPods
○ How to find lost AirPods

Get the best of iMore in in your inbox, every day!
Serenity was formerly the Managing Editor at iMore, and now works for Apple. She's been talking, writing about, and tinkering with Apple products since she was old enough to double-click. In her spare time, she sketches, sings, and in her secret superhero life, plays roller derby. Follow her on Twitter @settern.
I've done everything in my power to make these fall out of my ear to no success. I have found two weak spots. When sweaty and when taking them out. If I lose one I think it's gonna be taking them in and out. Not wearing them.

What's happened to iMore? I used to come here for breaking Apple news and editorials. Now almost all I see are article after article of "how to" guides on the most basic tasks. I understand you want to get the ad revenue from random Internet users doing google searches, but I think you've gone too far and taken the site out of balance. I only find an article I'm interested to read here every 4 or 5 days now and am considering uninstalling the iMore app because it's always such a dissapointment to open it and see literally nothing of interest.

True, it's either How To's, Pokemon or more recently, Switch articles. Sent from the iMore App

We really haven't published fewer articles you're interested in, just more how-tos and reviews. I agree that it can be a slog to find everything, however, and we're almost finished with a redesign that'll let you completely silence the parts of the site you don't want to read. Stay tuned: We're hoping to unveil it in the next month!

Thanks for the response! Looking forward to the new filtering / silencing features. Cheers

I agree 100%. Have switched back to to 9 to 5 Mac for more relevant news.

I wish I could "Find My AirPods". I'm still waiting for them to ship. 35 days and counting. 😭

"until they come within range of your iPhone" - Apple should take a page from Trackr's book. Allow other iPhones to find them. It'd require me tying the overpriced-Pods to my account, but then if I mark them lost, Apple could have any iPhone that sees them report a location back to me.

Why are they Air pods in white instead of jet black to match the colour? Isaiah Heart.

Most of Apple's accessories are in white, it's just an Apple thing. Chargers are white, for example, regardless of which color device you buy

Fully charged AirPods in their charging case with the lid shut are invisible to Find My AirPods. If you've mislaid your case, that's a problem. Needs a fix.

True, indeed. I have most often lost my AirPods when i've misplaced the case. That's what I was most excited about this feature helping to solve. I guess there's still no way Apple is helping with this scenario.

Still waiting for Apple to "find" them to ship...maybe they aren't yet using their own app. Airpods are MIA around here.

I've had my AirPods since a few days before Christmas, and fortunately, the only time I've lost / misplaced a pod is just after I installed the 3.2 beta. I was sitting at my desk, dropped one of the pods, which hit one of my feet and shot away under a bookshelf. Before trying Find My AirPods, I was on my hands and knees under my desk looking everywhere I could think of and couldn't find the pod. Thanks to the capabilities of the new iOS beta, I was able to locate the pod that decided to go walkabout. So, in short, Find My AirPods works. Thank you Apple.
Thank you for signing up to iMore. You will receive a verification email shortly.
There was a problem. Please refresh the page and try again.