How to use your AirPods when you're offline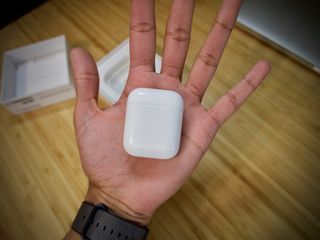 Part of the magic of AirPods is their lack of interface. You control the tiny wireless earbuds by chatting with Siri. But given the fact that Siri requires internet connectivity to work her magic, you won't be able to get away with much when you're on the subway, in an airplane, or otherwise without cellular or Wi-Fi connectivity.
Luckily, a writer at 9to5Mac has offered up a little trick to enable some voice control functionality using your AirPods, even when you're offline. All you've got to do is switch out Siri for Voice Control.
How to disable Siri and enable Voice Control
If you disable Siri and enable Voice Control, you'll be left with a less powerful way to control your phone using your voice. There are specific commands (opens in new tab) you can use with Voice Control and many of them are for controlling your music.
Launch Settings.
Tap General.
Tap Accessibility.
Tap Home Button under the Interaction category. On iPhone or iPad devices with Face ID, tap Side Button.
Tap Voice Control under the Press and Hold to Speak category.
Use Voice Control commands

(opens in new tab)

to control your device.
How to change the double-tap gesture to play and pause your music
Alternatively, if all you need to do is play and pause your music while you're offline, you can change AirPods' double-tap gesture.
Launch Settings
Tap Bluetooth.
Tap the i next to the menu item for your AirPods.
Tap Play/Pause.
How do you use AirPods?
Do you use AirPods in a place where you've no internet connection? How do you get around using Siri? Let me know in the comments or shoot me a tweet over on Twitter!
○ Everything you need to know about AirPods
○ AirPods, Beats X, or PowerBeats 3?
○ Best way to buy AirPods
○ How to personalize AirPods
○ How to pair AirPods with W1
○ How to pair AirPods with Bluetooth
○ How to configure AirPods
○ How to use AirPods
○ How to use AirPods offline
○ How to clean AirPods
○ How to find lost AirPods

Updated October 2018: Updated for iPhone XS and iPad Pro (2018).
Get the best of iMore in in your inbox, every day!
Mikah Sargent is Senior Editor at Mobile Nations. When he's not bothering his chihuahuas, Mikah spends entirely too much time and money on HomeKit products. You can follow him on Twitter at @mikahsargent if you're so inclined.
Might be a useful, if clumsy, workaround, if you don't have an Apple Watch.
Voice Control should (and will) *be* Siri, even offline, in a limited form.

I never really understood why basic Siri tasks such as settings (especially wifi, cellular and airplane mode) and Music controls are still handled via the server. Wifi/cellular toggles actually allow Siri to disable itself, so why not allow for those requests on the device without a network?

I never use Siri with my AirPods, I mean I can't see myself talking "alone" in a restaurant or else to change song or raise volume. So it's play/pause double tap for me and full manual control with the iPhone. Keep it simple and (I might feel ashamed to say it but...) stupid! I love a simple life!

I'm with ya, Johhny. I do 96% of my AirPod controlling on iPhone. The other 4% is split between Siri and Apple Watch.

It's Siri that puts me off buying AirPods. I kinda like the compact design of them, but not the lack of playback controls. When out for a jog or such, asking Siri to change tracks when I'm out of puff is unlikely to be anything but patchy at best (she can barely cope with instructions when I'm driving via carplay). As seen as it has a touch sensitive surface, why not incorporate some kind of swipe gesture interface?

@returnmyjedi: AirPods have no touch-sensitive surface, the double tap is picked up by the accelerometer.
But an Apple Watch works really well. Could be the best purchase ever for your health, depending of course on your current habits and setup. As hardware and sensors evolve, I have even higher expectations for future versions.
Thank you for signing up to iMore. You will receive a verification email shortly.
There was a problem. Please refresh the page and try again.