Apple's AirPods are elusive no longer — here's where to buy them!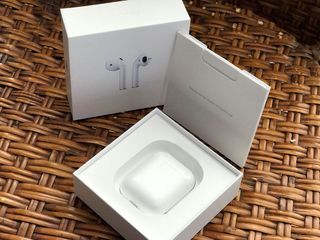 Apple's AirPods snuck onto the scene in late December 2016 — where they've pretty much stayed backordered. Currently, if you attempt to grab a pair from Apple's online store (opens in new tab), you'll be waiting a few weeks for in-store pickup or home delivery.
But don't despair: Ordering from Apple isn't the only way to grab a set of AirPods. We've got a few ways you can still snag a set before the fall.
Check the big box stores
Many chain retailers and carrier stores now have AirPods in stock with only a few days' wait before they ship — or even same day in-store pickup! Here are the websites we've seen that currently have AirPods available:
Check out AirPods Is In Stock or iStockNow
If you'd prefer to buy directly from Apple, helpful AirPods fans have built an email notification system in "AirPods Is In Stock" to help alert you when AirPods are in stock at your store. Input your email address and your preferred store, and the web app will ping you with a notification. If you desperately need to be the first to know, you can even sign up for "preferred" notifications by throwing the developers a few bucks.
iStockNow also has a full live-tracker that lists every store as it goes in and out of stock, along with a notification service.
Visit an Apple Store today
Apple has confirmed that AirPods often get restocked in retail stores across the country in limited supplies. This is a separate stock from the company's pre-orders, and goes directly to store shelves. Unfortunately, Apple doesn't offer any sort of reservation system for these, so if you plan to pick them up from a store, here's how you do it:
Apple often enters new retail stock into its computers either the night prior (after 7PM) or in the morning, usually on Thursdays. Though you won't be able to find out online if there's new stock, calling the store or visiting when it opens can get you a set at the door. (This is how I picked up a set for both my fiancé and my best friend.)
Visit an Apple Authorized Reseller or carrier
Apple Stores, carriers, and chain stores aren't the only ones getting regular AirPods deliveries: Your local Apple Authorized Reseller may have them, too. Depending on your store, their policies on calling to reserve products may be different than the Apple Store, so it's worth giving them a call to find out whether they're getting AirPods in, and if so, how they plan to put them on sale.
Other suggestions?
These are the primary options I'd currently rely on, but do you have other suggestions for snagging a pair of AirPods? Let us know in the comments.
Updated August 21, 2017: AirPods are now in stock across a number of chain stores and carrier outlets!
○ Everything you need to know about AirPods
○ AirPods, Beats X, or PowerBeats 3?
○ Best way to buy AirPods
○ How to personalize AirPods
○ How to pair AirPods with W1
○ How to pair AirPods with Bluetooth
○ How to configure AirPods
○ How to use AirPods
○ How to use AirPods offline
○ How to clean AirPods
○ How to find lost AirPods

Get the best of iMore in in your inbox, every day!
Serenity was formerly the Managing Editor at iMore, and now works for Apple. She's been talking, writing about, and tinkering with Apple products since she was old enough to double-click. In her spare time, she sketches, sings, and in her secret superhero life, plays roller derby. Follow her on Twitter @settern.
They are crap won't stay in at all. Sent from the iMore App

Mine stay in fine and sound great. Had them since December.

Airpods works great for me and I have been able to acquire a set using iStocknow.com . I was able to help 2 other friends as well using the same site. Set up a notification and it will tell you when you can buy them locally or online like Verizon or att store.

👍 Sent from the iMore App

I used iStocknow, which shows each Apple Store's inventory and updates every minute. As soon as I saw that the Covent Garden store had stock I ordered with the online store for in store pickup. Sent from the iMore App

I recently signed up for Is In Stock (thanks @Robertk328) and I assume it pretty much works the same as iStocknow. I have multiple alerts set up for Apple stores, Best Buy, Target and Walmart and it tracks online retailers as well. Also on Twitter @airpodsalerts.

I got mine from Best Buy. It showed a month wait, but I got them in a little over a week. Sent from the iMore App

Istocknow is the way to go. I got an alert, ordered online and picked up within the hour. By far the easiest way to get them fast. Just be ready to pounce when you get the alert.

I got mine old fashioned way: I ordered them at the online store, and my local store told me to come in about 5 weeks later. I know! I loved them. I got used to them, and the first time I wore them, after five minutes, let left AirPod fell on the floor. Not even moving my head. I kept experimenting with how to keep them in both ears. The result was, I discovered my left ear canal is too large to hold the clever things. My right ear canal is smaller, just the right size for AirPods. OK, I'm a freak. After two days of trying, I gave up. Every single time, the right ear was locked tight, the left -- clattered on the floor. Sadly, I took it back to the store and got my money refunded. Oddly enough, I found a place where the PowerBeats 3 was selling for $150, not $200. Little place called Amazon. Heard of it?

I just gave up & bought some BeatsX phones, love 'em. Better battery, better ear-seal, better sound, just fine.

Ordered mine yesterday from at&t site, Is In Stock notified me. I asked the online at&t rep and they confirmed. They shipped today and are scheduled to be delivered Monday :)

The REAL question is - WHEN DO WE GET BLACK AIRPODS? Then they at least wouldn't look like you've got a toothbrush head sticking out of your ear.

Where do people get ridiculous ideas like this? Have you never SEEN a toothbrush??

Thanks for the heads up about Verizon! Mine arrive Tuesday.

Ordered two pairs from Verizon and got them 2 days later with free shipping.
Thank you for signing up to iMore. You will receive a verification email shortly.
There was a problem. Please refresh the page and try again.