Apple just gave Meta's Threads app a boost with better iMessage integration
Rich link support helps Threads growth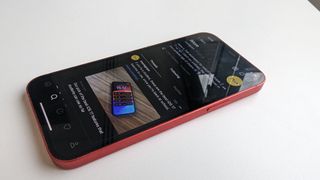 (Image credit: Future / Matthew Hanson)
Ever since its acquisition by Elon Musk back in 2022, Twitter, now known as X, has been in a bit of a weird spot. Dealing with sweeping changes overnight and advertising concerns, many competitors have tried to make it to market.
Threads, one of the most successful so far, has just received a key feature from Apple - showing their support early. Though Twitter already has rich link previews, the addition of it to Threads shows that Apple sees link sharing as important enough to whitelist in their iMessage program.
Threads' user base has dropped 82% since its launch but still manages to keep 8 million daily users - an impressive base. This is sure to only grow with time.
Better Threads links
iMessage supports a feature known as rich links that show a more expansive version of the site you just shared. Rather than just having a link you can click, it shows some information on the page like the post itself and some context around the user that posted it.
This has been a feature on Twitter for some time and also came out for Mastodon — but there are few social media sites granted the privilege of a rich link. Though technically available for all websites, Apple has to manually whitelist supported sites. In other words, Threads getting rich links is a sign of continued support.
Though Apple itself is not on Threads just yet, Apple Music is on there. It hasn't posted anything yet but has over 300,000 followers and a verified badge. It seems likely that rich link support is linked to the huge launch Threads has had.
With 120 million accounts so far, Threads has had an expected drop off with daily users. Many would have made accounts to take a username and wait for the site to mature and grow. As well as this, many will already have Facebook and Instagram accounts that will migrate over. With Meta owning it, we can assure it will have good support from day one and Apple getting behind it is just one sign of that.
Given it is the new competitor on the block, check out our hands-on with Threads and how to get started with Threads.
Master your iPhone in minutes
iMore offers spot-on advice and guidance from our team of experts, with decades of Apple device experience to lean on. Learn more with iMore!
James is a staff writer and general Jack of all trades at iMore. With news, features, reviews, and guides under his belt, he has always liked Apple for its unique branding and distinctive style. Originally buying a Macbook for music and video production, he has since gone on to join the Apple ecosystem with as many devices as he can fit on his person.
With a degree in Law and Media and being a little too young to move onto the next step of his law career, James started writing from his bedroom about games, movies, tech, and anything else he could think of. Within months, this turned into a fully-fledged career as a freelance journalist. Before joining iMore, he was a staff writer at Gfinity and saw himself published at sites like TechRadar, NME, and Eurogamer.
As his extensive portfolio implies, James was predominantly a games journalist before joining iMore and brings with him a unique perspective on Apple itself. When not working, he is trying to catch up with the movies and albums of the year, as well as finally finishing the Yakuza series. If you like Midwest emo music or pretentious indie games that will make you cry, he'll talk your ear off.