Tenured Apple employee sells 20-year service award at auction
Apple discovers that just like pizza, cake and bowling trips, awards don't pay the bills — but auctions do.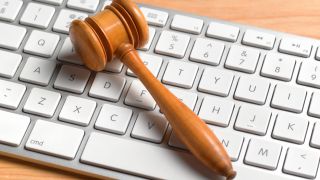 (Image credit: Getty Images / Peter Dazeley)
A recent auction suggests that one Apple employee would have just preferred money instead of their anniversary award. After 20 years with the company, the employee put it up for auction, where bidding started at $2500 — a little more than the cost of an M3 Pro MacBook Pro with 1TB of storage.
The auction stayed up for just over two weeks, where it was bid on 7 times and eventually sold for $5,316. This is not the first time Apple Anniversary awards have been caught at auction, with this 10-year anniversary award currently on eBay for $2,000.
A monumental 20 years
This award was originally granted in 2020, with a card from Apple CEO Tim Cook. In the time this employee has worked at Apple, the company has launched the iPod, iPhone, iPad, Apple Watches, and saw the unfortunate passing of Steve Jobs and Tim Cook's takeover of the role.
Apple says the award, ' is made from the same 6000 series aluminum that we use to make our products. Remnants from the production process are collected and reformulated to create a 100 percent recycled, custom alloy. The alloy is cast into long ingots, then each ingot is sliced into blocks that are machined to the finished size".
It's important to point out that each award has the name of the employee on it. Though the auction doesn't reveal the name, the description does use she/her pronouns, and the purchaser will receive the award with the employee's name etched on. This could suggest that whoever was given this award is no longer at Apple, especially if you consider that she waited three years to sell her award. As well as the 20-year award, Apple has given a 10, 30, and 40-year award, with employees getting a signed plaque after five years.
What would you do? Keep the sentimental award or cash in? Let us know in the iMore Forums.
More from iMore
Master your iPhone in minutes
iMore offers spot-on advice and guidance from our team of experts, with decades of Apple device experience to lean on. Learn more with iMore!
James is a staff writer and general Jack of all trades at iMore. With news, features, reviews, and guides under his belt, he has always liked Apple for its unique branding and distinctive style. Originally buying a Macbook for music and video production, he has since gone on to join the Apple ecosystem with as many devices as he can fit on his person.
With a degree in Law and Media and being a little too young to move onto the next step of his law career, James started writing from his bedroom about games, movies, tech, and anything else he could think of. Within months, this turned into a fully-fledged career as a freelance journalist. Before joining iMore, he was a staff writer at Gfinity and saw himself published at sites like TechRadar, NME, and Eurogamer.
As his extensive portfolio implies, James was predominantly a games journalist before joining iMore and brings with him a unique perspective on Apple itself. When not working, he is trying to catch up with the movies and albums of the year, as well as finally finishing the Yakuza series. If you like Midwest emo music or pretentious indie games that will make you cry, he'll talk your ear off.