The third visionOS beta is here - this is everything new
The new visionOS beta has a lot going on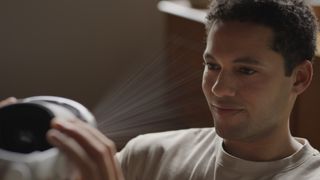 (Image credit: Apple)
The Apple Vision Pro is Apple's upcoming AR headset designed to operate alongside other productivity and office apps to complement your work and life. With the first visionOS beta going live back in June, Apple has continued to update it with new accessibility options, features, and more. Given the second beta launched at the end of July, we've been waiting some time to see what's next. The third visionOS beta went live alongside the announcement of the new Apple Event this week.
In the release notes, we've spotted some key features like the advancement of Optic ID, accessibility options, and some new system sounds.
A sign of the future
The FaceTime Persona, a way of getting a digital avatar for FaceTime, has gone live, enabling developers to test out the new tech. A function that will add to this, you can now automatically adjust the display by holding the Digital Crown and you can quickly re-enroll eye and hand tracking by tapping it four times. These ease-of-access updates make using the device a little easier and will likely be one of the main focuses of the next year.
AaronP613 has also spotted support for the Nintendo 64 Switch controller in the code of the beta, allowing users to map controls to new functions. This will presumably have some functionality with Apple Arcade or Apple's suite of gaming apps. He also spotted a new warning about bumping into things when viewing immersive visuals, and a continued lack of support for mice.
Regarding the Optic ID, the will allow users to authenticate themselves with nothing but a scan of their eye. In the latest beta, as noted by 9to5Mac, the code states:
"Optic ID will always be available if the selected iPhone is nearby and has been unlocked in the past"
If you don't have a phone nearby, you can get into your device with a standard passcode.
The new beta also comes with a whole host of fixes to current accessibility features. Sound actions and sound recognitions now work and dynamic text no longer breaks at bigger sizes.
Master your iPhone in minutes
iMore offers spot-on advice and guidance from our team of experts, with decades of Apple device experience to lean on. Learn more with iMore!
James is a staff writer and general Jack of all trades at iMore. With news, features, reviews, and guides under his belt, he has always liked Apple for its unique branding and distinctive style. Originally buying a Macbook for music and video production, he has since gone on to join the Apple ecosystem with as many devices as he can fit on his person.
With a degree in Law and Media and being a little too young to move onto the next step of his law career, James started writing from his bedroom about games, movies, tech, and anything else he could think of. Within months, this turned into a fully-fledged career as a freelance journalist. Before joining iMore, he was a staff writer at Gfinity and saw himself published at sites like TechRadar, NME, and Eurogamer.
As his extensive portfolio implies, James was predominantly a games journalist before joining iMore and brings with him a unique perspective on Apple itself. When not working, he is trying to catch up with the movies and albums of the year, as well as finally finishing the Yakuza series. If you like Midwest emo music or pretentious indie games that will make you cry, he'll talk your ear off.