Tim Cook talks Vision Pro, Twitter, and equality in recent CBS interview
'I watched the entire third season of Ted Lasso on the Vision Pro'.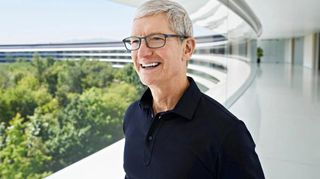 (Image credit: Apple)
Following the announcement of the iPhone 15, Tim Cook gave a candid interview with CBS talking about his time using the Vision Pro, equality laws in America, and ad support on Twitter. With rarely heard details about the Apple CEO, the interview gives us a peek behind the curtain of one of the biggest tech companies in the world.
Like the Apple Event itself, CBS's interview spends a great deal of time talking about environmental concerns and Apple's push to make devices carbon neutral. On the financial benefit of being more friendly to the world around us and his desire for other companies to follow Apple's example, Tim Cook said 'I know they're not going to copy a decision that isn't a good economic decision'.
Ultimately, Tim Cook and, by extension Apple, believe that the firm push into environmentally conscious design is one that will benefit them as a company long term.
A big venture
After talking about the growth of Apple since Tim Cook took over as CEO, CBS move on to the Vision Pro — one of the most unique bits of tech Apple has worked on in the last decade. When given the opportunity to talk about the headset, Tim Cook reveals that it is still on track for a launch in early 2024 and that he has watched the entirety of the third season of Ted Lasso with the mixed reality headset on. This is not only a very natural use case for the device but also proof it is comfortable enough to wear for over 10 hours.
Given it is a new venture for the company and is still emerging tech, Tim Cook told CBS 'It requires innovation in not only the development but also in the manufacturing'. When CBS and Tim Cook head to Apple's campus in Austin, Texas, CBS cites Tim Cook's Pride celebration and diverse workforce as one of the many ways that Apple supports its workers.
Talking of Apple's support of LGBT individuals and diverse workspaces, CBS asks Tim Cook about X, formerly known as Twitter, and the conflict between the ADL and Elon Musk. Cook states "Twitter is an important property. I like the concept that it's there for discourse and there as a town square. There's also some things I dislike." On antisemitism on the platform, Cook states "It's abhorrent… there's no place for it". He also states that Apple constantly asks itself if it still wants to support advertising on the platform. As of the time of writing, Apple ads are still on X.
The entire interview can be watched on CBS's YouTube channel right now.
Master your iPhone in minutes
iMore offers spot-on advice and guidance from our team of experts, with decades of Apple device experience to lean on. Learn more with iMore!
James is a staff writer and general Jack of all trades at iMore. With news, features, reviews, and guides under his belt, he has always liked Apple for its unique branding and distinctive style. Originally buying a Macbook for music and video production, he has since gone on to join the Apple ecosystem with as many devices as he can fit on his person.
With a degree in Law and Media and being a little too young to move onto the next step of his law career, James started writing from his bedroom about games, movies, tech, and anything else he could think of. Within months, this turned into a fully-fledged career as a freelance journalist. Before joining iMore, he was a staff writer at Gfinity and saw himself published at sites like TechRadar, NME, and Eurogamer.
As his extensive portfolio implies, James was predominantly a games journalist before joining iMore and brings with him a unique perspective on Apple itself. When not working, he is trying to catch up with the movies and albums of the year, as well as finally finishing the Yakuza series. If you like Midwest emo music or pretentious indie games that will make you cry, he'll talk your ear off.