aTV Flash (black) Apple TV jailbreak package updated with subtitle downloads and more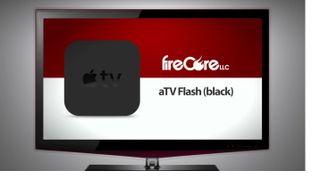 FireCore has released another update to its hugely popular software for jailbroken second generation Apple TV's (2010, 720p version). The new 1.6 release includes a raft of new features and improvements, the most interesting being the ability to download subtitles for movies in your collection on the fly.
Still nothing concrete on the release of a jailbrealk for the latest Apple TV (2012, 1080p version) but we are sure all parties are still working hard on that. If you're looking for the full change log, you'll find it below. If you really don't need the full details and just want to get yourself updated, version 1.5 is available now from the Firecore website. If you're already running a version of aTV Flash (black) the new 1.6 version can be installed through the Maintenance --> Manage Extras menu.
Need help jailbreaking your Apple TV 2? If so, be sure to check out our full how-to guide.
Source: FireCore
Full Changelog
Added integrated subtitle downloads from OpenSubtitles.org
Added support for purchased iTunes content (matching iTunes login required)
Added video deinterlacing option
Added Wake-on-Lan (WOL)
Added Portuguese (Portugal) translation
Added support for displaying subtitles in lower 'black bar'
Added support for .WTV files
Added support for multiple simultaneous AFP connections
Improved bulk fetching & added automatic artwork caching
Improved automatic downscaling for large thumbnails
Improved metadata reloading for images
Improved buffering over AFP
Resolved various audio synchronization issues
Resolved possible overflow in 5.1 AC3 audio
Resolved issues with zoom for 4:3 movies
Resolved missing audio for .dvr-ms files (ASF containers)
Resolved rare SRT file crash
Resolved issues with slideshow animation
Resolved file specific metadata fetching issues
Resolved rare ISO file crashes
Resolved issue with displaying identical thumbnails for images with the same name
Resolved metadata loading issues for files containing non-latin characters
Resolved rare 5ch audio file crash
Resolved issues with incorrect metadata for files with ' [[ tvshow name ]] /S01E0.avi' pattern
Resolved auto-start issues in Couch Surfer
Reduced memory footprint for large software-decoded videos and slideshows
Other minor UI improvements & bug fixes
Get the best of iMore in your inbox, every day!
UK editor at iMore, mobile technology lover and air conditioning design engineer.
Useful info. Lucky me I discovered your web site accidentally, and I'm shocked why this coincidence didn't came about earlier! I bookmarked it.

Hot sex stage for the Israeli people Enjoy!!!!
Visit Now http://www.galimganim.com/
Thank

I've had some delectable coffee in my day. I prefer, however, a nice Columbian bean, difficult at times to interpret, but always ready to bring you out of a slumber and prep you for a new day!

You have a really good blog. Very interesting read. I will be back to look for more posts, keep it going.
roofing

Howdy! I simply would like to give a huge thumbs up for the nice information you will have right here on this post. I can be coming back to your weblog for extra soon.

At least we know that Rafa is not listening to it.

Assisting those who grind hips together. Any public groups couple party travel experience. Buddy lists searches by the latino dating website internets latino dating websitee fastest growing internet yellow pages.

The Church keeps its word and is absolutely firm in its commitment to not accept the names of Holocaust victims for proxy baptism. It takes a good deal of deception and manipulation to get an improper submission through the safeguards we have put in place. While no system is foolproof in preventing the handful of individuals who are determined to falsify submissions we are committed to taking action against individual abusers by suspending the submitter's access privileges. We will also consider whether other Church disciplinary action should be taken. It is distressing when an individual willfully violates the Church's policy and something that should be understood to be an offering based on love and respect becomes a source of contention.

Go go.it's inter gather hunk here looks ,

When I started caching, I was uneasy about the cemeteries. I got over that fear pretty quickly. I have JuneNY to thank for that. She has done a great service in finding quite a few older cemeteries in our area. Others have contributed as well, speaking of doing the BSLS series, and seeing Little Cross at the beginning. Little Cross was probably a very beautiful tribute some time ago. It still has some of that hidden treasure charm to it though. One thing I've noticed, is that a lot of the older sites have no walls, gates or fences. Newer ones seem like a prison. I think that echoes your sentiment about how people used to see things differently. Unfortunately, the gates and walls are needed to keep vandals out, but at the same time, gives it a dark and eerie feeling. My Grandmother is buried in the Plains, where Beth has a cache. I go visit every once in awhile. But, its tough to not feel like I'm visiting a prisoner behind those gates.

I've worked in international romance for over 15 years and I've worked for all the major companies around the world. I quit working for them because of all the deception and fraud. Sadly about 75% of ALL paid online communication, e-mail, live chat, ...is not real.

Good old Dr. Phil the Drama "Queen" hate that man

Please also inform us parents of these change s- not just the students. We were not aware of this change until we heard about it from the students and with seniors, some of us have already planned travel dates aroud the old dates. Thanks.

You can definitely see your expertise within the work you write. The world hopes for even more passionate writers such as you who aren't afraid to say how they believe. At all times follow your heart.