Best 4K monitors for Mac 2022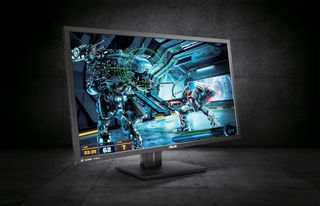 (Image credit: Asus)
Are you upgrading that high-tech home office and want to check out the best monitors for Mac? Your display may already be gorgeous, but if you're in the market for a second display or even something larger than what you have, a 4K monitor is a massive step in the right direction. If you want to try and maintain the same level of definition as your current display, here are the best 4K monitors for Mac users, but they're especially perfect for the MacBook Air and MacBook Pro.
A couple of suggestions
Of course, when it comes to using a newer MacBook, like the MacBook Pro or MacBook Air, you're going to want it to come with a USB-C port unless you have a USB-C hub. You're also going to want the flexibility of having a variety of different ports. That's where the LG 27UK850-W comes in. Since it can charge your MacBook, MacBook Air, or 13-inch MacBook Pro, and it also features two USB-A ports, two HDMI ports, a display port, and a headphone jack, it is not only a fantastic monitor but a whole hub for connectivity. This is our favorite pick out of the best 4K monitors for Mac.
When it comes to excellent 4K monitors, the BenQ EW3280U is also hard to beat, with excellent bang for your buck. Its combined features and price make it a great choice. With so many stellar options, it may be hard to choose. Browse these choices, compare, and make the right pick for your Mac!
Mick is a staff writer who's as frugal as they come, so he always does extensive research (much to the exhaustion of his wife) before making a purchase. If it's not worth the price, Mick ain't buying.
Get the best of iMore in in your inbox, every day!
Thank you for signing up to iMore. You will receive a verification email shortly.
There was a problem. Please refresh the page and try again.