Best Anti-Fatigue Mats in 2022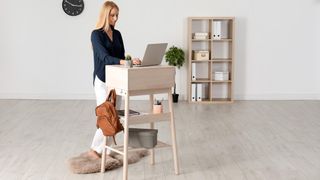 (Image credit: Adobe Stock)
Anti-fatigue mats can be useful in situations where you do a lot of standing, such as cooking in the kitchen or working at a standing desk. Basic anti-fatigue mats are typically just a thick foam mat made in different colors, styles, and sizes. There are also some attractive ergonomic styles with details for specific purposes. Here are some of the best anti-fatigue mats you can buy.
Our top picks
Why you can trust iMore Our expert reviewers spend hours testing and comparing products and services so you can choose the best for you. Find out more about how we test.
Anti-fatigue mats can alleviate up to 40% joint and knee pressure over time. Choosing just one is such a personal decision. Understanding your needs will increase the chances of settling for a perfect mat.
The type of mat you'd want for your kitchen may differ from what you'd choose for a standing desk in your office. I'd go with the Genius Mat (opens in new tab) for my office for all of its bells and whistles. This supportive, active standing desk mat has ridges and bumps to encourage movement and neutral work postures. Best of all, there is an acupressure roller ball for happy feet while you work.
The Amcomfy Premium Anti Fatigue Mat (opens in new tab) is a perfect fit for the kitchen. It has a warm antique finish that will blend well with kitchen decor. Since the mat is dirt resistant, it can withstand spills, kitchen mishaps, and frequent cleaning.
Grace is an avid Home and Office Improvement Writer. If she is not reading, she is reviewing or testing new technology. She also probably tweets way too much.