Best apps of the week: PSTMRK, Godfire, Photoshop Mix and more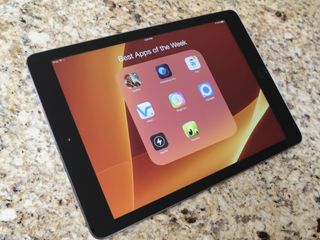 Once again we've gathered together the best iPhone apps and best iPad apps and games released this week! We'll regularly dig up the best, freshest social, music, photography and productivity apps for iOS, not to mention action games, shooter games, puzzle games, and anything in between. Come on and dig in to see our favorite releases over the last seven days!
Are You A Dodo?
You can always trust iMore. Our team of Apple experts have years of experience testing all kinds of tech and gadgets, so you can be sure our recommendations and criticisms are accurate and helpful. Find out more about how we test.
Are You A Dodo? is a fun little collection of minigames that tests your mental faculties and ranks you somewhere on the food chain. As you might expect, the dodo isn't exactly high up. There are nine games all told which will test your memory, reaction time, and problem-solving skills. Of course it lacks any of the pretentions of those "brain trainer" games, while still poking fun at how smart (or stupid) you are. For fast and light gameplay, Are You A Dodo? is a nice change of pace.
Godfire
Though Godfire: Rise of Prometheus is mostly a conventional action game with dodge, block, light attack, and strong attack buttons, it's an extremely good-looking title. Highly cinematic finishing moves, combos, and truly ugly bosses make a feast for the eyes. Players are in the greaves of Prometheus, who has been cast from the heavens, separated from an object of untold power, and is on a quest to get it back before its original protectors can get to it. Your rage meter grows as you lay low all manner of beasts, and, once full, lets you unleash awesome supernatural attacks. Though it's mostly blood and guts, the action is interspersed with simple (but polished) puzzle mini-games. It can't be an adrenaline trip all the time, you know. Players progress by upgrading armor in light, medium, or heavy varieties, changing up their weapons, and bumping up stats. If you're looking for some eye candy, snag Godfire.
Ready Steady Play
Ready Steady Play is a highly stylized minimalist cowboy game. Players dive into a variety of smart mini-games, mostly depending on challenging target practice with your six-shooter, though there's also a runner that is hilariously similar to Canabalt. Game Center is implemented for online leaderboard bragging rights. If you're looking for some really great local multiplayer fun, the precursor, Ready Steady Bang, is also a great game and free for a limited time. If you've always had the inkling that you're a rootin', tootin' cowboy beneath it all, grab Ready Steady Play.
(R)evolve
(R)evolve is a cute little game cooked up by the guys who make Worms 3. Players have to spin a planet so asteroids headed towards it don't destroy the one tree left there. (R)evolve plays a little like Gyro, but things get different once your tree starts spouting out seeds for more trees, and support life intelligent enough to create some laser cannons to blast whatever meteors are right above it. Ads pop up between levels, but you can get rid of them for $0.99. On the whole, (R)evolve offers a fun take on the grim situation of planetary extinction.
Lego Marvel Super Heroes
Lego released an adorable Marvel-themed game this week called Marvel Super Heroes: Universe in Peril. Players take control of awesome heroes like Spider-Man, The Hulk, Captain America, and Wolverine through an epic, original adventure. There are 91 characters with unique powers all told, 45 missions, and lots of challenges to work on for added replay value. In-app purchases are available if you want to fast track progress towards unlocking additional heroes (or villains, for that matter). The controls are finger-friendly and you can swap between heroes mid-battle without any issues Marvel Super Heroes falls right in line with the colorful, kid-friendly action game you'd expect from Lego.
Photoshop Mix
Photoshop Mix is a fresh new editing app that excels in selecting parts of an image. It ties in with Creative Cloud, so you can seamlessly shunt your creations into Photoshop on your Mac, or enjoy server-side image processing for the particularly fancy stuff. Users can easily pick out areas of their images, selectively apply adjustments, and save those adjustments without destroying the original picture. Adobe also unloaded a whole bunch of other apps this week, many to coincide with the announcement of their new Bluetooth pen and ruler products. Adobe Line and Sketch are both worth checking out, even without the accessory, plus Lightroom for iPhone just made its first appearance this week as well. For anyone into photography (mobile or otherwise) this has been a good week.
Sparks
Sparks is a dirt-easy way of tacking on captions to animated GIFs and sharing them online. Users find images through an in-app keyword search powered by the popular Giphy service, grab one from the iPhone's gallery, or snap one with their on-device camera. Once picked, users type in their caption, move, scale and align the text. Then a filter is applied to set the mood and font before you can share it out to Facebook or Twitter. Sparks also has its own little social network, so you can cruise through a feed of GIFs shared by like-minded users and subscribe to themed channels. If you find you're having a hard time cooking up animated GIFs on the fly, Sparks should be able to help you out.
Garmin viago
Viago is Garmin's new GPS app, and has all of the usual functions you could ask for: turn-by-turn directions with lane assistance, points of interest search, contacts lookup, offline caching, and more. Viago faces an uphill battle against Google Maps, but there are a few features here you won't find elsewhere, such as comparing your current driving speed with the speed limit of the road you're on. Plus, anyone suspicious of Google farming up your personal location data are likely to be shopping around for an alternative.
MagiCam
MagiCam is a light and easy camera app app for iPhone with a nice radial menu design. Though it was made by the guys behind Camera+, which is much more fully-featured, MagiCam offers 9 different set filters, and that's it. The animations for pulling up the menu and taking pictures are cute and come with some light sound effects, and sharing options are available for all major social networks and online channels. If you're looking for a camera app that's a bit less overwhelming than most of the third-party ones available, give MagiCam a shot.
PSTMRK
PSTMRK is a really neat new penpal app made by the guys that do Frontback. Users fill out a profile (or have a Facebook connection do it automatically), pick a region where they'd like to talk to someone, and then can send a short note and a picture (or two) to go with a postcard when they pick someone they want to start messaging. Users can end postcard exchanges whenever they like, so no need to really worry about creepers. You can only send a postcard after you receive one, so it's a nice little back and forth. On the whole, PSTMRK is an interesting expansion of social picture sharing.
Your favorite iPhone and iPad apps from this week?
A lot happens in the iOS App Store in a week, so feel free to leave a comment with your favorite recent release on iPhone and iPad! We're always looking for more, so don't be shy to drop us a line when you find something exciting!
Master your iPhone in minutes
iMore offers spot-on advice and guidance from our team of experts, with decades of Apple device experience to lean on. Learn more with iMore!
Editor-at-very-large at Mobile Nations, gamer, giant.