Best apps of the week: VVVVVV, Angry Birds Epic, Fitbay, and more!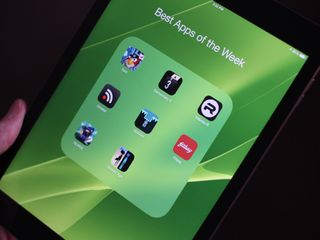 Once again we've gathered together the best iPhone apps and best iPad apps and games released this week! We'll regularly dig up the best, freshest social, music, photography and productivity apps for iOS, not to mention action games, shooter games, puzzle games, and anything in between. Come on and dig in to see our favorite releases over the last seven days!
Great Little War Game 2
You can always trust iMore. Our team of Apple experts have years of experience testing all kinds of tech and gadgets, so you can be sure our recommendations and criticisms are accurate and helpful. Find out more about how we test.
The sequel to the widely-acclaimed Great Little War Game arrived in the App Store this week, packing the same familiar cartoony 3D art style and turn-based strategy gameplay. Great Little War Game 2 features many familiar units, but you'll find tweaks on the tried-and-true formula that keep the franchise fresh. The game is in portrait orientation for now, making it ideal for iPhone play, though landscape support is on the way.
Angry Birds Epic
Angry Birds Epic has finally escaped soft launch status and is now available globally. As a turn-based role-playing game, Angry Birds Epic is a big departure from the classic physics title. Players equip the adorable and familiar birds with all sorts of outlandish equipment and embark on a quest to retrieve their precious eggs from ne'er-do-well piggies. There's a full-blown crafting system available, plenty of stages with great graphics to enjoy, and if you want to fast track, in-app purchases are available. Be sure to scope out our tips and tricks for Angry Birds Epic to get a strong head start!
VVVVVV
VVVVVV is low-fi platformer made by the creator Super Hexagon that really screws with your sense of gravity. Players are guiding a spaceship captain through a bizarre alternate universe after being sucked into an anomaly and having his crew scattered. Instead of jumping up over threats, players reverse polarity of gravity so they fall towards the roof or back to the floor. Every game screen is another section of a massive, sprawling play area, each with its own unique challenge and clever name. Scour every nook and cranny to rescue your shipmates and figure out a way of getting out of this bizarre place. Besides a truly unique take on classic platforming, VVVVVV has an absolutely stellar 8-bit soundtrack. If you want to get a sample of the gameplay, be sure to snag the free Super Gravitron game that was launched alongside VVVVVV.
Democracy 3
At first glance, Democracy 3 is visually plain, but don't let that fool you. This is a rich political game that requires compromise, balance, and understanding cause and effect. There are deep systems and demographics to appeal to in order to stay in office. Appeal to different values, handle budgets, and institute all manner of double-edged policies. Players can see how each and every variable affects everything else, before and after you take action. That said, democracy 3 is the perfect game for intricate micromanagers.
Broken Age
Broken Age is an artful game about two youths each experiencing their own separate but similar challenges in different worlds. Broken Age is the fruit of Double Fine's record-breaking Kickstarter campaign and revives a largely-ignored point-and-click adventure genre. You'll find excellent original voice acting by the likes of Elijah Wood, Jack Black, Wil Wheaton, and Pendleton Ward, beautiful artwork chock-full of youthful whimsy, and cross-platform cloud saving. There's not a single in-app purchase here, so if you're on the hunt for a premium, polished, funny adventure game, definitely pick this one up. Speaking of Tim Schafer, didja hear that Grim Fandango's coming back?
Vitamin-R
Vitamin-R is a polished task management app for iPhone designed to kick you in the ass to get stuff done. The main strategy is to take larger tasks and break them up into smaller bits with set time limits, usually under a half-hour. Anything longer than an hour, the app encourages you to break down into smaller tasks. When the timer's running, that one task should be the only thing you're doing. Once you get close to running out of time, you'll get audio alerts to wrap things up. Through intensive stat tracking, Vitamin-R keeps tabs on how productive you're being in the longer term. On top of all that, Vitamin-R has a really sharp user interface, which makes the whole process all the less painful. Be sure to scope out their Mac app too.
to.be Camera
to.be Camera adds a truly bizarre and artsy element to your microvideos. Using augmented reality techniques, users can replace whole ranges of colors in a scene (like the sky, for example), with a wide catalog of animated patterns. Just tap the colors on screen that you'd like replaced, and tap the samples at the top of the screen to remove those colors. Though these replacements leave slightly jagged outlines, the look actually adds to a really goofy, over-the-top, and slightly retro feel of your creations. Creative videographers will have a field day with this one, but unfortunately there's no audio included in generated videos just yet.
Fitbay
Fitbay is a refreshing take on buying clothes online. Instead of just ordering based on a size number and crossing your fingers that it fits, Fitbay is about tailoring to specific body shapes, like pear, hourglass, or triangle. Though this is typically more of a challenge for women, as a particularly tall dude who's used to making do with baggy clothes just to have something long enough in the limbs, I can certainly empathize. Fitbay currently hosts over 2 million items in their store, and the app includes many social elements so users can show how they look in certain clothes and discover new stuff worn by other folks that share body shape. If you're having trouble being comfortable in your clothes, give FItbay a try.
Unread for iPad
Unread has come to iPad, offering a clean, streamlined RSS reading experience. Load up your favorite sites through popular services like Feedly, mark them for future reading through other services like Pocket, and share them out to your social networks of choice. Background updating is supported, so the latest stories will always be there waiting for you, front and center, plus offline caching means you don't have to have a connection to get your reading done. Pile on smart gesture shortcuts, multiple themes, and a variety of fonts for maximum legibility, you may find yourself getting very cozy with Unread.
The News
The News is a simple, polished, and free app for popular networks Hacker News and Designer News. These are both great news sources for anyone into tech. Submitted stories can be voted and commented on through the app once you've got your registration hooked in. You can seamlessly switch between either site, share stories through the native framework to other apps. There's no iPad-optimized version and you've got to copy the story link to view it in a proper browser, but as a means of following and participating in some pretty popular sites, The News is highly polished and streamlined.
Your favorite iPhone and iPad apps from this week?
A lot happens in the iOS App Store in a week, so feel free to leave a comment with your favorite recent release on iPhone and iPad! We're always looking for more, so don't be shy to drop us a line when you find something exciting!
Master your iPhone in minutes
iMore offers spot-on advice and guidance from our team of experts, with decades of Apple device experience to lean on. Learn more with iMore!
Editor-at-very-large at Mobile Nations, gamer, giant.