Best AR experiences for social media right now!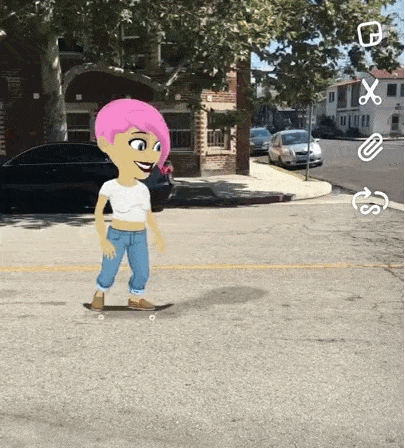 When you think of augmented reality, depending on your age and your exposure to online shenanigans, your opinions and thoughts on it might be incredibly varied — but one place where AR is fun for everyone? Social media!
It doesn't matter if you're playing with a simple dog filter, using your phone to explore and catch Pokémon, or doing anything on any app in between, augmented reality is getting more and inclusive with your social media and how you interact with the world around you.
Here are the best AR experiences available for your social media right now!
Snapchat
You can always trust iMore. Our team of Apple experts have years of experience testing all kinds of tech and gadgets, so you can be sure our recommendations and criticisms are accurate and helpful. Find out more about how we test.
If you're someone who's been on the internet for more than 24 minutes in the last 5 or so years (p.s. congrats for leaving your subterranean layer and gracing us with your presence, you probably pale, goblin-like creature), then you've probably seen at least one person sporting a dog nose, a big pink tongue, and a set of floppy dog ears in a photo or a video:
This popular online look is brought to you by Snapchat, and more specifically, Snapchat's infamous AR that started with a couple of flower crown and puppy dog filters and soon exploded into the new standard of augmented reality face-masking and filter-making.
More recently, Snapchat's latest augmented reality features allow users to paint the sky with new filters with the latest updates from iOS 11, and now you can spawn dancing hot dogs in your snaps that actually adhere and move with the environment, your own personal bitmoji as it has a steak dinner or tries to catch lightning bugs on your keyboard in AR, or even your own personal mini wacky waving inflatable arm flailing tube man, all from your Snapchat screen!
The best part about Snapchat's augmented reality? It's always changing, it's always updating, and there's always something new and fun to play around with. While some people may say that the app is a waste of time, sure, it might be to some, but that doesn't mean that it's AR isn't top-notch and ridiculously fun.
Pokémon GO
Remember summer of 2016 when literally everyone was out and about and you couldn't go to your favorite local park or public space without a hundred groups of people rushing from one end of the space to the other on their phones as some prankster yelled "THERE'S A CHARIZARD OVER HERE!"?
Well you have Pokémon GO to thank for that.
Pokémon GO isn't the first game to use augmented reality as a way to interact with the world around you, but it's arguably the world's most popular and best example of a mobile game that seamlessly mixes AR with your real world.
Using your phone and playing as a classic Pokémon trainer, users use a flick of a finger on their screen to send Pokéballs flying towards their unsuspecting prey, tap Pokéstops to gather items as they walk or bike by (DO NOT POKÉMON GO AND DRIVE PLEASE), and can battle and interact with other gym owners and team members to bulk their Pokémon up to prime condition.
The best part about Pokémon GO's augmented reality? It encourages people to get out and about and interact with the world around them in tandem with some killer AR features that'll have you toting around an external battery pack for months and months to come. Actually, since the launch of Pokémon GO, people were suspected to be walking nearly twice as much as they were before the game was released: how many other mobile/video games can you say give you that level of exercise?! And don't say DDR…
Instagram
When Instagram first launched Instagram Stories, everyone gave a Jim-from-The-Office-camera-reaction look to literally no one in particular. It was clear that the social media giant was attempting to hop on the back of Snapchat like an adorable little monkey grabbing onto the back of a massive, angry, thrashing gorilla: it seemed a bit unnecessary and odd and maybe even a bit risky because, you know, Snapchat already dominates in what it does.
But Instagram has started to slowly but steady prove itself to be a fun social media channel for AR shenanigans, introducing typical animal-faced and crown filters, glasses filters, filters that move and react when you do things like raise your eyebrows, and much, much more.
The most popular filter and the filter that's helped up Instagram's AR game is totally the rainbow sun-through-the-glass filter that people have been sporting across all types of social media (you know a filter is popular when you see it cross over from Snapchat to Instagram to Facebook to Tinder, etc).
The best part about Instagram's augmented reality? There's only room to grow from here!
Hopefully the app will start experimenting with more environmental filters like Snapchat does, or even implement their own little AR characters to live in their Insta world. If there's one thing Instagram does better over the Snap, it's giving you the stickers and designs to make cleaner, more modern, less messy posts — so why not turn those stickers into augmented reality features?!
… Tinder?
Seems pretty legit, right? Or maybe you watched the video thinking, "Nope. There's no way something like this exists."
Well, you're both wrong and right, because augmented reality and Tinder could very soon be a real thing!
With Tinder AR, in theory people would be able to point their phones at a person that they find attractive, see if they're registered with the app, get their information, and swipe left or right. However because the tech doesn't exist within the app yet, it's difficult to tell what the final product would look like.
What do you think?
Are you a big fan of using augmented reality with social media? Is there a particular platform that we might have missed that you cannot get enough of?
Let us know what your thoughts are in the comments below!
Master your iPhone in minutes
iMore offers spot-on advice and guidance from our team of experts, with decades of Apple device experience to lean on. Learn more with iMore!
Cella writes for iMore on social and photography. She's a true crime enthusiast, bestselling horror author, lipstick collector, buzzkill, and Sicilian. Follow her on Twitter and Instagram: @hellorousseau