Best Bluetooth headphones for iPad Pro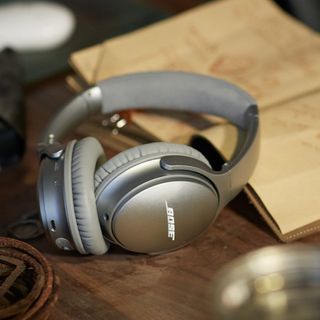 Bluetooth headphones are my jam: I've quickly grown accustomed to a world without wires, and my audio drawer has more Bluetooth headphones hanging out in them than I'd like to admit.
Which ones do I take with me when I use my iPad Pro? It depends on what you prefer: Over-ear, on-ear, or in-ear.
Best over-ear headphones
Why you can trust iMore Our expert reviewers spend hours testing and comparing products and services so you can choose the best for you. Find out more about how we test.
If you need to drown out the outside world, our over-ear picks are the headphones that will do it. Both of these offer top-tier noise cancellation and comfy fits — but come with a hefty price point to match.
Our favorite noise-cancelling headphones for iPhone are also — no surprise here — our favorite over-ear headphones for iPad users. They're endlessly comfortable, pack in a fantastic 20 hours of battery, sound great, and have the best noise-cancellation tech in the business. If you want Bluetooth headphones that deliver on comfort, epic noise cancellation, and overall sound quality, you can't go wrong with the Bose QuietComfort 35.
Blue's latest headphone is a gorgeously designed, professional-quality over-ear headphone that makes it feel like you're in the recording studio — in a luxury penthouse recording studio. I know, there's no such thing, but if there were, the Blue Satellite would be used in one. The Satellite has an analog amplifier that adds those warm tones to your music, especially your digital music, which makes it feel more emotional and less robotic (unless you want it to sound that way). It has two separate drivers, one for noise-cancellation and one for high-fidelity audio, so your sound is not compromised. The best part about the Satellite (aside from the amazing sound quality) is how cute the headphones are. They look vintage with a steampunk flair (at lease the white ones do).
See at Amazon (opens in new tab)
If you can afford to shill out a bit more for a Bluetooth noise-cancelling model and want slightly better bass in said cans, Sennheiser's PXC 550 is an excellent option.
Though both the Sennheiser and Bose headphones look similar, where Sennheiser breaks from Bose is in execution and polish: The pricier headphones offer an intriguing "twist-cans-to-enable" version of the on/off switch, and all of its controls are represented as touch gestures along the right ear panel. It also offers a slightly nicer overall sound — a given for its price point.
Best on-ear headphones
I'll be honest: On-ear headphones aren't great for a number of reasons — they can squish your ears and give you headaches, their noise quality often isn't as good, and they're often almost as expensive as their over-ear counterparts. But if you're intent on a smaller, cheaper package without going all in on earbuds, here are the on-ear headphones that don't suck.
As I said in my review of the Q Adapt earlier this year, I hate most on-ear headphones. But these stand out from the typical on-ear mold in a few dynamite ways. For one, they're actually comfortable — they don't pinch on your head the way most on-ears tend to, but they still deliver excellent sound quality and surprisingly good noise cancellation. They're also an ultra-stylish option, if you prefer your headphones not look like giant black earmuffs.
See at Amazon (opens in new tab)
These were my first real pair of Bluetooth headphones, and years later, they're still a great inexpensive option for people looking to dip their toes into the wireless world. They don't offer noise cancellation, but still provide impressively good sound quality for their construction costs — and an 8 hour battery to get you through most any work day.
Best in-ear headphones
If you're using your iPad Pro on a plane, train, or crowded environment, in-ear headphones may be the way to go. They're not my personal favorite headphone style, but many prefer them because of the personalized fit, more directed sound, and easy portability.
Apple's latest in-ear headphones come with the company's auto-connecting W1 chip, 8 hours of battery life, multiple in-ear fits, and a super-svelte package. I don't know if they've made me love in-ear headphones, but my time with the Beats X has certainly convinced me of their usefulness, especially in noisy areas where I don't have the extra gear space to pack the Bose or Sennheisers. One note: They do have a somewhat lengthy neck cord, which can cause an occasional microphonic rubbing noise if it rubs against your clothing.
See at Amazon (opens in new tab)
The AirPods not only win the prize for "tiniest in-ear option" for iPad users, but they're also far and away the most convenient: They pair with all your Apple devices, fit into a charging case the size of a matchbox, and offer extra bonuses like automatic pause and tapping to activate Siri. They're not nearly as good on the noise-cancellation aspect as the Beats X owing to their looser, one-size-fits-all design, but for everyday carry, it's hard to go wrong with the AirPods.
See at Apple (opens in new tab)
Your favorites?
Are you rocking a Bluetooth headset with your iPad or iPad Pro? Let me know which ones you prefer.
Updated June 2017: Added the Blue Satellite over-the-ear headphones to the list.
Get More iPad
(opens in new tab)
Get the best of iMore in your inbox, every day!
Serenity was formerly the Managing Editor at iMore, and now works for Apple. She's been talking, writing about, and tinkering with Apple products since she was old enough to double-click. In her spare time, she sketches, sings, and in her secret superhero life, plays roller derby. Follow her on Twitter @settern.
If you get the Bose QC35 do not update the firmware. 1.0.6 is what they ship with and its the best.

What's wrong with the update?

Beats Studio Wireless sound way better then the Bose. I hate to admit it but they do. They also sound better then the new Master and Dynamic. I bough those to replace my Studio wireless, cause frankly I hate being that guy wearing Beats headphones, but the sound wasn't there. It sucks, but the beats sound the best.

It's all a matter of preference of course, but I hate Beats. They're way too heavy in the lower end. Which would be fine if all you listen to is hip hop and rap. But I find, especially when listening to music from my iPhone that the more current music with heavy bass or bass drums are quite distorted. That's probably an effect of the compression, but for me it's a complete distraction. I love the Bose QC35s. There's plenty of bass for me without any added distortion. Plus I don't like hip hop, so the Bose are perfect. But again, that's just my preference.

The Sony MDR-1000x 's are getting rave reviews. Have you/anyone tried them.

I have the Jabra Move. Aside from Anime, I can't watch movies with them. The delay is too annoying. Is the delay lower on any of the others?

And I rock the Beoplay H9. Sounds great. Feels great. And sadly that comes with a high price too :)

I'd love over-ear open back Bluetooth headphones. Wireless Sennheiser HD598 would be perfect for my head and ear size. For the life of me I don't think anyone makes over ear open back Bluetooth headphones because they all come with noise cancellation, a feature I don't want or need.

All blue tooth headphones have poor sound.
Which is more important good sound or no wire connecting you? If you say no connection wire then you really need to listen to the PSB noise cancellation over the ear headphones.
I purchased 2 pairs of Bose QC35 last year one pair for me and the other pair for my partner as they were the best compared to Beats, but Bose sound has been smashed by PSB noise cancellation over the air headphones. Once my wife tried PSB I had to buy her a pair as well.

How did Beats Solo 3 Wireless headphones not make the list of on ear? I've had the jabra move phones for about 2 years and beats solo 3, and I pretty much only use the Moves as wired headphones due to bluetooth issues with my iPhone6, and now iPhone 7Plus, my macmini and my iPad Air 2. Beats work amazingly terrific for any bluetooth headphones as far as eliminating loss/drops etc. I wish beats made a W1 over the ear wireless headphone.