Best Facebook frames and stickers for the holidays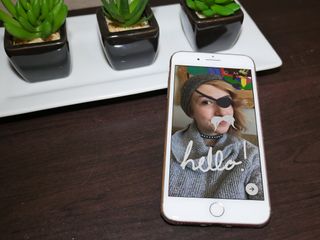 Looking for the perfect way to show off your holiday cheer this season? Then a holiday-themed frame or a couple of festive stickers are sure to turn your selfie into a wow-fie.
Here are the BEST possible frames and stickers available for the holidays!
1. Not a creature was stirring, not even a mouse…
2. Straight up Santa (with some product placement)
3. What says 'holiday season' more than a polar bear with some Coca-Cola?
4. Festive 'n fall-ish
5. Deck the halls with frames of holly, fa la la la la la la la la
6. News Year's comes early with this fancy firework frame
7. A cocktail (or two) at the holiday party is fiiiiiine
8. Touque time!
Your favorites?
Let us know below!
Cella writes for iMore on social and photography. She's a true crime enthusiast, bestselling horror author, lipstick collector, buzzkill, and Sicilian. Follow her on Twitter and Instagram: @hellorousseau
Get the best of iMore in in your inbox, every day!
Thank you for signing up to iMore. You will receive a verification email shortly.
There was a problem. Please refresh the page and try again.