Best HomeKit smart blinds in 2023
These HomeKit smart blinds and shades bring you privacy whenever you like
The best HomeKit smart blinds will make your keep your home shaded, your rooms private, and your smart home more automated. HomeKit smart blinds are better than old-fashioned standard blinds as it's easy to control them remotely using your iPhone, iPad or even with Siri voice commands.
It's not just about being too lazy to pull the blinds yourself — automation benefits can help give you peace of minded and added privacy when you're away from home. Once you've set up the best HomeKit smart blinds, you can create Scenes or create automations using the Apple Home app. So you could set your blinds to open at sunrise or close at sunset depending on your preferences, to stay closed if every family member is away. Sync them with the best HomeKit light bulbs and you can even light up a room once the blinds are drawn. There are all sorts of different AppleKit home devices that you can connect with your blinds.
Whether you have the latest iPhone 15 Pro or an iPhone from yesteryear, don't fret — HomeKit blinds will work with almost all of them, so long as they've got access to the Home app. The big choice is whether or not you want custom-made smart blinds or to simply retrofit the ones you already have — both options are listed here below with great products to choose from. However you decide to upgrade your home, the best Apple HomeKit blinds will save you time and energy in the long run. All you have to do is fix in some screws and adjust a few settings and you're ready to go.
Quick List
Best overall
1. IKEA FYRTUR Blackout Roller Blind
Best overall
Battery powered: Yes
Window width compatibility: 23 to 48 inches
Window height compatibility: 76 inches
Integrated or upgrade: Integrated
+ Built into the blind
+ Simple fitting
- Requires hub for HomeKit
- Expensive
IKEA's FYRTUR Blackout Roller Blinds come in sizes ranging from 23-inches to 48-inches wide, each of which can cover up to 76-inch tall windows. Whatever the size, they're simple to install with a rechargeable battery keeping them in operation for months between charges. A smart wireless remote is the main form of operation here with HomeKit integration requiring you to buy IKEA's TRADFRI Gateway so make sure to do so if this is the blind you go for.
Simplest to use
2. SmartWings Motorized Roller Shades
Simplest to use
Battery powered: Yes
Window width compatibility: Customizable
Window height compatibility: Customizable
Integrated or upgrade: Integrated

+ Loads of designs
+ Simple fitting
- Number of designs can be confusing
- Long charging times
The SmartWings Motorized Roller Shades doesn't require a home hub to get connected which is a serious boon compared to other options here. The indoor blinds use Bluetooth connectivity so you pair them directly to your smart home setup with no hub involved. They're a more affordable option while still offering many colors and sizes, as well as different styles. Depending on your preference, a unique zebra blind or wood-look finish could be perfect for your needs.
Most options
3. Graywind Motorized Shades
Most options
Battery powered: No
Window width compatibility: Customizable
Window height compatibility: Customizable
Integrated or upgrade: Integrated
+ Included remote
+ Simple fitting
- So many options it can be overwhelming
- Needs to be wired in
Available in loads of options with various colors and sizes to choose from, the Graywind Motorized Shades easily connects to HomeKit so you can use them with the Home App. Just make sure to customize them on the Amazon page with the 'AC37' motor necessary to use HomeKit. If you do so, you won't be able to use them with any other smart hub or assistant, so bear that in mind.
Best for outdoors
4. SmartWings Motorized Outdoor Patio Shades
Best for outdoors
Battery powered: yes
Window width compatibility: Customizable
Window height compatibility: Customizable
Integrated or upgrade: Integrated
+ Included remote
+ Perfect for outdoor use
- Weight at the bottom could be heavier
- Fewer color options
Designed for the great outdoors, the SmartWings Motorized Outdoor Shades is available in four weather and UV-resistant fabrics. The blinds connect to HomeKit with a simple scan of a pairing code with built-in Bluetooth doing all the hard work. Besides HomeKit support, these outdoor shades include a physical remote control and provide solar charging via an optional panel for added convenience.
Easy DIY option
5. Eve MotionBlinds Upgrade Kit for Roller Blinds
Easy DIY option
Battery powered: Yes
Window width compatibility: Customizable
Window height compatibility: Any
Integrated or upgrade: Upgrade
+ Works with existing blinds
+ Perfect HomeKit integration
- Expensive
- Trickier to fit
This DIY kit, the Eve MotionBlinds Upgrade Kit, will help you bring HomeKit support to the blinds already hanging in your house. Double check your current blinds meet the requirements of the Eve kit, but if they do, you'll be able to command them with Siri, rolling them up and down to routines, and even set schedules for them to unravel at set times each day. It's not a universal upgrade, but can be among the most affordable upgrades on this list.
Best for smart home sensors
6. Aqara Roller Shade Driver E1
Best for smart home sensors
Battery powered: Yes
Window width compatibility: Any
Window height compatibility: Any
Integrated or upgrade: Upgrade
+ Clips over blind wires
+ Very well priced
- Requires hub
- Only works with roller blinds
An alternative retrofit kit, the Aqara Roller Shade Driver E1 uses Zigbee 3.0 to connect to HomeKit set ups. As well as scheduling and Siri voice control, the Aqara option works excellently with the brand's sold-separately sensors, letting you trigger the blind roller when things like motion, light and temperature readings are noted. It even charges over USB-C, giving you two months of hands-free roller action without you reaching for a plug.
Load more HomeKit Smart Blind options ↓
best for compatability
7. Omnia Smart Roller Blinds powered by Eve MotionBlinds
Best for compatibility
Battery powered: Yes
Window width compatibility: Customizable
Window height compatibility: Customizable
Integrated or upgrade: Integrated
+ Made to order
+ Seamless HomeKit integration
- Expensive
- Remotes and controllers cost extra
Omnia's Smart Roller Blinds support the latest smart home connectivity standard, Thread, thanks to being powered by Eve MotionBlind technology. Thanks to Thread, you get better reliability over Bluetooth as well as quicker response times. It's a hassle-free setup as you don't even need to enter your Wi-Fi password or install a dedicated hub. The blinds are custom ordered so make sure to specify the exact size you need, the transparency level, and the fabric colors you desire.
Easiest to install
8. IKEA TREDANSEN Black-out cellular blind
Easiest to install
Battery powered: Yes
Window width compatibility: 23 - 48 inches
Window height compatibility: 76 inches
Integrated or upgrade: Integrated
+ Multiple size options
+ Includes remote
- Expensive
- Requires hub for HomeKit
Like IKEA's FYRTUR blinds, the TREDANSEN lineup comes in several pre-sized options that cover most standard window sizes. The blinds are available in either black-out or light-filtering styles and they feature a more traditional cellular blind design than others here. While the blinds look traditional, you still get modern conveniences like rechargeable batteries, physical remotes, and HomeKit support (of course). As with the FYRTUR blinds, you'll need IKEA's TRADFRI Gateway to use HomeKit.
Before you buy
Before you buy some smart blinds there are a few things you need to think about, and a couple of things you need to check. You'll need to measure your window, make sure you choose the right kind of blind, and then choose the perfect blind for you and your smart home setup. Here is the lowdown:
Measure your window
First things first, double-check the height and the width of your window. When choosing the size blinds that fit, you'll want to make sure that it's ever so slightly bigger than the gap it needs to cover, so that it can go over the window properly and provide a proper seal against the outside world.
What kind of Blind
All of the blinds here are roller blinds, and that will be most of the smart blinds you find on the internet. Of course, if you've got Roman blinds you'll have to find an alternative option to make them smart. You might also have curtains — some of the options above have curtain options, and there are some other great devices for controlling curtains.
Battery or wired
This will depend on how easy it is to access a power outlet near your blinds — if there's one nearby, then a wired option is the way to go, that way you'll never find yourself running out of juice. If a power outlet is further away, then you'll need to go for a rechargeable option. That will make the blind completely wireless, in effect making for much tidier setup. There is then a module you'll need to use to plug the battery in.
Upgrade or integrated
This is where you choose whether you want to use a preexisting set of blinds, or fit a new one. An integrated option is one that has all the smart blind equipment in it already, without any need for any existing blinds. The upgrade will need to be fitted to blinds that you've already got, so you should check compatability.
Q&A
What are the benefits of smart blinds?
Smart blinds are among the best HomeKit accessories, adding great convenience to keeping your home private and rooms shaded, with lots of flexibility for automating them alongside other sensors and smart home routines.
The best HomeKit blinds give you remote controls through the Home app and Siri. Through the power of automation and scenes, you can incorporate them into your morning or evening routine, as well as for movie night.
If you want to add smart features in a simple way, smart blinds are an excellent addition to your home, especially when you want to be hidden away from the outside world for a time.
Smart blinds are also perfect if you're new to smart home tech, showing off what can be accomplished through HomeKit. Once you've got all set up with blinds, consider adding on the best HomeKit light bulbs, best HomeKit light strips or best HomeKit motion sensor for even more automations. For instance, you could set the smart blinds to close at the same time as you schedule your smart light bulbs dim for the evening.
What should you look for in smart blinds?
Depending on your windows, you may quickly find smart blinds that are the perfect size or you may need to arrange a custom order. Fortunately, most smart blind companies are able to make changes to the size and shades, so they're a perfect fit in your home. Keep in mind that there are great options for retrofitting old blinds with smart roller controls, so that you don't have to ditch the lovely fabric you've already got hanging against your windows.
It's a good idea to consider if you want (or need) a cost-effective and pre-sized solution or not. If customization isn't essential, check out IKEA's FYRTUR blackout roller line. The wireless blackout blinds are affordable and come in various standard window sizes. They also work with the TRADFRI Gateway to provide HomeKit support. The FYRTUR Blinds even come with a handy remote that you can stick on the wall or set on a table.
For outdoors smarts, you need the SmartWings Motorized Outdoor Patio Shades. The customizable outdoor shades are available in four color options. They also provide support for solar panels and handheld remotes so you have plenty of options here for your long-term smart home plans.
Master your iPhone in minutes
iMore offers spot-on advice and guidance from our team of experts, with decades of Apple device experience to lean on. Learn more with iMore!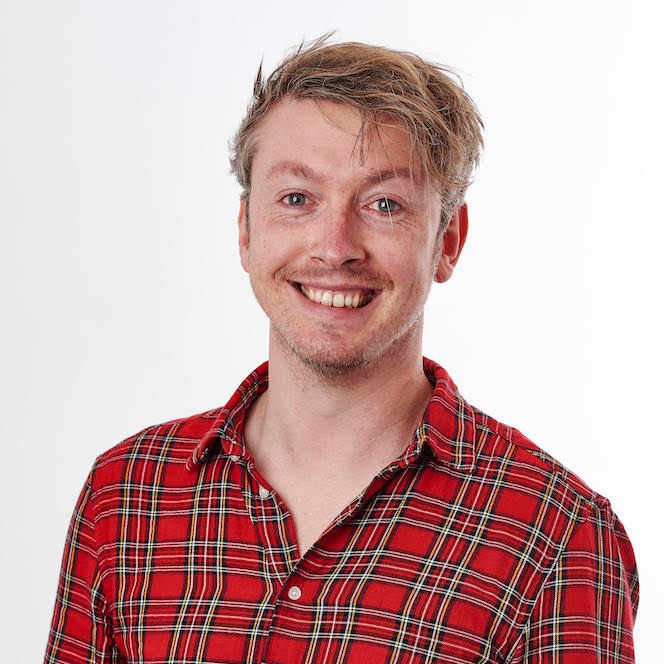 Gerald Lynch is the Editor-in-Chief of iMore, keeping careful watch over the site's editorial output and commercial campaigns, ensuring iMore delivers the in-depth, accurate and timely Apple content its readership deservedly expects. You'll never see him without his iPad Pro, and he loves gaming sessions with his buddies via Apple Arcade on his iPhone 14 Pro, but don't expect him to play with you at home unless your Apple TV is hooked up to a 4K HDR screen and a 7.1 surround system.
Living in London in the UK, Gerald was previously Editor of Gizmodo UK, and Executive Editor of TechRadar, and has covered international trade shows including Apple's WWDC, MWC, CES and IFA. If it has an acronym and an app, he's probably been there, on the front lines reporting on the latest tech innovations. Gerald is also a contributing tech pundit for BBC Radio and has written for various other publications, including T3 magazine, GamesRadar, Space.com, Real Homes, MacFormat, music bible DIY, Tech Digest, TopTenReviews, Mirror.co.uk, Brandish, Kotaku, Shiny Shiny and Lifehacker. Gerald is also the author of 'Get Technology: Upgrade Your Future', published by Aurum Press, and also holds a Guinness world record on Tetris. For real.