Best iPhone 5 PAYG nano-SIM options when traveling to the United States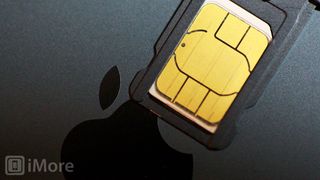 If you have an iPhone 5, or any other unlocked iPhone for that matter, and plan on traveling to the United States, you may want to save yourself the hefty fees that come with roaming, and get a local, pre-paid or Pay As You Go SIM-card for your service. There aren't too many options -- American carriers love tying everyone into 2 year contracts -- but there are some worth considering.
T-Mobile Pay As You Go
Why you can trust iMore Our expert reviewers spend hours testing and comparing products and services so you can choose the best for you. Find out more about how we test.
Official word from T-Mobile is that they will be supporting the iPhone 5 just as they have any other unlocked iPhone. You can use it on a post paid or prepaid plan with no restrictions.
T-Mobile USA plans on carrying nano SIM cards that will be compatible with the iPhone 5 in mid to late October. If you're using an iPhone 4 or iPhone 4S you can already pick up a micro SIM from T-Mobile. If waiting until mid to late October isn't an option for you, you can always buy a SIM cutter or cut your own down. It's hit or miss and we'd personally recommend waiting for the official one to hit.
While the iPhone 5 will work on T-Mobile USA, they could not confirm that the iPhone 5 would run on their LTE network. It most likely won't but you'll still be able to access their 2G network in most places, and their 3G/4G network in place they've begun supporting. (Most of T-Mobile 3G is on AWS spectrum, which is not supported by the iPhone.)
T-Mobile's prepaid plans start at $50/month and go up from there depending on how much data you need.
AT&T Pay As You Go
If you want to bring an iPhone 5 to AT&T you'll be out of luck when it comes to data if you want a no-commitment prepaid plan. While voice calls will work, AT&T has designed data not to be accessible. If you put a post-paid AT&T SIM into an unlocked iPhone 5 you will have access to data, which explains why CDMA iPhone 5's can use AT&T's network as long as the SIM you're inserting is from a contract account. AT&T uses IMEI information to detect account type and currently will not allow access to their data network on an iPhone 5 without a monthly plan.
If you're only in the United States for a short period of time and you're okay with only having voice service, it'll get you by but T-Mobile will almost always be a better option when it comes to using an iPhone on a Pay As You Go plan.
Other options
We're still polling the regional carriers and MVNO to see what other alternatives might be available. If you know of any, drop them in the comments, and we'll update as more and better information comes our way.
If you've had any luck activating an iPhone 5 on any other prepaid carrier in the United States, let us know in the comments!
Get the best of iMore in in your inbox, every day!
iMore senior editor from 2011 to 2015.
I"m Felipe from Brazil. I was recently in California for 17 days.. And I've used Redpocket Mobile and Straight Talk Mobile.
They work and they are good, but they do require a US Address to register the service to, which can be troublesome for people from outside the US.
Cheers,
Felipe

I'm traveling to Canada this week and have the Verizon iPhone 5 which is GSM unlocked. What are my options for using my phone there for a week?

Radio Shack carries Net 10 SIM cards on hand. You would have to have it cut down to a NANO SIM sized card, but, it would be an option. It has the $50. monthly unlimited talk, text, & the data is claimed to be unlimited, but it really isn't. Net10, Straight Talk, H2O, Red Pocket, & other AT&T MVNO's are having data issues right now anyway. Seems the data is around 1.5 to 2.0 Mpbs, & it often cuts out, forcing an "Airplane Mode" toggle to get the data back. I personally believe it has something to do with AT&T being forced to give T-Mobile spectrum on 1900MHz (as part of the breakup of the failed merger/buyout), causing AT&T to focus more on the post-paid accounts.

I have Straight Talk and my data always cuts off at incredibly inconvenient times. The web browser keeps showing "Access is Denied" similar to before you configure the APN settings, but it does it all the damn time... If this airplane mode toggle works that's going to be an interesting workaround

Try Straight Talk. It's the all you can eat version of Tracfone & it's only available at Wal Mart. They also don't have the right size card but you can cut it down if you have a steady hand. But for only $45 it's unlimited talk, text, & data that runs on almost any network anywhere in the US. If I'm not mistaken you can order the SIM cards on their website.

Plus one for Straight Talk.
You can order every thing you need on line, and pay monthly for as long as you need it.

1 week ago ,I saw the promos of t-mobile offering unlimited 4G calls and tex for the iPhone 5, so I talked to one of their reps, they told me that They ere already offering 4G for the iPhone 5, so he tells me that I need to buy their micro SIMS, and then take it to a T-mobile store and have them cut it for me, so I bought the SIM cards, on Friday I bought my unlocked iPhone 5, from the apple store, I cut the SIM card ...........Guess what I got EDGE........ T-mobile lies, DO NOT FALL FOR IT, T-mobile does not provide 4G for the iPhone 5, they will promise you that they do, but don't fall for it.

Have you considered that you just may not be in an area covered by T-Mobile 4G? I've heard it's a pretty limited rollout of bands the iPhone can pick up so far, but people HAVE been able to get it, so they're not lying. Being potentially misleading, maybe, by not mentioning how spotty the fast coverage will be, but not lying.

I've used AT&T PAYG with my unlocked iPhone 4S when I've travelled, but the hassle barely makes it worth it.
First, getting the SIM is hard, but you just say you are using it for voice only. When you sign up, you sign up by calling. You can't use the micro-sim (and probably nano-sim) to activate online because they are iPhone only SIM's.
You can then add data to your account online (that's not blocked). In order to get the data to work though you need to add a new profile with AT&T's APN info. You can use a site like http://www.unlockit.co.nz/unlockit/ to send it to your phone.
Like I said, not for the faint of heart but at least you get PAYG AT&T 3G (crappy as it was in SF!) with voice. I like it because I travel to the US for 1-3 days at a time and the all inclusive voice & text at $2 / day was good with AT&T. I pick a different data bucket based on the number of days.
You do need to keep track of the expiry as I did have my account expire once and had to go through getting it set up all over again.

I am currently using H2O Wireless, which is an MVNO of AT&T. With calls and standard text is great. What does tend to suck is the data at times. It's not constant, nt good speeds and has several dead spots, and this from being in L.A. You are bogged down on speed compared to having actual AT&T service. But if you need a temporary fix I think it can serve well. As for me, I might jump ship to AT&T to have full access to the data network and secure connection everywhere.

Because T-Mobile's LTE spectrum is in the 4 band of the spectrum, shouldn't the AT&T model (A1428) work (assumed its unlocked)? That means those who bought that model (AT&T customers as well as Canadian LTE carrier customers (Tellus, Rogers, and Bell, I believe)) unlocked can in theory take advantage of T-Mobile's LTE network.

I make $82h while I'm traveling the world. Last week I worked by my laptop in Rome, Monti Carlo and finally Paris…This week I'm back in the USA. All I do are easy tasks from this one cool site. check it out, Red97.com

T-Mobile also has daily plans starting at $2/day. These can be very useful if you are just in the US for a few days. Also, once you spent $100 with T-Mobile, it only costs $10/year in refills to keep the card alive. This can be useful if you don't want to tell your contacts a new number each time you visit, and saves you the hassle of getting a new card.

T-Mobile also has a $30 plan 100 minutes, unlimited text, and the throttling starts at 5gb instead of 100mb like the $50 plan

Yes it does.... But keep in mind that you will be getting EDGE speeds , not 4G like they advertise

I CAN'T BELIEVE U DIDN'T MENTION STRAIGHTALK! AT $45 A MONTH, THEY CONNECT YOU WITH AT&T's NETWORK AND YOU GET UNLIMITED EVERYTHING WITH 2GB OF DATA. I USE IT WITH MY UNLOCKED IPHONE 5 AND MY VERIZON IPHONE 5.

Thanks, this was so helpful!

there's someone in los angeles sells the $95 tmobile plan for $40 with free shipping all around usa. look for dbs sim trade on google or yelp. he also have a website: prepaid60.webstarts.com
Thank you for signing up to iMore. You will receive a verification email shortly.
There was a problem. Please refresh the page and try again.