Best apps of the week: Oscilab, Pocket Harvest, Quadblast, and more!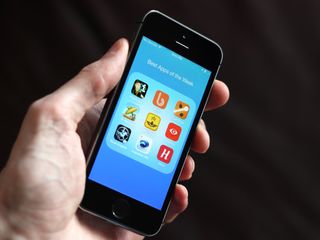 Once again we've gathered together the best iPhone apps and best iPad apps and games released this week! We'll regularly dig up the best, freshest social, music, photography and productivity apps for iOS, not to mention action games, shooter games, puzzle games, and anything in between. Come on and dig in to see our favorite releases over the last seven days!
Rival Knights
You can always trust iMore. Our team of Apple experts have years of experience testing all kinds of tech and gadgets, so you can be sure our recommendations and criticisms are accurate and helpful. Find out more about how we test.
Rival Knights is a freemium jousting game where players mount up in full medieval regalia, charge at their friends online or work their way through a single-player campaign, and try to smash opponents with a lance. Every round involves timing taps just as a cursor moves over the sweet spot in a target bar and dragging your lance to the chink in the armor in a limited amount of time. Over time you earn coins which can be spent on upgrading your steed, armor, and lance, not to mention pimping out your crest. Energy timers, crafting timers, and power-ups are all employed, but the great graphics and ragdoll physics will likely win you over.
Pocket Harvest
For those that are looking for something a little more challenging than Hay Day, you might want to check out Pocket Harvest. It comes from Kairosoft, who have a bunch of premium, pixelated simulation games, and is best known for Game Dev Story. In Pocket Harvest, players must carefully tend their farm and produce crops with optimal taste, appearance, aroma, and texture, while livestock will produce their own unique goods as well. Prices for your wares will fluctuate based on the conditions they grow in, forcing you to stay aware of your land's condition, the status of your workers, and the tools they use. Every plant requires a certain level of moisture for ideal growing conditions which you must also monitor. As you progress, you buy new land, discover new crops, and expand your business. For an immersive farming sim, grab Pocket Harvest.
Sky Force 2014
Sky Force 2014 is a classic shoot-em-up where you pilot a ship and you've got to blast through waves upon waves of enemies while avoiding fire yourself. Intuitive dragging controls are perfect for playing on touch devices. Dive into the fray to snag ridiculously powerful upgrades, take on giant airborne and land bosses, and see just how long you can survive. The graphics are explosive and rich, and a healthy aresnal of upgrades ensures you'll keep coming back for more punishment. Best of all, the core game is free, though there are timers on upgrades and in-app purchases to fast-track your progress. For an extremely slick shooter with a distinct nod towards old-school gaming, try out Sky Force 2014.
Quadblast
Quadblast is a polished action game that is extremely well-suited for mobile with tilt and swipe controls. Players guide a dot around a screen by tilting their iPhone or iPad, and fire sustained beams with up, down, left, or right swipes to take out enemy dots. Gather up the dots they leave behind to increase your score multiplier. If you get touched, you're out, though you'll be scored based on how long you managed to stay alive, and you'll be put on the leaderboards.. As you play, you earn coins which can be spent on upgrades such as increased speed and shield. In-app purchases can be used to buy coins or eliminate ads. The gameplay is simple and visceral, and feels a little bit like Tilt to Live 2
Plantman
A hugely imaginative dystopian platforming game was released by The National Film School of Denmark this week called Plantman. In it, players guide Andy Sprout, the groundskeeper of a subterranean post-apocalyptic garden, through his daily chores of squashing bugs. Things get interesting when he finds some kind of girl/plant hybrid roaming about, and the automated robot guards that were dispatched to to eliminate her. The cinematic sequences throughout the game are extremely well-written and animated, full of humor, and develop a strong story. The one caveat is that there's a pretty big bug that doesn't let you save progress session to session. It will probably be ironed out shortly, but in the meantime, it's best if you can set aside a healthy chunk of time to finish the whole episode in one sitting.
Brio
Brio is a streamlined timer app that helps users stay on top of their deadlines and billable hours. Simple gesture controls and a sharp interface let you quickly add notes, track your time spent on a project, and save final timesheets as .csv files. Pulling downwards and upwards on screens will let you create new entries, check settings, save progress, or e-mail the time-sheet to whoever needs it, while sideways swipes will switch between views. For anybody doing regular contract work, Brio is likely to be really helpful.
Autodesk 360
Autodesk 360 allows heavy-duty designers and engineers to keep tabs on their projects from their mobile devices. Users can zoom and pan around full 3D models stored in the cloud (though offline viewing is supported), collaborate with peers, and check project statuses. Over 60 file formats are supported, so odds are you'll be able to see whatever anybody is working on no matter where you are. Markup tools are on the way, but even then, this looks like a useful tool for anyone doing professional engineering and design work (provided you can trust Autodesk's cloud more than, say, Adobe's).
RealHex
RealHex uses your iPhone or iPad camera to capture the hex color code for real-world objects around you. Colors to be captures are displayed in concentric rings around the center of the on-screen viewfinder, and stored in a list. Colors you're finished with can be swiped away easily. Though this primarily would be used for web designers that are looking to replicate a certain pallette on the sites they're building, anybody doing work in Photoshop or even home decor could find this free, easy-to-use tool helpful for their projects.
Oscilab
Oscilab is a hugely promising new synthesizer app for those that take their music-making on iPad seriously. The sequencer lets you mess with audio waveforms with intuitive gestures and layer on 15 different kinds of drumbeats with fine pan, pitch and amplitude control with 36 different instruments. 4 synth channels, 2 FX channels, and 2 drum channels can be mixed together. Once you're done, record and upload your final creations to Soundcloud, Dropbox, and other locations. This looks pretty advanced overall, but for those eager to start making music, this should be a fun place to start.
Hitch
Hitch is a social dating app which plugs into Facebook and helps friends play matchmaker. If you think two of your friends would hit it off, you can pair them together for an anonymous chat. They don't ever have to find out who one another is, unless they both agree to reveal their identities. The original matchmaker only gets to see how many messages they've exchanged, and if their friends aren't on Hitch, invites can be easily sent out. If you're looking for a dating app that's a bit more personal and socially relevant than Tinder, Hitch might be a nice middle ground.
Honorable mentions: mSecure, Pastry Push, Linkin Park Recharge, Arma Tactics Lite
Your favorite iPhone and iPad apps from this week?
A lot happens in the iOS App Store in a week, so feel free to leave a comment with your favorite recent release on iPhone and iPad! We're always looking for more, so don't be shy to drop us a line when you find something exciting!
Master your iPhone in minutes
iMore offers spot-on advice and guidance from our team of experts, with decades of Apple device experience to lean on. Learn more with iMore!
Editor-at-very-large at Mobile Nations, gamer, giant.