Best iPhone and iPad Games Without In-App Purchases in 2022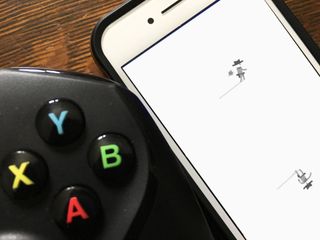 In today's mobile gaming world, it seems impossible to hide from in-app purchases. With the "freemium" and "pay-to-play" models being some of the most popular and profitable on the market, it's easy to understand why developers choose to use them. Heck, even if you shell out a couple of bucks for a game, that's no guarantee you won't be asked to purchase additional content to continue the story.
Luckily for gamers everywhere, there are still plenty of games that will never pester you to make an in-app purchase. Here are some of my favorite games that are truly free.
Ready Steady Bang
You can always trust iMore. Our team of Apple experts have years of experience testing all kinds of tech and gadgets, so you can be sure our recommendations and criticisms are accurate and helpful. Find out more about how we test.
Ready Steady Bang is a much simpler shooter game than others on this list, perfect for gamers who love the minimalist approach.
This black and white cartoon-like dueling game has players tap their side of the screen as soon as the countdown is finished. The twist? The "bang" happens at random intervals, meaning you have to wait to hear it before you can pull the trigger!
This game relies on pure speed and reflexes and is perfect to play with a friend. Although, it does have a single-player mode that increases in difficulty as you progress.
Superbrothers: Sword & Sworcery
Superbrothers: Sword and Sworcery is an adventure RPG game with a spooky story and a unique, rather intoxicating soundtrack.
It's hard to go into too much detail without spoiling the experience, but here's what I can tell you: Its 140-character story snippets are easy to toss on Twitter for co-op play. You can ask for help and lead your friends into the mystery of the Megatome and the Trigon Trifecta.
The pixel art and stick figure sprites work well to add to the atmosphere the game creates because everything is supposed to be unclear.
FRAMED 2
A film-noir inspired comic book adventure, FRAMED is a unique puzzle game with great visuals and compelling story to boot!
The story is told in comic book form with panels, but they are all jumbled up, and you'll need to put them in the right order to progress forward.
The comic book art is stunning and all hand-crafted, and the mysterious storyline will keep you glued to the game for hours.
Ticket to Earth
Ticket to Earth is an incredible game and is a must-download for gamers everywhere, and I can't recommend it highly enough!
The story is littered with surprising plot twists, impactful characters, and a well-written narrative that will keep you invested in the rich world of New Providence and the people who populate the planet.
Beautifully designed graphics that blend the manga/comic-book-style artwork with brightly colored backgrounds and landscape make Ticket to Earth pop off the screen in a delightful burst of colors, which never gets old.
An original battle system that breathes new life into the strategy RPG genre, the Movement system offers an incredibly deep and complex combat experience that never goes stale, as there is always new powers and abilities to acquire. It's refreshing to see a strategy RPG that heavily relies on the strategy part of its genre. Ticket to Earth will kill you if you're not careful, you must examine the map carefully and choose your action wisely, or you'll be doomed to repeat the same mission over and over again. It can be mildly frustrating as you're still learning the game, but it's wildly entertaining the whole time.
FTL: Faster Than Light
If you have ever wanted to command a spaceship FTL: Faster Than Light may be the game for you.
This procedurally generated space simulation game will allow you to pilot 10 different ships to travel across the galaxy and deliver valuable information to defeat the rebels. Of course, surviving the trip is a whole other story.
FTL is quite challenging — not to the point of pulling your hair out, but it certainly gets close. If you manage to get through the entire game, it could only take you 2 hours. Each playthrough, however, brings a different set of challenges, making FTL fun to replay time and time again.
Red's Kingdom
I can't recommend Red's Kingdom highly enough. You may find it weird that a puzzle game is in the "open world" section, but when you play it, you'll understand that's it's so much more than meets the eye.
You play as Red, a toothy red squirrel who is on a mission to retrieve his Golden Nut from the Mad King Mac. Oh, did I mention he also kidnapped Red's father? You'll need to solve the puzzles in each room to progress through the story.
Throughout Red's Kingdom, you will encounter colorful characters, collect cool special abilities, and get to warp around 17 unique areas, making this puzzle game feel way more like an old school Zelda game than anything else.
Old Man's Journey
Old Man's Journey is a beautifully crafted point-and-click adventure title that will leave you reaching for the tissues! The game has quickly garnered praise, by both critics and players, for its amazing visuals and superb storytelling.
Old Man's Journey proves that you don't need words to tell a great story, as the entire narrative is visual. As the old man reminiscences about his past, you slowly uncover the motivation behind his actions.
While I don't want to dive too deep into what the game is all about, thus robbing you of the experience it provides, I can tell you that Old Man's Journey is an emotional story that had me crying.
Want to know more about Old Man's Journey? Here's everything you need to know!
Pocket City
Feel like building your own city as you see fit? Then Pocket City is the perfect simulation game for you.
In Pocket City, you're the new mayor, and you're put in charge of building the city from the ground up, completely from scratch. You'll create residential, commercial, and industrial zones, and then watch as the city flourishes. You can then add recreational spots and parks, adding to the beautiful aesthetic of your town. It'll draw in more people and visitors, which means more revenue. But then there's crime and natural disasters that come along, and it's up to you to rebuild and become better.
Pocket City does not have any timers or microtransactions, which is a breath of fresh air in the city building genre. Just pony up a few bucks up front and it's yours to play as you see fit.
Downwell
Downwell is one of my favorites, as it features a retro 16-bit aesthetic as well as unique and challenging gameplay.
In Downwell, you take on the role of a young boy who falls down a well in search of treasure, and he just has a pair of Gunboots to protect him. As you fall, you'll want to use your Gunboots to shoot and kill dangerous enemies that you'll find as you fall deeper into the well, before you touch ground with them. There are shops scattered about that you'll want to stop by for useful items, and upgrades are rewarded between levels. The further you fall, the more upgrades you'll end up with, making you a force to be reckoned with.
Downwell may cost a few bucks up front, but it's addictive and hard to put down once you get the hang of things. It may be an older title, but it's still one of the best mobile games around.
Monument Valley 2
If you love a good perspective puzzle game, then Monument Valley 2 is the one you want to get. It's the sequel to the original Monument Valley.
With Monument Valley 2, you'll guide a mother and her child as they embark on a new adventure through Escheresque optical illusions. This means 3D architecture that may look one way to the naked eye, but once you change something around, completely new paths open up and you're free to do things that you didn't think were possible in the beginning. The game itself is pretty short, as all of the puzzles can be completed in a few hours, but it's still an experience that's worth checking out if you haven't already. Plus, it's downright gorgeous.
Alto's Odyssey
Love a relaxing and endless game that's also challenging and hard to put down? Then you must pick up Alto's Odyssey, the sequel to the award-winning Alto's Adventure.
Alto's Odyssey is like the first game, except it's going through a vast and unexplored desert area, rather than snowy mountains. This means you'll have to soar above windswept dunes, jump over big canyons, grind on the surfaces of ruins and temples, and get some air time with soaring hot air balloons.
The game itself is easy to learn, as you go forward automatically, but you'll manually need to jump and do flips. You'll also want to do tricks to earn points and complete goals. Alto's Odyssey also adds new elements to the mix, such as sandstorms, wind vortexes, and rushing water. You can choose to play the normal mode, or go for Zen, which is an infinite journey.
Mini Metro
Have a thing for the subway system? Mini Metro is the game just for you.
It's a minimalist game that's mostly just colored lines on an off-white background. But it's a subway simulator, and you get to design the subway map for growing cities. Just draw the lines between stations to get them going, then add more stations by redrawing those lines to keep everything efficient and running smoothly. You only have so many limited resources to work with, so planning out all of your lines will take careful thinking and strategizing.
Mini Metro is based on 20 real-world cities to test your planning skills, and each stage features random city growth to keep you on your toes. There's Normal Mode, as well as Endless when you just want to relax, and Extreme for a real challenge.
This is another one that will be hard to quit once you start.
Mekorama
Mekorama is a nice gem among the App Store for those who like cute robots and beautiful, 3D graphics.
The game itself is completely free—you get full access to all stages in the game, and if you want to pay for the game, you can pay what you want. Mekorama comes with 50 stages already, and you can also create your own levels and download ones that are submitted by the community. The goal is to get the little robot on each stage to the end goal by solving puzzles along the way.
It's fairly simple, but it's beautiful and fun, with zero ads or in-app purchases. It's a bit older, but it's still worth a download.
Crashlands
Another older game, but it's constantly updated, which is great. Even if you don't usually like crafting games, Crashlands is different. I dislike games like Minecraft myself, but I put dozens of hours into Crashlands.
Crashlands is an outlandish, story-driven crafting RPG that is chock-full of sass and amazing humor. The characters are all quirky and lovable in their own unique ways, and the graphics are also rather distinctive. You play as Flux Dabes, a galactic trucker whose latest shipment gets derailed by the maniacal Hewgodooku, so you're stranded on some weird alien planet. You'll make a hustle on this planet by collecting resources and making a home while battling local wildlife for materials to make armor and weapons (even get some pets along the way). But you'll find that you're in a nefarious plot of world domination, and it's up to you to stop Hewdogooku.
The best part about Crashlands is the smart self-managing inventory system since you can carry an infinite number of resources with you at all times, so there's no resource management. Just whack, collect, rinse and repeat. The loot you can find and craft from recipes is also quite fun to collect, and as you get legendary gear, it's fun to see how overpowered you've become.
It's the best crafting RPG even for people who don't like crafting RPGs. It also has cloud game syncing across multiple platforms, including the PC version.
Stranger Things: The Game
Love Stranger Things and the paranormal? Then this free game is a match made in heaven.
This little action brawler game features a classic 16-bit art style, and you'll be playing as various characters from the Stranger Things television series. You'll explore the city of Hawkins and surrounding areas, including Mirkwood Forest and Hawkins Lab. Each character you play as has their own special abilities, which you need to solve the various puzzles along the way. Make sure to collect all of the Eggos and Gnomes, as they can unlock something cool.
Stranger Things: The Game is absolutely free with no ads or in-app purchases. It was made before the second season of the show, but it's a great play for any Stranger Things fans.
You Must Build A Boat
For fans of match-three RPGs who want something that's challenging and also highly addictive, I present to you, You Must Build A Boat.
This has been one of my all time favorite games. You start off with a tiny boat and must fight your way to make it bigger and better with a crew. To do this, you'll need to go through a series of battles against enemies, but the battle outcomes are determined by your skill at match-three puzzles. Match three or more swords to attack, staffs to cast magic, shields to defend, keys to unlock chests, and more. Some of the enemies that you encounter will end up being valuable crew members on your boat, so make sure to take them out as fast as possible! If you fall behind too much during the matching sessions, you'll lose.
While the game is an endless runner and match-three RPG mashup, there is definitely an end to the game, but it will take hours to get there. Once you start, it's super hard to put down—the only way I stopped playing was after I got to the end.
Rolando: Royal Edition
Rolando is a game that some will recognize from many years ago. But it's finally back, and better than ever!
In Rolando, you have a gorgeous puzzle platformer that has been remastered with modern graphics and music. The new visuals take advantage of the new architecture of iPhone and iPad hardware, and the music is quirky and upbeat. The goal is to get the Rolandos to the end portal and to do this, you'll have to control them one by one or as a group. Controls are intuitive and easy to learn, but you'll need to be quick with your reflexes to get each Rolando in their right place to solve the puzzles.
This is a good title for anyone who likes puzzle platformers, whether they played the original or not.
Spelltower
If you enjoy word games, then Spelltower is a must for the collection.
Spelltower is one of the best games from Zach Gage, who has also made other great titles like Sage Solitaire, Really Bad Chess, and Flipflop Solitaire. Spelltower features six great modes to challenge your wordsmith ways, and the minimalist visuals are absolutely delightful to look at. Even though there are six modes, the basic goal is the same: spell words out of the tiles in any direction, and clear them out before the tiles reach the top. Think of it like lexicological Tetris, if you will.
It may have been around for quite a while, but Spelltower is still getting regular updates, and the Daily Challenge mode is always worth checking out.
Battleheart 2
Fans of RPG games will find Battleheart 2 charming and delightful. It's the follow-up to the original Battleheart that everyone fell in love with over eight years ago.
Battleheart 2 brings back the unique gameplay mechanics of the original, where you command your party of four different classes by drawing lines to dictate where they should go, and tap on the enemies that you want them to attack (or allies you want to heal). This distinctive gameplay mechanic makes Battleheart 2 a great mobile game because the controls are optimized for touch screens. The game also features a ton of different weapons and gear to equip to your heroes, and they can gain powerful new skills and abilities as they level up.
Battleheart 2 will provide players with dozens of hours of fun, and there are no in-app purchases to be seen, which is rare for a mobile RPG these days.
Holedown
In the mood for a fun arcade style game? Then Holedown gives you a grand old time!
Holedown has players digging deep underground by shooting balls and breaking blocks that are in the way. The goal is to reach the core of each different planet, but that's easier said than done. You only get a limited number of shots per round, and some blocks need a certain number of hits (a lot) before they're gone. While most blocks will freely fall if there is nothing underneath, others are stuck in place and need a bit more of a strategy to get rid of. You'll also want to collect crystals to purchase upgrades, which make the game a bit easier.
It's a simple concept, but insanely fun, challenging, and addictive. This is definitely one that every iOS device should have, and it's free of in-app purchases.
Which game without in-app purchases do you enjoy?
Let me know in the comment below!
May 2019: Added 13 new games to the list!
Get more iMore in your inbox!
Our news, reviews, opinions, and easy to follow guides can turn any iPhone owner into an Apple aficionado
Luke Filipowicz has been a writer at iMore, covering Apple for nearly a decade now. He writes a lot about Apple Watch and iPad but covers the iPhone and Mac as well. He often describes himself as an "Apple user on a budget" and firmly believes that great technology can be affordable if you know where to look. Luke also heads up the iMore Show — a weekly podcast focusing on Apple news, rumors, and products but likes to have some fun along the way.
Luke knows he spends more time on Twitter than he probably should, so feel free to follow him or give him a shout on social media @LukeFilipowicz.