Best Thunderbolt 2 docks for the Mac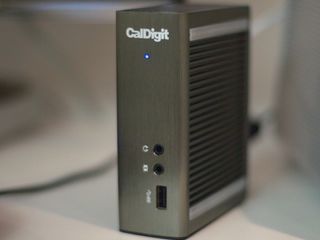 Using a Thunderbolt 2 dock has practical benefits. For one thing, it simplifies the connection to your Mac down to a single cable. For another, it makes attaching a wide array of devices to your Mac quick and easy. And with twice the bandwidth of the original Thunderbolt, Thunderbolt 2 is an even faster way to connect. If that sounds like what you need, here's a roundup of our favorites for you to check out.
Note: These are all standalone docks, as opposed to laptop-specific docks with Thunderbolt 2 support.
OWC Thunderbolt 2 Dock
Why you can trust iMore Our expert reviewers spend hours testing and comparing products and services so you can choose the best for you. Find out more about how we test.
Looking for a way to attach a FireWire drive to your Thunderbolt equipped Mac? OWC's Thunderbolt 2 Dock has it, along with five USB 3.0 ports, so there's a lot of connections on this. There are 12 ports in all: 2x Thunderbolt 2 (one gets used for the Mac, the other can go to a display or something else), 5x USB 3.0 ports, FireWire 800, a 4K-capable HDMI 1.4 connector, Gigabit Ethernet, audio line in, and audio line out.
Elgato Thunderbolt 2 Dock
The Elgato Thunderbolt 2 Dock has 2x Thunderbolt 2 ports, an HDMI 1.4 port, Gigabit Ethernet, 3x USB 3.0 connectors, a headphone jack, and a microphone input. One of the USB 3.0 ports is front-facing, along with the headphone and microphone jacks. A downloadable Mac utility (available from Elgato's web site) enables you to eject all storage devices at once, so you can disconnect the Mac from the dock without messing up your drives. (Elgato even includes a Thunderbolt cable, something more manufacturers should do.)
Caldigit Thunderbolt Station 2
If you're looking for an easy way to connect fast-as-blazes eSATA hard drives to your Thunderbolt 2-equipped Mac, the Thunderbolt Station 2 is the way to go. It sits vertically on the desktop, looking more like a hard drive than a Thunderbolt 2 dock. The gunmetal-colored case is ribbed on both sides like a heatsink (more of a design effect than a practical feature, but an interesting look). The Thunderbolt Station 2 sports 2x Thunderbolt 2 ports, 4K-capable HDMI, Gigabit Ethernet, 3x USB 3.0 ports, 2x eSATA 6G ports, stereo headphone in and mono microphone input. One USB 3.0 port and the mic and headphone jacks are front-facing.
Belkin Thunderbolt 2 Express
Belkin Thunderbolt 2 Express has 2x Thunderbolt 2 ports, along with Gigabit Ethernet, three USB 3.0 ports, microphone and headphone input, and HDMI 1.4. One of the USB 3.0 ports and the microphone jacks are forward-facing. Belkin also throws in a Thunderbolt cable. Even so, this is the most expensive dock on our list, so make sure the features it offers are valuable enough to you for the price.
StarTech Thunderbolt 2 Docking Station
StarTech's dock is surprisingly versatile: A higher-output "fast charge" port for high-powered USB devices, eSATA, and Toslink/SPDIF separate it from the competition. In total, the dock sports 2x Thunderbolt 2 ports, HDMI 1.4, 4x USB 3.0 (including the "fast charge" port on the front), eSATA, Toslink (digital audio output), headphone jack, mic jack, Gigabit Ethernet, and a security slot to keep it in place.
Your pick?
If you pick up one of these docks, or are already using one, let me know how it's working for you. If your favorite didn't make the list, tell me about it in the comments!
I have the OWC and love mine.. Only complaint I had was my first one would overheat and reset. They replaced it no problem.. but keep in mind, I think this is an inherent issue with all thunderbolt docks. My old CalDigit TB 1 Dock also had an overheating issue and got fairly hot to the touch.

I'm thinking of Henge Dock for my Retina 15, it has some very special features like integrated power supply and looks cool.
http://hengedocks.com/pages/horizontal-macbook-pro-retina

Yeah, the Hengedock Horizontal Dock is a really cool looking add-on. We'll try to round up laptop docks separately, because they're a special breed of device.

I have the Caldigit Thunderbolt Station 2 (TB 2) and have been using its HDMI, ethernet, USB, Audio, and eSATA capabilities since February. The main reasons I wanted a dock were for convenience and to reduce clutter. The TB 2 has mostly met all my expectations. Video, ethernet, USB all work as one would think. I particularly love how the dock's eSATA effectively ensures that my time machine drive will be available anytime I am at my desk. I have not had any overheating issues, but have had a few instances where peripherals connected TB 2 didn't wake my Mac. The issue has been rare and isn't a problem for me as I use a MacBook which can be waked via it's own trackpad or keyboard. The issue might be a greater inconvenience for those using desktops. My only nitpick is that the audio jack, while conveniently located in the front, does not support my headset's remote and mic. This omission is surprising given the market for Thunderbolt docks has to be mostly Macs. While I was already using a USB headset, lack of headset support is likely to disappoint many Mac users who have been accustomed to their iPhone EarPods simply working. Despite the minor issue and nitpick, I have been very happy with my TB 2 and would gladly recommend it to anyone looking for a dock.

I'd go with the CalDigit. Cheapest and they've always made high quality stuff.

For me, none of these solve the daisy chaining of Thunderbolt Hard Drives. Anyone know of any solutions? Are there any External Hard Drives with 2 TB-2 Ports like the old Firewire External Drives. How expensive could it be?

Hello Peter. I really enjoy listening to you as a guest on the Tech Night Owl Live podcasts. The OWC dock looks really interesting to me and I wondered if I would be able to use something like this with my 2011 Mac Mini/Thunderbolt Display combo? I still have a few legacy firewire peripherals, as well as some USB 2.0 Hard drives. Will this work for me?

I have been using the OWC TB2 dock since day 1. I run a MacBook Pro connected to a Thunderbolt Display and hang the OWC off the Display's thunderbolt port (which is completely wrong because the display is TB1). The OWC drives a second screen, external hard drives, mice and charges my iPad. I do this because I am too lazy to connect the OWC to the computer when the monitor cables are so handy. Works great.

I'm interested in the Hub+, it doesn't have the ports of these Thunderbolt Docks but it so far seems to be a ideal solution for the Macbook. A lot of people who have the new Macbook are going to use some sort of device like these docks or hubs to solve some of their port problems.

I'm not in the market for one of these (yet) but I've always wondered: since TB1/2 is technically on the PCI bus, would it be possible to have a TB to PCIx16 enclosure for an external graphics card? I'm sure there would have to be some voodoo involved to get the Mac to recognize the GPU, but why else couldn't this work?
.
Could this also solve the issue of DisplayPort 1.2 not supporting 5K (nor true 4k/60)? This would make the display more expensive, since it would have a display controller built inside of it (like the 5k iMac), but I would assume they could use the TB as a PCI connection rather than a DP connection... right?

So, according to this
http://en.wikipedia.org/wiki/PCI_Express
PCIe3x16's bandwidth is 126.032Gbit/s...
TB2's bandwidth is 20Gbit/s
http://en.wikipedia.org/wiki/Thunderbolt_(interface)
So... this obviously won't support a high-end GPU (or even a low-end?)
Never mind! I guess we'll just have to wait for TB3/DP1.3 for 5K/60Hz.

You know why Thunderbolt hasn't taken over yet? Look at the prices! $200-300 is 7" tablet level. You can get Airport Time Capsule with 2TB drive for $300. What is the component or process that makes these docks cost so much? People mistakenly believe Apple devices are expensive; they are just high-end and the prices are comparable to high-end versions of other manufacturers. In fact, Apple is the company that brings prices down. I remember Sony had Air / Ultrabook style SSD based laptops that cost around $3,500 for years until Macbook Air brought down prices to around $1,200. The tablets before iPad were very low powered laptops priced well over $1,000. While the iPad did less computer stuff and more tablet stuff, it cost only $500.
Thank you for signing up to iMore. You will receive a verification email shortly.
There was a problem. Please refresh the page and try again.