Best USB charging stations for multiple devices 2022
Do away with the piles of cables and adapters by using a convenient multi-device charger.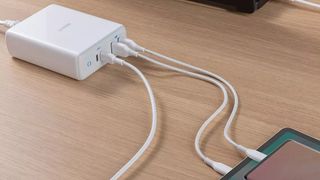 (Image credit: Anker)
If you're an Apple aficionado like me, you're liable to charge up an iPhone, an iPad, an Apple Watch, and a MacBook all in one day. Keeping all of these devices juiced up and ready to go can be a difficult task, resulting in a clutter of wires and adapters. But the great thing about the best USB charging stations is that you can charge multiple devices at once — and without the mess. There are tons of different options available, so we've rounded up some of the very best USB charging stations below.
Here are the best multi-device USB charging stations
Satechi Dock5 Multi-Device Charging Station
No need for extra frills
Reasons to buy
+
Charge up to seven devices simultaneously
+
Included Velcro straps for organization
+
Spaces are wide enough to hold the biggest of devices, with their cases
+
Surge protection included
+
Two USB-C charging ports
Reasons to avoid
-
No dedicated smartwatch charging station
If you are looking for a way to keep all of your devices charged up without having absolute chaos, then the Satechi Charging Station Dock is our favorite of the bunch. This dock can charge everything you throw at it. Satechi makes some of the most premium accessories on the market, and this seven-port charging station is no different. Velcro straps are included, so your array of cables don't end up too unruly while keeping your desk space clutter-free. Additionally, each slot is large enough to accommodate even the largest smartphones and any cases you may have installed.
Satechi thought about almost everything with this charging station, as there is even surge protection built-in. It even features a wireless charging pad.
The Satechi Charging Station is one of the best you can get, especially if you care about keeping your devices organized.
SIIG 90W Smart 10-Port USB Charging Station
See in the dark
Reasons to buy
+
Charge up to 10 devices at once
+
Non-slip padded space to accommodate other products
+
LED ambient light makes it easy to get everything plugged in
+
Smart IC provides the best charging efficiency for each device
Reasons to avoid
-
No USB-C charging port
-
Too many cables can become unruly
-
Lack of charging dock for smartwatches
This 90W charging station from SIIG is pretty impressive, thanks to the fact that you can charge up to 10 devices at once. Plus, ambient light is included to make sure you are plugging everything into the right spot.
These, combined with SIIG's smart charging, ensure that your devices won't overcharge once they've reached 100%. Unfortunately, this station has the same issue as others since having so many devices in one place can end up wreaking havoc. And you are out of luck if you want to charge your smartphone with just the USB-C cable.
The SIIG Charging Station is perfect for those with a slew of devices, as there are slots for anything and ambient light.
Sabrent Premium 60 Watt (12 Amp) 10-Port Aluminum USB Rapid Charger - Silver
Matches your Mac
Reasons to buy
+
Charge up to ten devices at once
+
Built-in circuit protector
+
Rubber bottom to keep dock stable
+
Horizontal ports make plugging in cables easy
Reasons to avoid
-
No USB-C ports
-
LED light cannot be turned off
Some folks don't want an actual stand to charge their multitude of devices, and that's where Sabrent's desktop charger comes in. It sports a slanted design for access to the USB ports, but you simply plug in the charging cable for your devices and go.
This design looks extremely clean and will blend in rather nicely sitting next to your iMac or best MacBook. However, there are no USB-C ports, and the LED indicator light cannot be turned on, so you'll have to resort to unplugging the charger if the light is bothersome.
This charging station has an aluminum build and includes a rubber bottom so that it stays in place while you plug in your devices.
Key Power Quick Charge 3.0 Wall Charger
Great on a budget
Reasons to buy
+
Can detect your device to deliver its fastest charging speed
+
Compact and portable
+
Small LED informs you when devices are charging
Reasons to avoid
-
No On/Off switch
-
No Qualcomm Quick Charge support
This Charger Station from Key Power is pretty nifty as it is actually a tower that you don't need to worry about accidentally falling over when more devices are plugged in. While it's a tower, the charger is still compact enough not to take up a boat-load of space on the desk and measures in at just over 4 inches.
There is even an LED light to let you know when your devices are being charged. However, if you are hoping for some Quick Charge support, you'll need to look elsewhere. Plus, there is no dedicated On/Off switch to turn it off when all of your devices are ready to go.
If you are looking for a no-frills charger that won't take up a bunch of space, then the Key Power Station may be the best fit.
Anker 100W 4-Port Type-C Charging Station with Power Delivery
Power up multiple devices
Reasons to buy
+
Charge up to 100W
+
Full-speed simultaneous charging for multiple devices
+
18-month manufacturer's warranty
+
Lightweight enough to pack away for travel
Reasons to avoid
-
No On/Off switch
-
No Qualcomm Quick Charge support
The new Anker PowerPort Atom PD 4 is perfect for those looking for a desktop solution capable of charging all of your devices, including the iPad Pro. There are two USB-C ports with Power Delivery, capable of providing up to 100W of power with the correct cable. The two additional USB-A ports take advantage of Anker's PowerIQ technology to ensure the best charging speeds for other devices.
Not only is the Atom PD 4 small and lightweight enough to pack away in your bag, but you can also remove the wall cable to make it even more compact. Anker ensures that this charger is compatible with all kinds of devices and will evenly distribute the necessary power based on the plugged devices. Plus, Anker offers an 18-month warranty if something goes awry with your charger.
On paper, the PD 4 marks off just about all of the checkboxes that one could want. However, there is no dedicated power button to turn the charger on or off. This means that you'll need to unplug it from the wall if you want to turn the charger off. Also, there is no official Quick Charge 3.0 support, and PowerIQ will likely do the job, but we still would've liked to see QC 3.0 onboard.
Anker's PowerPort Atom PD 4 can charge your 16-inch MacBook Pro, iPad, iPhone, and anything else.
Stay charged up
When it comes to the best USB charging stations, it doesn't get much better than the Satechi Charging Station Dock. The fact that it features five standard USB ports and two USB-C ports is appealing enough as it is.
Add in that Satechi includes velcro for cable management, along with built-in docks for your devices, and this is a no-brainer. Each port is large enough to hold even the largest devices and is compatible with many recent varieties. You would be hard-pressed to find a charging station that met all of your needs more than Satechi's offering. It'll be the perfect companion for charging all your Apple devices, even future purchases like the upcoming iPhone 14.