Best relaxing games on Apple Arcade 2021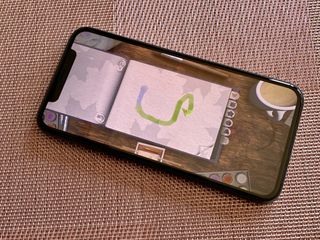 (Image credit: Christine Romero-Chan / iMore)
Apple Arcade is Apple's very own gaming subscription service that provides iPhone, iPad, Mac, and Apple TV users with unlimited access to dozens of games for one flat rate. There's a little bit of everything for everyone in Apple Arcade, especially families, so you're bound to find something you'll enjoy on that shiny iPhone 12 of yours. And in times like this, you may be looking for some games to help you relax. Don't worry, here are some of our favorites. And make sure to ehance the experience with the best controllers for Apple Arcade while you're at it!
Game on!
Unlimited games, one price

Apple Arcade has over a hundred premium games with more added regularly each week. There is something here for everyone, and it only costs $5 a month for all you can game!
Cozy Grove
What does being trapped on a haunted, bear-infested island and the light-hearted fun of games like Animal Crossing and Stardew Valley have in common? Come to Cozy Grove and find out! While you could purchase Cozy Grove on the Switch or Steam, if you want to play Cozy Grove on mobile, it's exclusively available in Apple Arcade. This sweet life sim game gives you the role of a Spirit Scout, and your job is to help ghosts find peace so they can move on. All the while, you can decorate the island and collect all sorts of items to personalize your little Spirit Scout.
As you progress in Cozy Grove, the spirits you help will remember more of their lives, and in turn, the island will expand and change, opening up more ways to interact with this tiny world. The artwork and music are just as relaxing as the gameplay, too, with soothing melodies and warm, hand-drawn style characters and backdrop. As if the concept and surroundings weren't peaceful enough, Cozy Grove doesn't take a huge time commitment to feel accomplished. Just half an hour a day is enough to complete your daily goals, but for those who want to put in extra time, there's always foraging and fishing.
Nightmare Farm
Despite the ominous name, Nightmare Farm definitely belongs on this list. A farming sim with an eerie aesthetic, you play as a a young girl with a broken heart and wounded soul who finds her way to the Nightmare Farm. In this little world, you'll encounter all manner of spirits and creatures hungry both literally and figuratively. Grow food and craft toys to feed their bodies and their souls, all while healing from your own wounds.
Aside from the unique and engaging artwork, what I find most compelling about Nightmare Farm is the fact that there are no words — no voices or text. Instead, everything is told through pictures and comic like clips. This applies to the tutorials as well, which can be a little confusing at first, but it is surprisingly intuitive as the farm exands. It's also compelling and engaging, drawing the player into this odd, yet beautiful little world.
Simon's Cat - Story Time
There are dozens, if not hundreds, of match-three puzzle games out there, many featuring familiar characters and stories. These games all build on the same basic gameplay mechanics: beat puzzles to build your own little world with the addition of fun music and colorful graphics. Like so many before it, Simon's Cat - Story Time is hardly changing the face of these match-three puzzle games, but that's why it's so enjoyable — well, that and unlimited stamina.
For those unfamiliar with Simon's Cat, this animated web series by British animator Simon Tofield tells Simon and his constantly hungry cat stories. The series has been running since 2008 and has been featured in books and other games as well. In Simon's Cat - Story Time, Simon and his cat have emerged from their house in spring and set out to repair and redecorate their garden. It plays out very similarly to Gardenscapes or Homescapes, where each level you beat allows you to add something new to the garden.
Overall, this game is a great way to relax and, because it's on Apple Arcade, there are no in-app purchases. You can earn some boosters as you play, but largely, you win on your own skill. Without stamina limits, you can also play as much as you want without having to pay for more tries or having to watch the same half dozen ads over and over again. Plus, Simon's cat, kitten, and even Chloe all make appearances as you play.
Beyond Blue
Beyond Blue is as much a nature showcase as it is a game, and it fills both roles magnificently. Set in the near future, you play as the marine biologist and deep sea explorer, Mirai, as she and her research team explore life beneath the wave. You'll be equipped with new and exciting tech that allows you to interact with marine life in incredible ways, all while cataloging the as-yet explored deep sea.
As someone who has always appreciated the captivating beauty of life under the sea, Beyond Blue immediately grabbed my attention. The artwork in the app listing is impressive, but I had my doubts at how well it could play on a phone. Suffice to say, I was pleasantly surprised at just how beautifully this undersea world is rendered and how easily it can be navigated.
Developer, E-Line Media partnered with the BBC Studios to recreate a stunning and accurate oceanscape, populated with whales, dolphins, and all manner of fish. Seek out these creatures and study how they live as you progress through life Beyond Blue!
Necrobarista
An interactive visual novel set in the back alley coffee shop, the Terminal, Necrobarista is an odd world with an even odder premise. You play as Maddy Xiao, a barista at the Terminal, who just so happens to also be an amateur necromancer. Your customers are an unusual mix of both the living and the recently deceased.
The recently deceased customers are the primary focus of Necrobarista, as each has just 24 hours before they have to move on. When these customers overstay, the Terminal acrues debt that must be paid off else the Council of Death will come to collect, a major source of conflict in the story.
Despite the themes of death and loss, as well as the looming threat of the Council of Death, this story really balances the serious with comedic moments in a way that is surprisingly relaxing. Because Necrobarista is a visual novel, the course is already set and there isn't stress of making the right move or picking the right response. This lowstakes playstyle adds to the relaxing effect of Necrobarista.
Alba: A Wildlife Adventure
Source: ustwo games
If you love the gamplay of Pokémon Snap, you should definitely give Alba: A Wildlife Adventure a try. Set in an idyllic Mediterranian island, you take on the role of Alba, a young girl who has come to spend a week with her grandparents. Alba adores animals, especially birds, and her Abuelos fosters that love, providing her with a wildlife guide and encouraging her to seek out and photograph those animals.
However, not all is paradise on this lovely island; the mayor, partnered with a shady developer, is pushing for a massive resort to be built on the island's nature preserve. Alba is determined to stop this destruction of natural space and sets out to photograph all the beautiful animals on the island. She hopes to share those photographs with the residents and inspire them to fight for the wildlife of the island as well.
A Fold Apart
A Fold Apart is a unique puzzle game with a lovely story about the perserverance of love and overcoming the obstacles of a long-distance relationship. You will experience both sides of the story of two people whose careers force them apart, all while helping their relationship thrive despite the distance.
The unique artstyle of A Fold Apart is colorful and emotive, while the gameplay is challenging without being overly stressful. It features more than 50 puzzles in which you flip, fold, and unfold paper to progress. The story and gameplay are especially well balanced, with the puzzles flowing smootly to connect one scene to the next.
Moreover, the true-to-life story is believable and compelling, leaving the player wanting to see their couple succeed despite the odds.
Lifelike: Chapter One
You can always trust iMore. Our team of Apple experts have years of experience testing all kinds of tech and gadgets, so you can be sure our recommendations and criticisms are accurate and helpful. Find out more about how we test.
I'm going to be completely honest. I had absolutely no idea what was going on in Lifelike before reading the app description and it still made this list. It's that relaxing!
Lifelike gives you the role of a tiny "lifelike" creature, seemingly just a dot of light. In each level, you guide your dot of light through swarms of other tiny creatures, guiding the swarms through a serene backdrop reminiscent of the night sky, all while peaceful, almost hypnotic music plays. The colors, the lights, the music, and the swarming movements are all profoundly calming and utterly captivating.
Although there are goalposts throughout the levels and a definitive path from beginning to end, this app feels more like an experience than a game. Regardless, it will definitely calm the nerves and take your mind off the chaos of the real world, which is exactly what a relaxing game ought to do.
Assemble with Care
Assemble with Care is from the same developer that brought us Monument Valley, which is arguably one of the best puzzle games on mobile. So it's no surprise that Assemble with Care is another excellent title from them.
This game is about taking things apart and putting ourselves back together. Maria, a globe-trotting antique restorer, arrives in a beautiful, sun-soaked town called Bellariva, but is met with inhabitants who want nothing more than their possessions to be saved. Without them, the personal lives of the people are fracturing, and Maria must save them by holding them together, one screw at a time.
The graphics in Assemble with Care are beautiful and fall in with an impressionist style. Everything is handcrafted from ustwo, which just adds to the charm. And since the game is about rediscovering objects from decades past, the soundtrack is like a blast from the past, as it's inspired by the sounds of the '80s (one of the best decades for music).
Seriously, if you haven't played Assemble with Care yet, make sure to give it a look. It's a must-play from Apple Arcade.
Mini Motorways
Traffic is something that we all hate, right? Well, except there seems to be less of it these days, you know, since more people than ever are working from home. But what if you could fix it yourself? That's what Mini Motorways simulates, and it's more fun than you think! Mini Motorways is like the developer's other game, Mini Metro, but this is about the roads, not a subway system.
In Mini Motorways, you're in charge of a growing city, so you must draw the roads that make it work. You start with one road at a time, and it'll soon become a bustling metropolis. But how long can you keep it up without running into problems?
There are plenty of upgrades available at your disposal, so make sure to use them. The graphics are minimalist, but there are several different color themes to choose from, including colorblind and night modes. The soundtrack is also relaxing, which can help ease your mind as you play and escape the real world for a little bit.
If you enjoyed Mini Metro, then you will love Mini Motorways.
Skate City
Do you love to skate? What if you have no skateboarding skills? No problem! Skate City is a relaxing skateboarding game for everyone, whether you have actual experience or not. You can totally pretend like you know what you're doing in Skate City, it's alright — no one's going to judge you.
Skate City is the ultimate zen skateboarding game; I'm serious! It's so chill. You can freely explore the streets of Los Angeles, Oslo, and Barcelona with stages that are inspired by their real-life counterparts. Of course, you'll start in LA first, and unlock the rest, but doing so is a fun journey.
You simply skate and do tricks in Skate City. There are some objectives that you will want to complete before you're able to move on to the next level, but for the most part, the game is relaxing. There are no timers, so you can take your time to learn the basics and get the hang of things. You can also challenge yourself with the Challenge mode, or just endlessly skate to your heart's content. There's a Skate Shop with upgrades and gear, too, so you can customize your style.
What the Golf
This game is for people who hate golf, though I suppose it's also great for fans of golf. Either way, it's downright fun and one not to be missed.
This silly physics-based golf parody game has a wide variety of courses, all of them full of hilarious, even absurd surprises. I'm talking about exploding cars on the course, random crap all over the place, and so much more.
I highly recommend checking out What the Golf. It's one of the hidden gems on Apple Arcade, and playing it is fun and relaxing.
Patterned
If you like patterns and jigsaw puzzles, then Patterned is perfect for you.
In Patterned, you'll be immersed in the beauty and joy of seamless, repeating patterns. Each of these patterns starts out as a sketch, and you'll need to look for the visual clues to reassemble the scrambled pieces. The pattern will soon come to life with color and structure.
In crazy times like this, sometimes you just need a zen game like this to take your mind off of things.
Possessions.
Do spatial awareness puzzles relax you? Then Possessions is another that you should try.
In Possessions, you'll find everyday objects and environments that you see daily. But what if you changed the perspective and angle until it becomes something else? That's what you'll find in Possessions, a minimalist 3D puzzle game. Think about a room where a TV sits on a table, but from another angle, it looks like the TV is floating in midair. It's not magic — it's perspective.
Each stage in Possessions is like a 3D diorama. The game reveals a story about the life and struggles of a family, all without dialogue or text.
Tint.
Painting is something that some do to relax. But what if you could paint to solve puzzles? That's just what Tint. is.
In Tint, you mix watercolors to match the color of the origami. There are no timers, countdowns, or points, so all you need to do is relax, mix colors, and paint. There's zero rush, so you can play as you wish. Tint has over 200 levels, and there are more added through updates, so there is a ton of content to go through to keep you busy.
To add to the overall zen, every sound in the game was crafted from recordings of real objects in nature and an art studio. And to make sure that the game is accessible by everyone, there are colorblind and visually impaired modes.
Word Laces
I don't know about you guys, but I honestly find word games to be very relaxing, but that's because I love words and writing. It's what I do! So, of course, Word Laces is a great game with which to relax.
Word Laces is an interesting word game because it's about associations, connotations, and collecting... shoes. Each picture will tell a story, and your job is to figure out the words that each picture represents. Swipe to lace up words together. There are over 1000 puzzles to solve, which unlock new themes and expands your digital shoe collection.
It's fun, makes you think, and sometimes that's just what we need.
Sit down and relax
We all could use a break every now and then, and Apple Arcade is filled with a ton of great games to keep you occupied. These are some of our favorite games to relax and unwind. What are your favorites? Let us know in the comments!
Game on!
Unlimited games, one price

Apple Arcade has over a hundred premium games with more added regularly each week. There is something here for everyone, and it only costs $5 a month for all you can game!
Master your iPhone in minutes
iMore offers spot-on advice and guidance from our team of experts, with decades of Apple device experience to lean on. Learn more with iMore!
Christine Romero-Chan was formerly a Senior Editor for iMore. She has been writing about technology, specifically Apple, for over a decade at a variety of websites. She is currently part of the Digital Trends team, and has been using Apple's smartphone since the original iPhone back in 2007. While her main speciality is the iPhone, she also covers Apple Watch, iPad, and Mac when needed.

When she isn't writing about Apple, Christine can often be found at Disneyland in Anaheim, California, as she is a passholder and obsessed with all things Disney, especially Star Wars. Christine also enjoys coffee, food, photography, mechanical keyboards, and spending as much time with her new daughter as possible.