Best smart thermometers 2022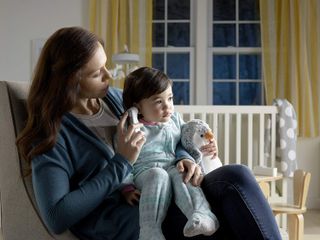 (Image credit: Braun)
Classic thermometers can get the job done, but if you want to take temperature readings to the next level and take advantage of features like paired health apps, keeping records, and smart advice when illness strikes, then you'll want one of the best smart thermometers. These are the best options for you and your family, so you can make sure everyone stays happy and healthy.
Keep it smart
We know it's essential to keep the whole family happy and healthy. We live in a smart world, and investing in a smart thermometer is an excellent choice for any family looking to take advantage of smart technology and advanced features.
We love the iHealth Smart Thermometer for its accuracy and easy-to-use app. It can store up to 99 readings on your smartphone and is compatible with iOS and Android. If you're looking for something a little more budget-friendly, the Kinsa Smart Ear Thermometer is an excellent value and will track temperatures, symptoms, and medications for each family member.
Looking for something specifically designed with your infant in mind? Check out the VAVA Smart Thermometer. A wearable thermometer that delivers real-time temperature readings directly to the home charging base. Store your family's temperature history and get valuable health insight with one of the best smart thermometers.
Nicolette is a freelance writer for iMore. With over a decade of high-level experience as a health and fitness professional, Nicolette has become an expert in the industry. As a writer, quadruple-certified master fitness instructor, DJ/MC, and mom; she's had the pleasure of working with some of the top websites, studios, and brands in the world throughout her career. A dedicated creative, Nicolette enjoys writing about all things: health, fitness, audio, and home. If she's not working, you can find her sipping a glass of wine, enjoying a concert, or hanging with her family.
Get the best of iMore in in your inbox, every day!
Thank you for signing up to iMore. You will receive a verification email shortly.
There was a problem. Please refresh the page and try again.