Best Stretching Equipment for Pregnancy 2021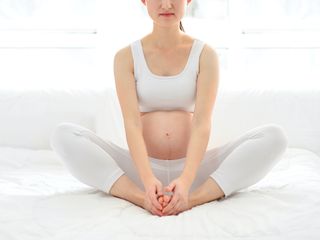 (Image credit: Freepik )
A consistent stretching routine is essential for pregnant women and offers a myriad of benefits for you and your little one. Stretching increases flexibility, keeps your muscles loose and relaxed, and can ease those pesky pregnancy aches and pains. Plus, it'll help you maintain mobility throughout every trimester and prepare you for the rigors of delivery. This is our list of the best stretching tools for expecting women.
Sweet, stretching, release
Our favorite is the Manduka PRO Yoga Mat (opens in new tab) because it provides a high-density, closed-cell, well-cushioned surface to practice all your yoga stretching on. You can also use it in conjunction with some of the other yoga props on this list like the Manduka Cork Yoga Block (opens in new tab) and the YogaAccessories Supportive Round Yoga Bolster (opens in new tab) for even more support and assistance while you stretch.
Whether you're in the first trimester or the third, keep stretching, mama! It will keep you open, healthy, and happy while you prepare for birth and the arrival of your baby.
Nicolette is a freelance writer for iMore. With over a decade of high-level experience as a health and fitness professional, Nicolette has become an expert in the industry. As a writer, quadruple-certified master fitness instructor, DJ/MC, and mom; she's had the pleasure of working with some of the top websites, studios, and brands in the world throughout her career. A dedicated creative, Nicolette enjoys writing about all things: health, fitness, audio, and home. If she's not working, you can find her sipping a glass of wine, enjoying a concert, or hanging with her family.
Get the best of iMore in in your inbox, every day!
Thank you for signing up to iMore. You will receive a verification email shortly.
There was a problem. Please refresh the page and try again.