Best third-party Apple Watch complications in 2022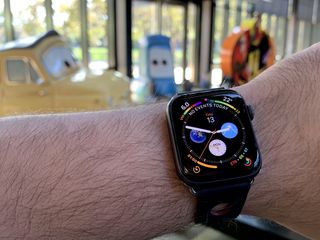 (Image credit: Rene Ritchie/iMore)
One of the coolest features of Apple Watch is custom third-party clock face complications: With custom complications, you can view upcoming flights or hotels, your next pill dosage, whether it's going to rain in a half-hour, or how long you've been working out. (Better yet—you can virtually travel through time while checking this information with the flick of your watch's Digital Crown.)
So what are the third-party apps with complications worth checking out? Here are our top picks!
Things 3
Things is a beautiful thing to behold. It's an organizational app in its most perfect form. On iPhone, iPad, or Mac, use Things to make lists, build projects, set reminders, and a whole lot more. On Apple Watch, not only can you get notifications about your daily tasks, and check off items on your lists, but with four beautiful new complications for Apple Watch Series 4, you're not going to be disappointed.
$10 - Download now (opens in new tab)
iTranslate
Going on a trip abroad where you don't quite speak the language? iTranslate's instant-translation app for your Apple Watch is already pretty fantastic—I've used it since the Apple Watch's debut—but the complication is even better: It automatically figures out the local language based on your location and (if you have the full-sized complication set) translates helpful phrases throughout the day like "Hello", "Enjoy your meal," and "Goodnight." Best of all, you need only tap the complication to go directly to the dictation screen to enter in your phrase to be translated.
I know I'm building a clock face around this the next time I go adventuring. iTranslate is free to download, but you'll need to pay $4.99 for the full experience.
Free with in-app purchases - Download now (opens in new tab)
Just Press Record
Just Press Record (opens in new tab) is the complication that gets the most use on my watch, tapping-wise. The small complication is essentially a shortcut to the Just Press Record app, which hooks into the Apple Watch's microphone to let you record anything in earshot. I need only tap the complication to launch the app; and because Just Press Record takes advantage of Apple's native apps framework, it's speedy. No waiting three seconds for the app to query the iPhone. I've recorded story ideas, song snippets, and on-the-spot interviews with Just Press Record, and all that audio gets automatically synced back to the iPhone and any other devices via iCloud Drive.
$5 - Download now (opens in new tab)
Fantastical
Not only is Fantastical an excellent calendar app for your iPhone, iPad, and Mac, it also supports your Apple Watch. While the watch app gives you a quick rundown of everything on your calendar for the next few days and lets you add new events with your voice, the Fantastical complication displays your next (or current) appointment, along with either a time frame or an "UNTIL" indicator letting you know when your meeting's ending. It also supports Time Travel, letting you fast forward through the day's events.
$3 - Download now (opens in new tab)
Carrot Weather
My favorite snarky weather app now has a weather complication, and it couldn't be better. If you pay an extra $1.99 in-app purchase (and you should), Carrot Weather provides you with a large complication on the Apple Watch that lists the weather in icon form, what the temperature feels like, the highs and lows of the day, and a quick notation on what the sky's doing—"cloudy later on," "rain in three minutes," and the like. If you add Carrot Weather's secondary small complication (which costs an extra $1.99) while the first one is enabled, you'll get wind data in that location; otherwise, you'll just see the current temperature.
Like any good weather complication should, it also works with Time Travel, letting you quickly see what to expect later on in the day. (Seriously, have I mentioned yet that Time Travel + third-party complications are my favorite thing?)
$5 with in-app purchases - Download now (opens in new tab)
Pedometer ++
Apple's built-in Activity complication can be great for showing you your overall progress towards your goals, but it's a bit more of a hassle to look at more detailed information. For those that are obsessive about their step counts, Pedometer ++ is here for you, showing off your day's exact step count right on your watch face. The complication also makes it easy to track the distance you've covered in a given day with a mile count right alongside your steps.
Free with in-app purchases - Download now (opens in new tab)
Sleep ++
Just like people obsessed with their step counts, Sleep ++ is great for people who want to track their sleep. The app uses the motion sensors in your Apple Watch to track how many times you drift in and out of sleep.
With the complication for your Apple Watch, you can tell Sleep ++ that you're turning in for the night or tell the app you have woken up all with a tap of the screen. You can also see how long you slept for the previous night just by looking at your Apple Watch face.
Free with in-app purchases - Download now (opens in new tab)
Dark Sky
If you want some of the best by-the-minute weather prediction on the App Store, Dark Sky is your weather app—and its included complication bundles the best of the app on your Apple Watch. You'll see the current temperature and sky conditions as well as a 60-minute rain forecast, the high and lows for the day, and sunrise/sunset. If you've set UV conditions within the Dark Sky app, you'll also be alerted when those exceed your threshold.
Dark Sky's tiny complication just shows the current temperature, but you can tap it, of course, to quickly get into the app. And both complications support Time Travel so that you can see what the weather plans to do throughout the day.
$4 - Download now (opens in new tab)
ETA
I've spoken at length on iMore about my love for ETA, and now the traffic prediction app has gotten even better with a custom clock face complication.
On its face (ha ha), the complication offers a quick glance at a favorite travel location, estimated time to destination, and how much of a delay you'll hit. Pretty useful on its own, but when you pair this with the Apple Watch's Time Travel feature, it's downright magic: Spin the Digital Crown, and you can figure out exactly when to leave your house in order to hit the least amount of traffic during your travels. No, ETA can't predict accidents (yet), but as someone who frequently drives to places hours away, I can guarantee this complication will see heavy rotation on my Apple Watch.
$3 with in-app purchases - Download now (opens in new tab)
Hotwire
If you use Hotwire a lot to book hotels, you will love the app's complication while traveling: It displays the name of your hotel along with check-in or check-out time. Tapping on the complication and then on your reservation will get you the address to the hotel along with other details—your confirmation number, for instance. The same goes for car rentals and flights. I know I'll be using this complication on my next trip to New York!
Free - Download now (opens in new tab)
Streaks
Streaks is an app for tracking consecutive tasks—whether it's walking the dog, doing yoga, standing for a certain amount of the day, or more. (It even integrates with the Apple Watch and the Health app to track certain tasks automatically.)
The app's complication is one of the simplest I've seen—it's only available in small size and displays as a series of light and dark dots—but it's surprisingly useful. White dots mean you've completed your task for the day; gray dots nag you to finish on up. If you like motivating complications, Streaks might just be your ticket to greatness.
$5 - Download now (opens in new tab)
Citymapper
Need to catch a train? Citymapper hooks into just about every transportation agency it can get its hands on to provide you with accurate data for your transit travels.
On the Apple Watch, you'll get a great large complication that lets you know what train you should catch next, when it comes, and where you should board. The small complication merely shows your ETA (or, if you're not in the middle of a journey, the Citymapper icon).
Free - Download now (opens in new tab)
Lifesum
Fun fact: When I go into stressful weeks at work, it becomes harder than usual to eat at normal mealtimes. In the absence of my fiancé prodding me to "Stop writing how-tos and eat lunch, dammit," I've been using Lifesum to keep track of my eating throughout the day.
On the Apple Watch, Lifesum has one goal: to yell at you if you haven't eaten enough today. A big "Energy Status:" complication lets you know if you're "Stable" or "TOO LOW," and tapping on the text sends you directly to the app where you'll be encouraged to go eat a snack (or, if you haven't eaten lunch already, some lunch, dammit.) It's a nag... but a useful one.
Free with in-app purchases - Download now (opens in new tab)
Kitchen Stories
The Kitchen Stories app lets you explore new recipes every week to give you inspiration on what to cook, while the Apple Watch complications help you shop for dinner.
Find a recipe you like on Kitchen Stories and simply create a shopping checklist that you can access anytime from your watch face. You can add and remove items from the list as you see fit, allowing you to make sure you buy what you need and plan your meals on the go.
Free with in-app purchases - Download now (opens in new tab)
Heartwatch
One of the best reasons to use an Apple Watch are its health tracking capabilities, including continuous heart rate monitoring. With Heartwatch, it goes one step further with its cool complication. The complication can display your current heart rate, as well as your minimum and maximum rates for the day so far. It can also display your average, which is great for the fitness enthusiasts.
$3 - Download Now (opens in new tab)
WaterMinder
It's important to stay hydrated, folks. That's why WaterMinder is such a good app to have. WaterMinder works with both small and large complications. Just set up your target goal, and the complication helps remind you throughout the day to drink up. The smaller one is a ring that you should try to fill up by the end of the day, and the large one gives you a percentage as well as the amount remaining. Just give the complication a tap to add a preset amount to your daily goal, or input your own custom amount.
$5 with in-app purchases - Download Now (opens in new tab)
App in the Air
Do you travel a lot? Then App in the Air should be your best friend. The Apple Watch app will show you when you're boarding your next flight, and give you any important status changes relating to your flight. With the complication, you can get this information quickly with just a flick of your wrist, including other information like various times to get somewhere. App in the Air also works with flights from relatives and friends, if you need to pick them up.
Free with in-app purchases - Download Now (opens in new tab)
CalZones
Have a hard time keeping up with different time zones on a daily basis? Then CalZones is a great complication to have on your Apple Watch. With CalZones, you can choose the timezones that matter to you personally, and then the rest of the app works around that to help you manage and coordinate meetings in accordance with all time zones that are involved. The Apple Watch complication lets you easily see what time it is in those time zones, so no more having to guess if it's okay to contact someone across the world from you.
$5 - Download Now (opens in new tab)
Your favorites?
I know there are a ton of other great Apple Watch apps floating about the App Store, and I'd wager quite a few have great complications, too. Have an app you think I should try out? Let me know in the comments!
Updated September 2019: Added Heartwatch, WaterMinder, App in the Air, and CalZones.
Serenity Caldwell contributed to an earlier version of this guide.
Christine Romero-Chan has been writing about technology, specifically Apple, for over a decade at a variety of websites. She is currently the iMore lead on all things iPhone, and has been using Apple's smartphone since the original iPhone back in 2007. While her main speciality is the iPhone, she also covers Apple Watch, iPad, and Mac when needed.

When she isn't writing about Apple, Christine can often be found at Disneyland in Anaheim, California, as she is a passholder and obsessed with all things Disney, especially Star Wars. Christine also enjoys coffee, food, photography, mechanical keyboards, and spending as much time with her new daughter as possible.

I think HealthFace deserves a mention here. Excellent app and complication.

Dark Sky stopped working on my Series 3 watch with the iPhone X, and now it still doesn't work on my new Series 4 and XS Max. Go figure.

That's great and all, but you can't have email, text or phone as a complication and that is mindnumbingly dumb. But thankfully I can get the UV index but not my emails nor texts. Fix this $#%*!

I should say you can't have it on the new faces with 8 complications nor the infographics one. They are great be faces and a big reason why I upgraded, but text and email are basics

The Fantastical complication isn't showing up on my Series 4, even though it's listed as a complication in the Watch app on my phone. I even tried uninstalling and reinstalling it from my Watch. Other complications that I was using on my Series 2, like the Weight Watchers app, aren't showing up either. I'm hoping they just need to update the app?

Any update on Dark Sky, Fantastical and StepApp not available on the info graph watch face?
Get the best of iMore in in your inbox, every day!
Thank you for signing up to iMore. You will receive a verification email shortly.
There was a problem. Please refresh the page and try again.