Best iPhone carrier in 2014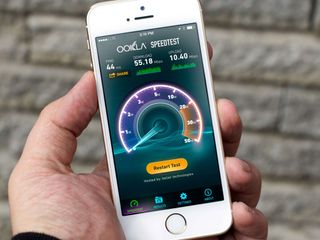 There was a time when major U.S. carrier — Verizon, AT&T, Sprint, and T-Mobile — plans and rates were constant. We'd constantly pay too much and they'd constantly give us okay to terrible service in return. But now the constant is changing. Whether it's a reflection of the maturing smartphone market or simply the results of one carrier going rogue is arguable. What's not arguably is that a lot has happened changed from when we last compared carriers back when the iPhone 5s and iPhone 5c launched in September of 2013. That means we have to take another look at what the Big Four offer, and help you figure out how to get the best bang for your buck.
This year's trend from most major U.S. carriers has been to revise and enhance their shared data plans, which break up a pool of data between a specific number of devices. You pay a flat rate for each device to be connected, then you pay for data which is shared between however many devices on your network. Will it save you money? Let's run the numbers!
iPhone on Verizon
Why you can trust iMore Our expert reviewers spend hours testing and comparing products and services so you can choose the best for you. Find out more about how we test.
Each major vendor has shared plans that they're emphasizing as the best value for their customers. Whether these plans will be of good value to you depends entirely on how you use your phone and how you can share them, but just in general, the more people you have on your plan, the better the savings will scale.
Verizon's big push right now is its "More Everything" plan. With this plan you pay a fixed amount for each phone — $40 — plus a shared pool of data. It includes unlimited talk and text and unlimited international texting, along with 25 GB of cloud storage.
The More Everything data plans starts at $15 for a scant 250 MB, with 500 MB available for $30 a month and 1 GB priced at $40. Data tiers increase $10 per month from there, with 2 GB, 3, 4, priced from $50 to $70 per month. Verizon increases allotments in 2 GB increments from 6 to 20 GB, going from $80 to $150, then offers 30, 40 and 50 GB tiers for $225, $300 and $375 per month respectively.
Verizon offers a discount for customers enrolled in their Edge upgrade program, which lets you to upgrade your phone more frequently than once every two years. While payments are still broken up over 24 months, you can upgrade after the first 30 days if you've paid off at least 50 percent of the balance of the phone price.
Most More Everything customers will get a $10 per month break on smartphones enrolled through the Edge program, but heavy users with 10 GB or greater plans will see a $20 per month break.
iPhone on AT&T
AT&T's alternative to More Everything is called the Mobile Share Value plan — it's another plan that charges you a fixed rate for the phone plus a shared data pool you can use for all devices on the same plan — up to 10 devices. Unlimited talk and text, unlimited world messaging, and 50 GB of free cloud storage using AT&T's Locker service.
If you have a conventional two-year contract with AT&T to pay off your new smartphone, expect to pay $40 per month plus the cost of data. But just like with Verizon, AT&T will cut you a break if you're enrolled in their upgrade program, called AT&T Next.
AT&T' Next customers enrolled in 300 MB — 6 GB plans pay $25 per month for each smartphone enrolled in the Mobile Share Value plan, with customers enrolled in 10 GB or higher plans paying $15 per smartphone. Tablets cost $10 per month each. You get the same price you get if you bring your own device to AT&T's network or if you just buy a device outright from AT&T. If you pay for your phone with a conventional two-year agreement through AT&T, you'll pay more for the privilege — $40 per month.
Here's how the Mobile Share Value plan's monthly data rate breaks down:
$20 for 300 MB, $40 for 2 GB, $70 for 4 GB, $80 for 6 GB, $100 for 10 GB, $130 for 15 GB, $150 for 20 GB, $225 for 30 GB, $300 for 40 GB and $375 for 50 GB.
iPhone on Sprint
Sprint is trying to shake things up with its "Framily" plan. The program enables up to ten customers to enroll at the same time to scale their savings, but it doesn't need to be family members sharing the same bill.
Each phone gets unlimited take and text and 1 GB of discrete data to use themselves. The basic cost of the Framily plan is $55 for one person, but each additional person reduces the cost $5, so two people pay $50 each, three people pay $45 each, From seven to 10 people it's all gravy — you're each paying $25 per month.
Unlike the other plans, each member of your Framily plan can be billed together or separately, so you can include your spouse and kids on one bill, and pull in friends, coworkers, and total strangers on the street.
You're not limited to 1 GB, either. For an extra $10 per month (per line) you can get 3 GB, with unlimited data available for $20 per month.
Like the other major vendors, Sprint has a payment plan deal for people who want a new smartphone but can't buy it outright — their Easy Pay plan lets you pay off your phone over 24 months.
iPhone on T-Mobile
T-Mobile's been a disruptive force in the U.S. wireless market since early in 2013, when it first announced its "Uncarrier" program, ending subsidies and streamlining their plan structure. The company's continue to pile on, leading the way with free international calling, early termination fee payoffs for customers switching from AT&T and other enticements.
They also offers family plans, but their work a bit differently than the competition. You can have up to five lines on a single plan, and the more lines you have, the more you save. You'll spend $50 per month for the first phone, $30 per month for the second and $10 each for the third, fourth and fifth phones.
Each of those plans includes 500 MB of 4G LTE; after that, T-Mobile kicks down the speed to 2G, though it's technically unlimited. 2.5 GB is available for an additional $10 per month on each line; unlimited costs $20 per month.
The plan changes on March 23, 2014: T-Mobile will start offering 1 GB for the same price as 500 MB. Customers who opt for the unlimited data plan will also see their hotspot tethering doubled from 2.5 GB per month to 5 GB per month.
T-Mobile was the first major carrier to publicly divorce itself from subsidies — burying the true cost of your cell phone in the bill. They were also the first major carrier to launch an upgrade program, which they call Jump. The Jump plan, which launched in 2013, was revised in late February to include tablets, also eliminated a six-month waiting period and removed restrictions on the number of times you can upgrade.
Network improvements
The changeover to 4G LTE has caused each of the major U.S. carriers to invest huge amounts of money in rebuilding and building out their networks.
Verizon has the farthest reach of any of the Big Four, with near-ubiquitous coverage. Network performance, however, has suffered, so Verizon's current emphasis is improving capacity in congested areas.
Verizon has effectively tripled capacity already in some key urban markets. The short-term bandwidth increase for customers in those area will be evened out over the long term as more customers come online with LTE-capable devices.
AT&T now lays claim to being the nation's most reliable wireless network, with faster overall speeds than Verizon. The company uses a different radio standard than Verizon — GSM, similar to T-Mobile, rather than the CDMA technology employed by Verizon and Sprint. One upside of GSM is that you can make calls and send data at the same time using a single-antenna phone like the iPhone, something you can't do on Verizon and Sprint's network — at least not until they switch over to Voice over LTE (VoLTE), and that's still a way off.
2013 and 2014 have been rebuilding years for both Sprint and T-Mobile. Both companies have had to make major overhauls to modernize their network; in Sprint's case, it bet on the wrong horse for its next high-speed wireless network standard (WiMax) and has been backtracking and building out their network.
Sprint is focused on enhancing its 3G network while it also expands the footprint of 4G LTE offerings; the net goal is to offer improved call reliability with stronger signals and better data transfer rates. Spark is the name for this new initiative, and now offers LTE coverage in 300 markets from coast to coast.
T-Mobile isn't lying down on the job, either. Their 4G LTE rollout only started a year ago and is nothing short of remarkable; they've turned their entire network around on a dime. T-Mobile expects their 4G LTE buildout to be done by the middle of 2015, and they've also announced a deal with Verizon to buy lower-frequency spectrum to help them expand their network footprint in areas that have weak service.
Who should get the iPhone on Verizon?
Many people who have phones on Verizon's network are perfectly content — they can make calls anywhere and get pretty good data speeds to boot, though they do see congestion in major areas. If you don't need simultaneous voice/data calling, Verizon's a good choice.
Who should get their iPhone on AT&T?
AT&T's improved their network dramatically in the last 12 months and continue to invest heavily in improving both the coverage and speed of their 4G LTE network. Whether or not you'll be able to save money with AT&T depends on how many devices you've got connected and whether you're plugged into their upgrade program, so do the math.
Who should get their iPhone on Sprint?
Sprint's in third place overall in terms of customer base, but in some respects their network is far behind even what T-Mobile is doing. If you're one of the relatively few who live where Sprint works well they're a viable choice, but you may be better off shopping around.
Who should get their iPhone on T-Mobile?
T-Mobile's become the enfant terrible of the U.S. wireless carrier market. They're nipping at AT&T's heels constantly. Between their advertising and their early termination fee deals, they want everyone's customers. If you're with one of the other companies, you should give T-Mobile a call just to find out what they'll do for you — you may find it's worth your while.
Still undecided?
If you're still not sure about what carrier to get service through, make sure to visit our iPhone discussion forums to talk with other users about their experience, then make up your own mind. Then come back and drop me a line here — which one did you go with, and why?
Get the best of iMore in your inbox, every day!
No kidding about the Sprint network being behind either! I have an iPhone 5S on Sprint and just ran the speed test - Ping 52ms; Download 3.63; Upload 0.37. I thought that can't be right! So I ran the test again and I get similar results - P 49; DL 4.03; UL 0.67. Sure I'm inside at my desk, maybe that is why it is so bad. So I ran the same test from my iPad3 with Verizon service:
Ping: 53; DL 18.98; UL 7.53. Yup, Sprint is S L O W ! !

Have you checked out Virgin Mobile's service? They use's Sprint's coverage, but at least they offer iPhone plans at $30/month, no contract.

T-Mobile's biggest failing (in my case anyway) is their abysmal building penetration. My house, which is old but not huge, is about 75% dead spot with TMo. I can just completely forget about having any data signal with them whatsoever in the hospitals where I work. AT&T served my purposes pretty well for quite a while, but I ended up semi-ditching them for Aio a bit ago, since a large data allowance is more valuable to me than high peak data speeds. Posted via the Android iMore App!

Building penetration and wider area coverage will be two of the benefits of that 700 MHz A-band spectrum T-Mobile is in the process of acquiring from Verizon. Getting that working for them is a priority, but it's going to take some time to implement.

As long as Sprint (soft bank) doesn't buy them, I think T-Mobile will be a carrier to recon with in 2-3 years. REALLY don't think Dish or Sprint getting T-Mobile would be a good thing.. Odds are good they'd kick out John. I think as long as they have John at the helm as CEO, we will continue to see some out-of-the-box thinking when it comes to being competitive..

My biggest problem when attempting to move on from Verizon. No signal on a first floor, brick building with windows. Posted via the Android iMore App!

Typo - "One upside of GSM is that you can make calls and talk at the same time using a single-antenna phone like the iPhone, something you can't do on Verizon and Sprint's network". I should hope you can make calls and talk at the same time on any network!

LOL! Good catch. Fixed. Make calls and send data.

What network did you grab the 55 download speed on in that picture??

so far i had verizon, att and now on t-mobile...I live in NYC and work in midtown manhattan...verizon's network is garbage in midtown at least, i used to get less than a Megabyte, att has been slow, so slow, i cant even send imessages. now i switch to tmobile and i get about 25 MB down and 17 MB up....will it last? i hope so, specially after the put that 700mhz spectrum to good use.

"Who should get iphone on Verizon? ...though they do see congestion in major areas..." You can say that, congestion, again! In NYC Verizon data speeds are worst than my old 14.4kbps dial-up modem. It's absolutely horrid, however in the suburbs where I live I get LTE speeds twice as fast as my cable internet speeds; talk about night & day.

These maps are utter fabrications. I can point to spots where sprint get's zero 3g service is nonexistent even though they say it's super strong. They simply are amazingly inaccurate. And LTE is not accurate in my area too.

No more so than TMobiles network. Sent from the iMore App

i did say "these", as in plural. I included all maps not simply Sprint's map. I actually had tmobile for quite a while and was very happy with them. but i lived in a city and always will and i heard they sucks in rural areas. But i don't live there so i could deal.

Well T-Mo lured me in with their ETF deal and besides the fact that I can't get a Beats Music family plan I can say I have no complaints. I have no less of a signal anywhere than I did with AT&T and in some cases I'm getting a better signal. One thing I can say is T-Mo is saving me money and that's the most important thing.

T-Mobile
HANDS DOWN Sent from the iMore App

this didn't answer much but good start for intro to the forums.
As a former Verizon customer in nyc who made the switch to t-mobile in November, I'd love to have taken advantage of the cancellation fee deal. In regards to the network/coverage/billing, they've all been great. Just make sure you buy your iPhone upfront to avoid paying on it month-to-month

Anyone else think that sprint map should be full of more holes? Lol I used to travel extensively in the southeast when I had sprint and gaps of no coverage was terrible. Sent from the iMore App

To the author: spelling correction. Take should be talk. " Sprint coverage map
Each phone gets unlimited take and text and 1 GB of discrete data to use themselves."