Best Valentine's Day apps for singles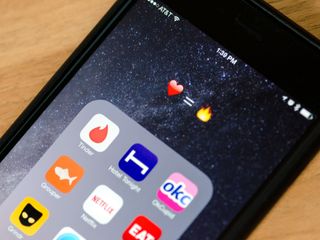 This upcoming Saturday is one of those greeting-card holidays that single folk don't particularly find themselves looking forward to, but not to worry: whether your coupled friends all have plans or you'd like to find a date of your own, it's iMore to the rescue! The App Store is stocked with apps that can help you find something to do on your own this February 14. If you want Valentine's Day 2015 to be a fun time even without a special someone, these are the best iPhone apps to help you do exactly that!
1. Tinder
For the casual dater
Tinder is one of the most casual and laidback dating apps around. Swipe right if you like someone; left if you don't. When you have a match, you'll be able to chat and snap photos. You can even share them with all your matches at once. It's like the Snapchat of the dating world, and it's pretty fun.
2. Grindr
For men looking for men
If you're a gay male, Grindr is the go-to meetup site these days. Whether you're looking to get to know someone or are just looking to have some fun that doesn't involve ice cream and Netflix, Grindr may be able to help you out.
3. Grouper
For group dates
Grouper matches your group of friends with another group of friends — 3 on 3, to be specific. So if you have a few other single friends looking for a date or something fun to do this Valentine's Day, Grouper may be the way to go.
4. OkCupid
For those looking for love
If you're looking for a little more than a random date or hookup, an OkCupid chat or two may be more your speed. Answer some questions and get matched with people near you that fit your wants. OkCupid caters to both straight and gay matches.
5. Hotel Tonight
For the last minute hookup
Hotel Tonight specializes in offering great deals on last-minute bookings. If you end up needing a special place for an impromptu special someone Saturday night, Hotel Tonight is the app to use for the best last-minute deals on a hotel room.
6. Netflix
For a night at home
If you'd rather pass up on the dating scene altogether, a date with Netflix doesn't even require that you leave your home. With thousands of shows and movies at your fingertips, there's no better time to play catch-up than while all your coupled friends are out doing something else.
7. EAT24
For eating in
If a night in with Netflix is calling your name, you're going to have to eat at some point. EAT24 brings thousands of restaurants in over 1500 cities right to your fingertips. Simply place, order, and you're done. You can occasionally snag great deals exclusive to EAT24, too.
8. Trivia Crack
For the gamers
If games are your thing, Trivia Crack is the new "it" game on the block, and believe me, it can suck you in for hours at a time. Compete against your other single friends at home, friends who want to be distracted on their Saturday date, or complete strangers to see who's smarter. However, there is an art form to being a genius, so be sure to check out our tips, tricks, and cheats as well.
9. What apps are you spending Saturday with?
If you're single, what apps do you plan on using to occupy your time this Saturday?
iMore senior editor from 2011 to 2015.
HAHAHAHAHA Allyson. Please don't recommend Grindr for anything but serving as a laugh at how desperate some people get with their messages. The community is creepy for the most part (I'm 18, I don't want to have sex with 50+ year old men which should be obvious but yet they still ask? LOL), and it's most definitely NOT an app to find someone to date. I could seriously submit an opinion piece to y'all that details all my gripes with this app. Do. Not. Recommend it. <3

It can also be utilized as a dating app, just must not happen in your neck of the woods. Sent from the iMore App

I've used Grindr all over the US, and seen the exact same issues!

I recommend a great find which is called Smacktive. Lets you meet other like minded individuals who share common interests!
Get the best of iMore in in your inbox, every day!
Thank you for signing up to iMore. You will receive a verification email shortly.
There was a problem. Please refresh the page and try again.