Best Women's Bands for Withings Move 2022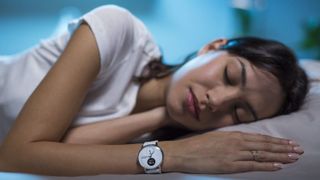 (Image credit: Withings)
Women have different needs when it comes to outfitting their Withings Move with the perfect band. Silicone is great for the gym, pool, or all-day wear. Leather bands are soft and comfortable. A metal band can really elevate your look, and woven bands tend to be eco-friendly. The Withings Move is compatible with all 18-millimeter watch bands, so be sure to choose that size at check out. No matter what you're looking for or where life takes you, these are the best women's bands for Withings Move.
Ladies' choice
Why you can trust iMore Our expert reviewers spend hours testing and comparing products and services so you can choose the best for you. Find out more about how we test.
We love the Withings Move for its superb battery life, retro design, activity tracking, and affordable price. This list is comprised of our top picks for best women's bands for Withings Move. Not to worry, guys — if you're a fella, and you're in the market for a new band, we have a list of men's bands, too.
We're fans of the classic Archer Silicone Band because it's made of the smoothest, softest silicone around and comes in tons of different colors. If a metal band is more your speed, a Withings Metal Band will elevate your style. Or perhaps, you're looking for something different and unique? Take a look at the Ilvanya Resin Bands for gorgeous resin art, or the Cmioueo Silicone Bands for fun, eye-catching patterns. Whatever you're needs are, these are the best women's bands for Withings Move.
Get the best of iMore in in your inbox, every day!
Nicolette is a freelance writer for iMore. She's been hooked on Apple products since she got the very first iPhone in 2007 and made the switch from PC to Mac in 2008 after inadvertently dousing her laptop with a hefty dose of water. A dedicated creative, Nicolette has had the pleasure of working with some of the top websites, studios, and brands in the industry throughout her career, and enjoys writing about all things: Apple, health, fitness, audio, and home. With over a decade of high-level experience as a health and fitness professional, Nicolette specializes in tech pertaining to the field. If she's not working, you can find her sipping a glass of wine, enjoying a concert, or hanging with her family.
Thank you for signing up to iMore. You will receive a verification email shortly.
There was a problem. Please refresh the page and try again.