Boom Beach: Top 10 tips, tricks, and cheats!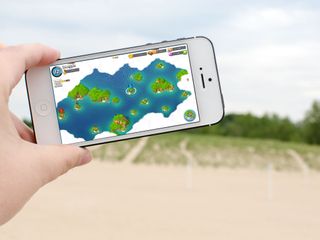 In Boom Beach you're tasked with fighting off the Blackguards who keep attacking local islanders. In order to do so you'll need to build up a might defense before traveling off to neighboring islands and helping the locals reclaim what is rightfully theirs. With resources scarce and troops at a minimum, you'll need to spend your in-game coins and diamonds wisely. Making good decisions early on will set up for victory or defeat early on in the game. That's where iMore comes in! Here are some tips and tricks to keep you on track while playing Boom Beach...
1. Upgrade or reinforce before quitting
You can only build one thing at a time and certain buildings and structures take a lot longer to build than others. This mean you need to make sure you are managing your time wisely. Build items that require short time periods while you're playing the game and then start building things that require longer wait times right before you close the game out. Boom Beach can alert you with a push notification when your items are done being built. This should help you resist the urge to spend real currency on diamonds in order to rush big projects along.
2. Upgrade saw mills as fast as you can
Everything you build in Boom Beach is going to be made form wood. You can reinforce structures or upgrade them later with stone and iron, but wood is your number one. If you run out, you can't build anything. It's important to build saw mills and upgrade them as soon as you can. You'll need to level up a little before you can upgrade them all the way, but just make sure you're paying attention. When you have the resources to do so, immediately level up lumber production. You'll be glad you did when you want that artillery and actually have enough wood to build it.
3. Stone and iron come after wood
Stone and iron become important later on in the game and if you want to upgrade current buildings or build new ones, you'll need both wood and stone or iron. You can typically earn enough stone and iron simply from winning battles. It's important but you won't use it too terribly often. Just stockpile what you get from victories and that's normally enough to do what you need.
4. Scout areas and plan your attacks
When you're getting ready to attack a new island, always scout it out first. It's cost you nothing and you're going to want to know what you're walking into. This gives you the ability to choose what troops you should be sending in. Why risk getting more expensive and costly troops killed in an attack if you don't have to? Send in only what you think you need.
5. Attack bases as quickly as possible
This goes along with tip number 4. Once you've scouted an area out, make a plan of attack. If you can get away with going around guns and towers, do that. Go right for the base camp on an enemy island and destroy it. That'll get you the win with the fewest amount of casualties about 99.9% of the time.
6. Use trees as lumber, especially early on
Early on in Boom Beach lumber is pretty hard to come by. One thing you can do in order to collect more is trade coins for lumber. You won't be able to mine all the mangrove trees directly in your area but you can mine enough to build up a small collection of wood. This should be good enough to get you a few residences and other structures that can start producing either coins or resources.
7. Build as many residences as you can
Residences are one of the few ways you can earn coins on your own island. Be sure you build them as you can and keep upgrading them at regular intervals. You'll need coins in order to sail to other islands and attack them, unless of course you want to pay diamonds to do that. If you want to avoid that, residences are a good way to ensure you always have some coins in your bank.
8. Having a little patience will cost you far fewer diamonds
You can rush almost any task in Boom Beach, but that doesn't mean you should. For instance, readying troops or rushing buildings can cost quite a few diamonds. And as with any freemium game model, diamonds are extremely hard to come by and unless you want to dish out real life currency, you should use them sparingly.
However, if something takes 30 minutes to build and costs 20 diamonds to rush it, hold off for 10 or 15 minutes and then check how many diamonds it is to rush, you'll notice that the total goes down the longer you wait. A good thing to keep in mind for times when you're running low on patience.
9. Upgrade your radar regularly
Radar is what lets you explore more islands that are further out from your home base. Be sure to build radar as soon as you can and then upgrade it regularly. A good rule of thumb is that if you're running out of islands around you to attack, it's probably time to upgrade your radar in order to see further and have more options.
10. Don't forget to collect achievement awards
One of the very few ways you can earn diamonds in-game without actually buying them is through achievement awards. Be sure to watch for them and when you unlock something, be sure to hop into the achievements section and collect your rewards. Sometimes they can be upwards of 20 diamonds or more.
Your tips?
If you play Boom Beach regularly, what tips do you have to share that have helped you build a successful island and healthy stock of troops? Be sure to let me know in the comments!
Get the best of iMore in your inbox, every day!
iMore senior editor from 2011 to 2015.
11) NEVER use instant build. You'll save a lot more if you spend wood and stone then use diamonds to finish the build. Sent from the iMore App

Agreed! Sent from the iMore App

Space out things like towers and mortars etc. if placed next to each other the bomb from your boat can be directed in between them and damage both. Sent from the iMore App

Good tip! Sent from the iMore App

I find it hard to just wait for anything to get done in this game. If you only want to play for about 3 minutes maybe but it turns into nothing more than a constant barrage of timers timers timers . To play the game for any length of time like 20 or 30 minutes is impossible without using gems.

Take advantage of other players "resource" islands. Especially early on in the game when wood is vital. Take over a base early enough before they have harvested the trees. Take all the wood you can, and when you level up, return and take more.

Please enlighten me on how to build a second sawmill? Games like this just suck me...

I may be wrong but I believe you can only have 1 sawmill, 1 stone quarry and 1iron mine

Use your Radar to locate Resource Bases. Resource bases maybe saw mill, quarries, or iron mines.

This game takes patience, personally I save gems for hq upgrades bcoz they are the most costly, but whenever you use gems never instantly upgrade it is cheaper to buy the resources that you dont have with gems then finish with gems. Only other tips I can offer is never let anything touch another items space and always keep your hq as far back as possible, the more time it takes to get to, the more chance your defenses have of killing forces.
Dont try hacks they never work and can get your device in trouble, usually links may hack your device or create viruses, be warned!

If an enemies HQ is located to the rear of thier base, use the flares from your gunboat to direct your troops through the trees, out of harms way, and attack from the rear. Use shock to disable defenses and just pound the HQ.
Maybe a "cheap" tactic, but it works! Also, never put your HQ at the rear. lol :)

this game takes time and tests your patience. here's my tip: harvest resources ONLY when you are upgrading. that way, if your base gets attacked, it's left untouched. also, use your resources first and attack only when you need to top it off. that way you can keep your VP low and be matched with lower level players. easy picking huh?

My tip? Just go for the $99.99 gem pack right off the bat. If you want to advance in this game, you will need to put hundreds of dollars into it. The game is designed for this and I suggest you just cave and get it over with.

Games like Boom Beach, Dominations, Clash of Clans, etc. are more like careers than games, it's a job man.
Too drawn out and time consuming, w/ very little time that allows you to actually play. There's also very little usable information on strategy and troop combinations. It's addicting and fun but also frustrating. Does anyone know a game that isn't? Looking for games easier to win that'll occupy you for 30 minutes w/o waiting or building.