Brawl Stars: Everything you need to know!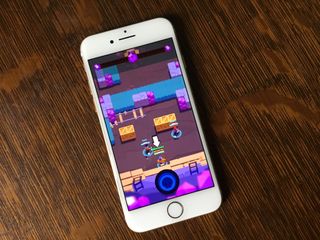 The ultra successful developers of popular games such as Clash of Clans, Clash Royale, and Boom Beach are back with a brand new game called Brawl Stars.
Brawl Stars is a 3v3 top-down shooter game where players from all over the world can battle in the ultimate fight! As you progress through the game, you'll unlock new characters, upgrade your brawlers' stats, and even unlock new game modes!
NOTE: Brawl Stars is currently undergoing a soft launch and is only available in the Canadian App Store; we'll update you as soon as you can play it in other countries.
Game modes
The objective is different based on which game mode you play. There are four different game modes in Brawl Stars, but you have no control over which game modes will be available to you at any given time, as they're randomly selected. Here's a brief description of each game mode.
Each team will be tasked with grabbing crystals from the center of the map while battling the opposing team. When a player dies, they will drop all of the crystals they have onto the battlefield. The first team to collect 10 crystals and hold onto them for the 16-second countdown wins the match.
In Heist, you'll either be on the defending or attacking team. The defending team is responsible for preventing the attacking team from breaking open the safe that guards all their crystals.
Each match of Heist only lasts 2.5 minutes; if the safe is still standing by the end of the countdown, the defending team will be victorious. If not, the attacking team will win.
Bounty is a good ol' team-on-team deathmatch. Collect stars for your team by defeating opponents, but try not to get picked off yourself. The team with the most stars at the end of the match will claim victory!
The only game mode that isn't 3v3, Showdown is actually a 10-player free-for-all where the last brawler standing wins!
Travel around the map cautiously as everyone is out to kill you and you won't respawn! Be on the lookout for barrels, as they contain power-ups that will give you an edge over your opponents.
The longer you last in a Showdown, the better the rewards you'll get at the end of the match. Can you survive until the end?
Tips and Tricks!
Brawl Stars' frantic and fun combat system makes the game easy to pick up and play, but difficult to master. Each character has different abilities, stats, and weapons that give way to endless strategy possibilities; however, some strategies will make you a much better brawler overall, regardless of which character you like to play. I have written some handy tips and tricks for each mode to make you the best brawler you can be!
Read Brawl Stars: Tips, Tricks, and Cheats!
Game Events
Under the Brawl tab at the bottom of your screen, the game modes are accessible through a randomized series of game events.
These game events are only available for a certain amount of time, indicated by the green text in the top right corner of the event (as pictured above). Once a game event has expired, a new event will take its place for you to play. This could be a different game mode altogether or the same game mode on a different map.
When you start Brawl Stars for the first time, you'll only have access to one game event slot, and you'll need to unlock the other event slots. You'll unlock these by collecting new brawlers. You need to have access to three brawlers to unlock the second slot, five brawlers to unlock the third slot, and eight brawlers to unlock the fourth slot.
Brawlers
Brawlers are the playable characters in the game that you use to fight your opponents. Each brawler has a different weapon, play-style, and super ability that makes them unique.
There are 15 different brawlers in total; however, you'll only start the game with access to one Brawler named Shelly. You can unlock more by opening Brawl Boxes.
Brawl Boxes
Brawl Boxes are the treasure chests of Brawl Stars, and they take 100 coins or 10 gems to open. As you win matches, collect trophies, and level up, you'll be rewarded with coins; however, gems are a premium currency that you have to pay for through an in-app purchase.
The contents of a Brawl Box are random, and opening one can help you unlock new brawlers or even upgrade your existing brawlers to make them stronger. Here's a quick list of rewards you can find in a Brawl Box:
New Brawlers: You can come across a brawler you didn't have access to before inside a Brawl Box; if this happens, you'll be able to start playing as that brawler immediately.
Chips: If you open a Brawl Box and you're rewarded with a brawler you already have, you'll instead be given a Chip. These Chips can be used to buy new brawlers that you don't have access to yet. The cheapest brawler only costs three Chips, but the most expensive characters cost 600. Yikes!
Elixir: These purple potions are used to upgrade your current Brawlers and make them more powerful. You can get one elixir at a time or even get lucky and receive a five-pack.
Upgrading Brawlers
All of your brawlers have starting stats like health, damage, and super ability damage, but these are not set in stone.
When you get elixirs by opening Brawl Boxes, you can use them to increase the damage your brawler does or even enhance their health.
The first upgrade to each stat will only cost you one elixir, but each upgrade after that will cost more and more. Choose your favorite brawlers and save up your hard-earned elixirs to make them even better!
Control Mode
You can change the way you control your brawlers by heading into the settings menu inside the game. There are two different sets of control, and depending on what feels more natural to you, you may find one of them far superior.
Joystick Mode: Move your brawler with a virtual joystick by dragging your finger anywhere on the screen. Tap on a target to shoot.
Tap to Move: Tap the screen to move your brawler to that location. Drag your finger to aim your weapon and release to fire.
Bands
If you head over to the social tab in the main menu of Brawl Stars, you have the option of joining a band. As of right now, bands are a way of connecting with other players via a chat room. No other in-game bonuses are provided at this time.
Premium Currency
There is only one premium currency in Brawls Stars and that is Gems. You can open a Brawl Box with 10 Gems and the only way to get Gems is by purchasing them with an in-app purchase.
What else do you want to know?
This is a brand new game with a lot going on. Let us know what else you want to know about Brawl Stars in the comments below.
Get the best of iMore in your inbox, every day!
Luke Filipowicz has been a writer at iMore, covering Apple for nearly a decade now. He writes a lot about Apple Watch and iPad but covers the iPhone and Mac as well. He often describes himself as an "Apple user on a budget" and firmly believes that great technology can be affordable if you know where to look. Luke also heads up the iMore Show — a weekly podcast focusing on Apple news, rumors, and products but likes to have some fun along the way.
Luke knows he spends more time on Twitter than he probably should, so feel free to follow him or give him a shout on social media @LukeFilipowicz.
How do you get the in app purchases? I downloaded this game in America and when I sign into my American Apple ID it says I downloaded it on a different Apple ID and I cannot get IAPs. Please help!

What is your favorite characters in brawl stars and what do you think is the best